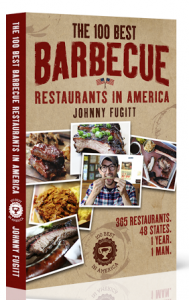 When you first meet Johnny Fugitt he radiates a gentlemanly persona. Winning smile. Charming manners. Not a spot on his shirt nor bulk to his body (which is contrary to what a steady diet of barbecue might suggest). Not that a second meeting doesn't yield the same reaction. It's just that Johnny seems more of a modern day Thoreau looking for cabin in the country than what he actually is: an officer in the United States Navy Reserve, a graduate of the London School of Economics, a world traveler and an accomplished writer who authored the very appealing "The 100 Best Barbecue Restaurants in America."
When it comes to the book, necessity inspired invention. Johnny couldn't find a quintessential study of America's barbecue restaurants—so he decided to write one. Dropping everything (job I presume), he hit the road for a year to taste test barbecue in 48 states. The results is a travel journal, restaurant guide and fun peek at such varied topics as why non red-meat eaters attract more women than meat eaters, how a barbecue gorger can lose weight, and what everyone should know about…well…about everything concerning barbecue including, competitions, chains, gadgets and gimmicks.
Johnny considers barbecue American art and tells us why. You'll have to read the book to get the full monty, but you can catch a glimpse below where Johnny lists some of his favorite stops for Sweet Leisure.  In his own words, heeeeere's Johnny!!!
In one year, I visited 365 barbecue restaurants across 48 states. From barbecue fish 'n chips to smoked alligator, I tried just about everything the barbecue world has to offer. I made the great sacrifices of eating plate after plate of barbecue and traveling the country to save you from one of life's great tragedies: a poor plate of barbecue.
I was unsatisfied with the "Top 10 BBQ" lists that recycle the same historic or well-marketed restaurants over and over again. I had visited many of these restaurants and thought that some were good, but that others survived solely on reputation and were not really producing top notch 'cue.
My book, The 100 Best Barbecue Restaurants in America, chronicles my journey, shares secrets from barbecue kitchens and points readers in the direction of America's best 'cue.
At the end of the book, I list my "Dream Meals" from various barbecue cities and have an awards section where I name the "Ten Best Ribs in America", "Ten Best Briskets Outside Texas", etc. I want to share a few of these highlights with you today.
North Carolina takes great pride in their chopped or pulled pork, but I listed Payne's Bar-B-Q in Memphis as the best pork in America. North Carolina is fairly represented with four restaurants in the Top 10 of this category, while Georgia and Texas round out the rest.
If you haven't tried Texas brisket, you haven't had brisket. All corners of America cook the brisket cut of beef, but Texans transform it into something else entirely. Aaron Franklin gets all the press for his fantastic briskets in Austin, but I think Kerlin BBQ, also in Austin, does it just a touch better.
The gospel of Texas-style brisket is spreading and there are a few individuals scattered across the country who can do it well. Billy Durney is one of the few. He studied under storied Texas pitmasters before opening Hometown Bar-B-Que in Brooklyn, New York. It's the best brisket outside the Lone Star State. Hometown's ribs are some of my favorites too.
A great burnt end is one of the best bites in barbecue…scratch that…one of the best bites in food. No one does burnt ends better than The Shaved Duck in St. Louis, Missouri. Smoky, charred, lightly sauced – these are the bites of barbecue that turn casual fans into diehards.
The book lists the "10 Best Non-Traditional Meats or Main Dishes" that I found across the country at barbecue restaurants. My favorite was the beef clod at The Granary Cue and Brew in San Antonio, Texas. Clod is a tough, underutilized cut that many restaurants will not touch. The Granary goes a bit more upscale with theirs by placing it over a coffee quinoa crunch, pickled celery and an angel food cake-like cornbread. It's topped with a tomato-caramel sauce and is absolutely delicious.
Slaw divides people into camps – the largest of which are the mayonnaise camp and the vinegar camp. My favorite, however, is the spicy mustard slaw from Rendezvous in Memphis.
Some consider eating barbecue a religious experience. Barbecue joints don't need to be fancy, but they need to have character. I think the best barbecue atmosphere in America is found at Smitty's Market in Lockhart, Texas. With smoky pits, live fires, antique décor and small-town hospitality, it's a must-have stamp in any barbecue lover's passport.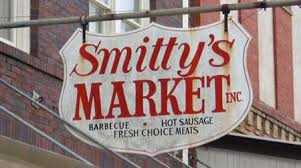 Contact Johnny at: barbecuerankings@gmail.com
Click HERE to buy The 100 Best Barbecue Restaurants in America. 
Click HERE to read about Kansas City barbecue.