I'm getting sloshed on New Year's Eve. It's the only way to end the terrible, horrible, no good, really bad 2020. I'm loading up on cocktails. But not just any cocktail. My cocktails must be spunky enough to chase away doom and gloom and usher in the light and bright. 
I've come up with three candidates—favorites from past trips.  Will share recipes with you. Rum, gin, tequila—take your pick. I might go for a trifecta myself. 
So in the spirit of spirits, I'm wishing you a beautiful boozy HAPPY NEW YEAR and light, bright, luscious 2021.
The LUCILLE

 cocktail 

from B. B. King's Blues Club on the Nieuw Amsterdam cruise ship
Eight Holland American Line cruise ships sport B. B. King's Blues Clubs, bringing not only soulful music to cruisers, but also soulful speciality cocktails. As the club's namesake, legendary blues singer B.B. King, named all of his guitars Lucille, it's only fitting that the club's signature drink be a Lucille.
Here's what B.B. King sings about Lucille, 
"I don't think I can just talk enough about Lucille. Sometimes when I'm blue seems like Lucille try to help me call my name."
Well the ships' Lucille called my name (over and over again)—just like it did for B. B.
Again quoting "My Lucille" lyrics:  "One more now, Lucille. Sounds pretty good to me. Can I do one more? Look out, Lucille. Sounds really good, I think I'll try one more. Allright."
LUCILLE
Yield: 1 serving.
2 ounces coconut rum
1-1/2 ounces orange juice
1-1/2 ounces pineapple juice
1/2 ounce Blue Curacao
Pineapple wedge for garnish
Partially fill a 16-ounce glass with crushed ice. Put rum, juices and Curacao in a cocktail shaker. Shake and pour over ice in glass. Add a straw and garnish with the pineapple wedge.
The BELLISIMA
 cocktail 

from Grand Velas Riviera Maya in Playa Del Carmen, Mexico

There is nothing like getting away from it all at Grand Velas Riviera Maya. Set on a glorious white-sand,1,000 foot-long beach where I would like to be at this very moment, the luxury resort offers a range of stunning suite accommodations, eight great restaurants and six super cool, stylish bars. My favorite bar is the Koi and my favorite cocktail aptly named the Bellisima. 

Two of the Koi bar's best fringe benefits is that one can enjoy as many Bellisimas as desired and not have to drive home. And the resort embodies a prize-winning spa to help restore the morning after.
BELLISIMA
Yield: 1 serving.
Garnish with orange wedge, lime peel and a grape.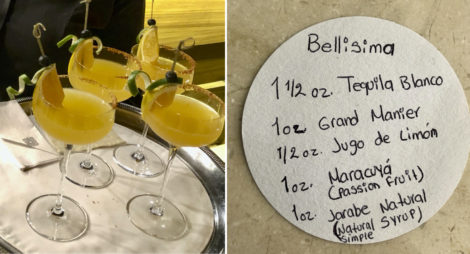 The ROSE OF SHARON
 cocktail 

from Commonwealth Bistro in Covington, KY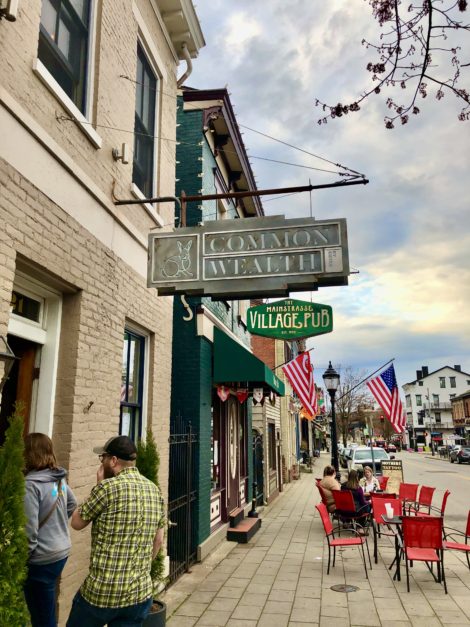 Located on Main Street in Covington, KY. the Commonwealth Bistro is uncommonly good. Love the menu which showcases some Southern accented specialities tinged with a whole lot of international sophistication. And love their core values especially the  "Perseverance of Purpose"  which seem particularly fitting to 2020 and hopeful for 2021.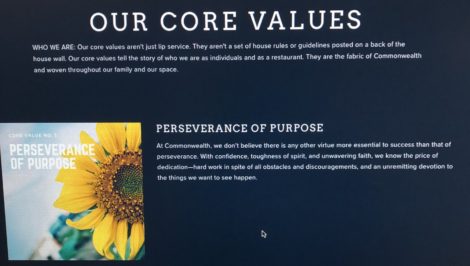 The restaurant focuses on giving hyper-local ingredients uncommonly worldly interpretations and the bar is no exception. I ordered the Rose of Sharon—wanting gin instead of bourbon as I had been tasting bourbon all day on a Kentucky  B-Line  Bourbon Trail tour (highly recommend it) and was ready for a change.
ROSE OF SHARON
Yield: 1 serving
Put 1 ounce Kentucky Wild Gin and 1 ounce white port in a wine glass. Add ice cubes. Pour in Fever Free Tonic water until the glass is half full. Stir lightly. Garnish with a strip of grapefruit peel, a sprig of fresh rosemary and a few pink peppercorns.
FOR MORE INFORMATION CLICK
HERE for Holland American Line cruise line

and HERE for Grand Velas Riviera Maya

and HERE for the Commonwealth Bistro 

and HERE for the The B Line tour

FOR MORE FABULOUS COCKTAIL RECIPES CLICK
HERE for a Two Bunch Colada recipe

 and HERE  for a Grand Residences Habanero Margarita recipe

and HERE for Anse Chastanet's The Bentley recipe

and HERE for more and more and more and more luscious cocktail recipes…