Six months of staying home with Covid 19 concerns and I want out!  I deeply want an escape to rid my spirit and body of 2020 stress. I decidedly want to soak away troubles in healing pools of natural spring water. I distinctly want a spa experience. I definitely want Two Bunch Palms. Today. Right now. This minute. I am craving quiet, serenity and an easy, unfussy escape from politics, climate disasters and health concern. Two Bunch Resort & Spa in Southern California fills the bill—even with the modification the resort has had to make to ensure the safe health of its 2020 visitors.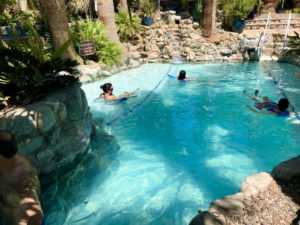 Although Two Bunch bills itself as the oldest mineral hot springs spa in the country (founded in 1940 and renovated in 2014), the layout and ambiance seems tailor made for Covid stays.
The gated property spreads over 77 acres.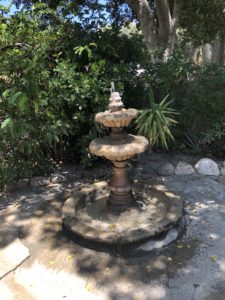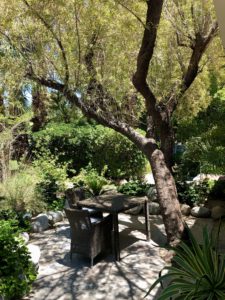 Public spaces are outdoors.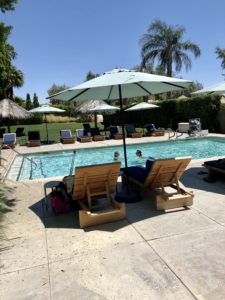 Rooms and suites cluster around the resort (some with private patios and soaking pools). People are encouraged to speak in whispers.  

Time slows down.

Adults only.
Unfortunately, for the time being, Two Bunch Palms opens only on weekends and has put a hold on spa services as well as indoor dining.
Then again, I am also on hold and not traveling—just dreaming about cool places where I would like to be. 
Fortunately I scored the recipe for the resort signature cocktail, so I can still use Two Bunch Palms to ease stress without leaving my house. 
TWO BUNCH COLADA
Yield: one serving.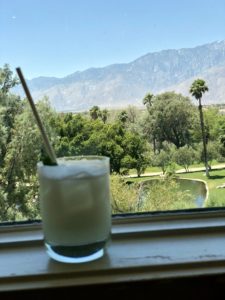 1-1/2 ounces gin
1 ounce coconut cream
1/2 ounce lime juice 
1-1/2 ounces coconut soda
Lime peel for garnish
Put all ingredients in a shaker and shake to combine. Pour into a rocks glass filled with ice. Garnish with lime peel.
For other signature cocktail recipes from special places click
HERE for a Kilt Lifter

and

HERE for a Watermelon Rum Punch
and

HERE for a Panama Hat
and

HERE for a Comfortably Numb