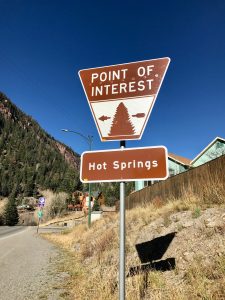 Whoever first said, "The best things come in small packages," had to be thinking of Ouray. This teeny tiny Colorado town covers only about 0.84 square miles, yet it overflows with appeal. Located in southwest Colorado, near the Four Corners where Colorado meets up with Utah, Arizona and New Mexico, Ouray sits in a box canyon surrounded by the San Juan Mountains.
A natural wonder, the town and environs offer glorious forests, mountains, waterfalls and other scenery for a a wide range of outdoor activity.
In summer over 100 trails lure the hiker. In winter, cross country skiing and ice climbing take precedence. But best of all—winter, spring, summer and fall, are Ouray's natural hot springs that are corralled in various pools throughout town. Nothing beats a long soak. The thermal water is Ouray's most relaxing, rejuvenating, renewing, refreshing, revitalizing and rewarding activity.
WHERE TO SOAK
Head to the Ouray Hot Springs Pool & Fitness Center where a recent multi—million dollar renovation polished the thermal pools to perfection. In addition to the main pools, sporting varying degrees of non-sulfur water (105°F the warmest), the fun includes lap lanes, climbing wall and water slides (open in summer). The view make the pools unforgettable. Mountains by day. A sky packed with sparkling stars at night. Magic throughout.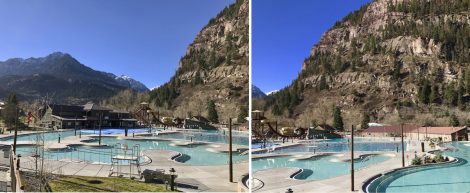 WHERE TO STAY
The Wiesbaden waters have always been considered special. Early users, the Ute Indians, called them "Miracle Waters," for their healing properties.
It may have been the water (as well as silver ore found nearby) that made prospectors stake a claim on Ouray, incorporating the town in 1876.
It was certainly the water responsible for the original building of what is today The Wiesbaden Hot Springs Spa & Lodgings to spring up over a natural vaporcave at the side of a mountain in 1879.
Water keeps flowing to The Wiesbaden and so do guests.
Today's Wiesbaden offers a full service spa and a choice of  accommodations. By contemporary standards, the rooms are faded, albeit filled with historic charm. For example, the most requested room, the "Sunroom" sits in the original lodge over the vaporcave. It's filled with antiques and has a stone wall, where the room butts up against the mountain.


What makes the Wiesbaden special is the constantly flowing, chemical free, thermal water that the property captures in three pools for guest use. The vaporcave and its 108°F soaking pool, the thermal swimming pool and the Lorelei, a private, soaking pool, bring bliss to the hot springs lover calling the Wiesbaden home for a night or two.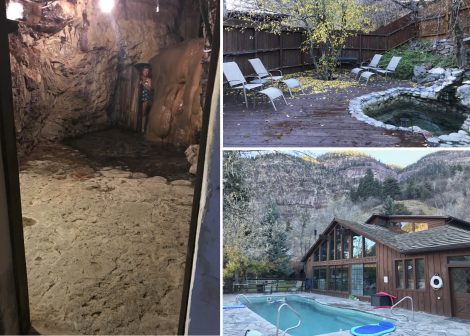 WHERE TO DINE
Sweet Leisure's two favorites Ouray eateries are:
Mouse's Chocolates & Coffee for breakfast, house-roasted coffee, pastries, lunch salads, anytime chocolates and famous "scrap" cookies made from scraps of chocolate candy.

and
Brickhouse 737 for a thoroughly special, sophisticated, farm-fresh dinner of "travel inspired" dishes, such as Fried Brussels Sprouts served as a hearty appetizer. (The brussels sprouts would also shine as a side dish at a special dinner—we're thinking Thanksgiving here.)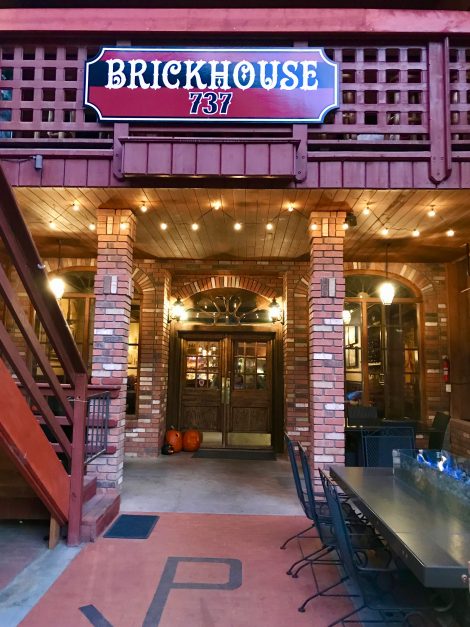 BRICKHOUSE 737 BRUSSELS SPROUTS
(Adapted from recipes supplied by Brickhouse 737 restaurant in Ouray, Colorado. See NOTE.)
Yield: 4 servings.
About 1 pound brussels sprouts
About 1/3 pound Portuguese sausage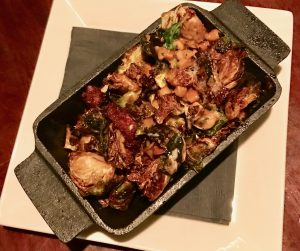 Canola oil
4 to 6 tablespoons Miso Vinaigrette (recipe follows)
About 1/4 cup Candied Macadamia Nuts (recipe follows)
Preheat oven to 350°F.
Trim and halve Brussel sprouts. Place sprouts in a glass baking dish. Cut sausage into small chunks and scatter over sprouts. Drizzle with oil, and toss gently with two spoons to coat ingredients with oil. Place dish in preheated oven and roast until sprouts and sausage are crispy, 30 to 45 minutes.
Toss cooked mixture with miso vinaigrette and top with candied nuts.
Serve immediately.
MISO VINAIGRETTE
Yield: About 1-1/4 cup.
1/4 cup rice wine vinegar
2 tablespoons yellow miso
2 tablespoons honey
2 teaspoons to 1 tablespoon Dijon-style mustard
1 clove garlic, peeled
1 shallot, peeled
1 cup oil
Salt
Black pepper
Place first six ingredients in the jar of a blender and blend until smooth. Slowly add oil, blending to emulsify oil. Season to taste with salt and pepper.
(May be prepared up to a week in advance and refrigerated in a covered container.)
CANDIED MACADAMIA NUTS
Yield: 1 cup.
1 cup Macadamia nuts
Pure maple syrup
Put nuts in a small saucepan. Add enough syrup to cover nuts. Set over medium heat and bring to a slow boil. Cook until syrup thickly coats nuts, 15 to 20 minutes. Strain nuts to remove any excess syrup and cool on a baking sheet.
May be prepared a week in advance and stored in an airtight container.
NOTE: Brickhouse deep fries their sprouts and sausage mixture in canola oil. Our recipe calls for roasting the sprouts and sausage mixture. In addition the restaurant also fries the candied macadamia nuts, but we do not.
The resulting dish is not an identical twin of Brickhouse's, but a very pleasing rendition.
WEBSITES FOR MORE INFORMATION
Ouray: OurayColorado.com
The Wiesbaden Hot Springs Spa and Lodgings: www.wiesbadenhotspings.com
Mouse's Chocolates & Coffee: mouseschocolates.com
Brickhouse 737:  www.brickhouse737.com