AUTUMN. APPLES. ABUNDANCE. ACTION PLAN: Make ABSOLUTELY AMAZING  (gluten-free, low-calorie, nutrient rich, healthful and wholesome)  APPLE MUFFINS.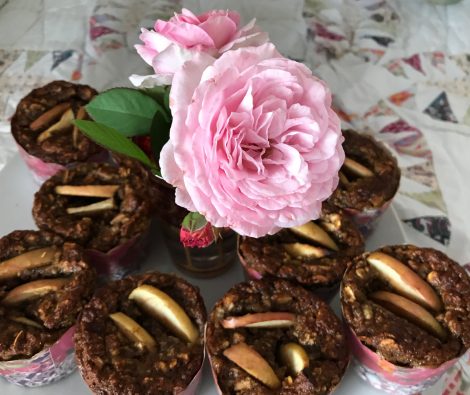 ABSOLUTELY AMAZING APPLE MUFFINS
Yield: 12 muffins.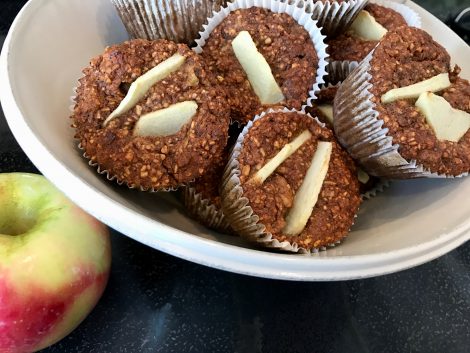 1/2 cup and 1/3 cup gluten-free oats
2 teaspoons baking powder
1 teaspoon baking soda
1 teaspoons cinnamon
1/2 teaspoon salt
1/4 teaspoon allspice
Big pinch nutmeg
Big pinch cloves
2 eggs
2 tablespoons honey
2 ripe bananas
2 apples
1 cup chopped walnuts (or other nuts)
1 tablespoon flax seed
Heat over to 400°F. Line 12 muffin cups with paper liners or grease cups.
Put 1/2 cup oats in a medium size mixing bowl. Add baking powder, baking soda, cinnamon, salt, allspice, nutmeg and cloves. Stir to mix.
Put 1/3 cup oats in the jar of a blender and blend until oats are a powder. Put powdered oats in bowl with dry ingredients.
Put eggs, honey, and bananas in blender and blend until smooth. Add to mixture in mixing bowl and stir until all ingredients are well blended. Core apples. Chop one apple. Add chopped apple, walnuts and flax seed to mixture in bowl and stir until blended.
Spoon batter into prepared muffin cups. Core remaining apple and slice into thin wedges. Place several apple wedges on top of batter in each cup.
Bake in preheated oven until a toothpick inserted in center of one muffin comes out clean, 15 to 20 minutes.
And don't forget ABSOLUTELY AMAZING APPLE PIE.
Click HERE for recipe .