What can one say about apple pie?
Carl Sagan said,
"If you wish to make an apple pie from scratch, you must first invent the universe."
Eugene Field said,
"But I, when I undress me
Each night, upon my knees
Will ask the Lord to bless me
With apple-pie and cheese."
Jane Austen said,
"Good apple pies are a considerable part of our domestic and happiness."
Johnny Cash said,
"Of emotions, of love, of breakup, of love and hate and death and dying, mama, apple pie and the whole thing. It covers a lot of territory, country music does."
Today, in honor of Carl, Eugene, Jane and Johnny, Sweet Leisure tells you how to make an out-of-this-world—truly heavenly apple pie that will insure domestic and other dining happiness and have everyone singing your praises.
BEST EVER CARAMEL APPLE PIE
Yield: One nine-inch pie.
CRUST
2 cups flour
1 teaspoon salt
14 tablespoons hydrogenated vegetable shortening
6 tablespoons ice water
Additional flour for rolling dough
FILLING
6 to 10 (depending on size) firm pie apples, peeled, cored and sliced (See NOTE)
1/2 cup butter
1/2 firmly packed cup brown sugar
1/2 cup granulated sugar
3 tablespoons all-purpose flour
1/4 cup water
NOTE: Apples to use: Either all Granny Smith or a mixture of Granny Smith and Honeycrisp, Braeburn, andGolden Delicious.

Make dough for crust: Mix flour and salt in a medium-size mixing bowl. Distribute shortening over top of flour mixture, putting each tablespoon in a different place. With a pastry blender or finger tips, quickly and lightly work shortening into flour until particles are in coarse crumbs.
Sprinkle ice water over crumbs, putting each tablespoon in a different place. Stir lightly with a fork to form a dough. Knead dough once or twice until it is smooth.
Cut dough in half, form each half into a ball and flatten slightly. Wrap each flattened ball in waxed paper and refrigerate until well chilled.
Lightly sprinkle flour over a flat surface. Put one portion of chilled dough on the surface and roll into a circle, about 11-inches in diameter. Transfer dough to a 9-inch pie pan/plate by rolling dough onto the rolling pin and unrolling it into the pan, letting excess dough hang over edge of pan. Gently press dough into the pan.
Fill dough-lined pan with apples, mounding apples slightly.
Make lattice top. (Keep in mind, the top does not have to be professionally perfect. The homemade look works for a homemade pie.) On a floured surface, with a floured rolling pin, roll remaining dough ball into an 11-inch circle. With a pizza cutter or small sharp knife, cut the circle into even 1/2- inch wide strips.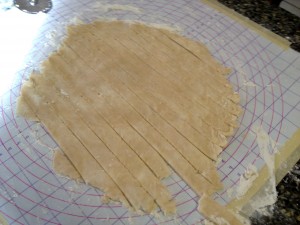 Remove one long strip of dough from the center of the cut circle. Place the strip over the apples in the center of the pie. Remove every other strip of dough from the cut circle and lay the strips, over the top of the apples equal distance from each other, in the same direction of the of the first strip, with the longest pieces in the center and shortest piece at the edge of pan.
Now gently fold every other strip on the pie back halfway from the center.
Remove the longest remaining strip from the cut circle and place across the center of the pie at right angles to the strips already there. Pull the folded strips back straight over the new strip.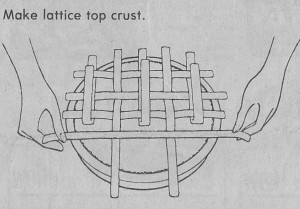 Fold back the strips that were not folded before and lay another strip crosswise over the pie and replace the folds. Repeat alternately folding, adding strips and unfolding, filling one side of the pie and then the other.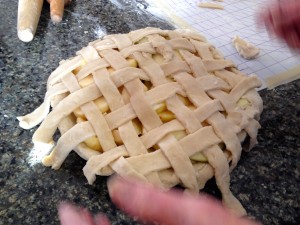 With a knife trim excess dough edges of the pie pan. Crimp around the edge of the pan, pressing the top crust to bottom crust in a tight decorative pattern.
Heat oven to 450°F.
Melt butter in a small saucepan set over medium heat. Add remaining ingredients and bring to a boil, stirring constantly. Slowly pour hot mixture over apples through holes in the top of the lattice dough.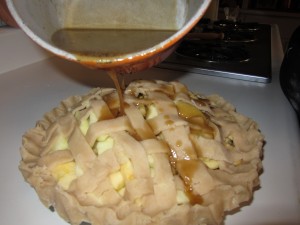 Place a square of foil on bottom rack of oven, directly under pie to catch juices.
Place pie in the center of the preheated 450°F oven for 15 minutes, then reduce the heat to 350°F and bake until top of pie is golden brown, about 45 minutes more. (To prevent over browning and insure apples cook properly, place foil or an empty pie pan upside down on pie for last 10 minutes of baking.)