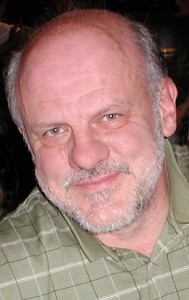 Bill Yenne has been writing about beer for a quarter century and is among the world's leading authorities on beer and brewing history. Then again, he's an authority on many topics, having contributed to encyclopedias of both world wars as well as having authored more than three dozen non-fiction books with topics ranging from aviation to biography (Julius Caesar, Alexander the Great, Sitting Bull). 
He has traversed the globe collecting material for his books and has appeared in several documentaries broadcast on the History Channel, the National Geographic Channel and ARD German Television. Condé Nast Portfolio Magazine listed his recent history of Guinness among the top business books of the year, and as its top pick for "Cocktail Conversation."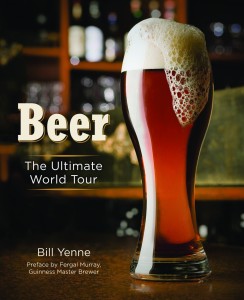 Today Bill lives in San Francisco with his wife, Carol, and uses his background in history and travel to delight the reading public.
His latest book, "BEER: The Ultimate World Tour" offers a "global survey and a global celebration of beer" that brews excitement on many levels. 
Bill takes both beer travelers and armchair beer lovers on a journey through 288 pages, detailing not only the beer brewing regions of the world and their bests beers, but also the history of beer and overviews of beer styles and glasses.
As Bill has experienced the best, Sweet Leisure asked him to pick his personal five favorite places to drink beer around the world. He generously sent us the following:
MY FAVORITE BEER BARS
by Bill Yenne
Narrowing a list of favorite places to drink beer to a mere five is an impossible fool's errand, but when the word "impossible" comes up, I regard it, not as an end game, but merely as a challenge.
The criteria in this list include a geographic range of places (in many a town, I could name five within an easy pub crawl of one another), and that intangible feeling one gets of having arrived within a unique and singularly remarkable setting. There are certain places from which one takes stories that will be elements of one's own special folklore forever. Going without saying among criteria is an assurance of beer that is sublimely gratifying both to the palate and to the mood.
Finally, there are the intangible criteria of this being a place that speaks of ease and comfort, a place filled with memories of good friends and good times, a place where I would go this afternoon if I could.
Hofbräuhaus München
Platzl 9, Munich, Germany
You should, at least once in your life, visit the cathedral of beer. To enter it for the first time is breathtaking. Like a great Gothic cathedral it is so vast that one is dwarfed by the scale, filled with awe and left speechless. Most who write of it use the word "cavernous." Most who go there, use the word "fun." Like a great Gothic cathedral it is filled with music, a live band or two thundering with German traditional Bavarian drinking songs.
Those who write about it remind you that it was founded in 1589 by Wilhelm, Duke of Bavaria, as the royal brewery, and that both Mozart and Lenin drank here – a lot. But these things are easily forgotten when you are surrounded by a swirling mass of humanity, each man or woman hoisting a full-liter maßkrug, and your immediate goal is to get one of those in your hand. If you come in the warmer months, there is an equally enormous beer garden just outside the beer hall. Come for the maßkrug, and stay for the plates, overflowing with wurst and schnitzel. The variety of beer styles is limited, mainly to helles and dunkel, but Hofbräuhaus also brews (now at an offsite production brewery) Delictor doppelbock, Münchner Weisse hefeweizen and Festbier Märzen for Oktoberfest, among others.
Staminee De Garre

De Garre 1, Brugge, Belgium
In a tiny country that calls itself "Beer Paradise" without hyperbole, where you could drink in a different world class beer bar every night for a year or two, this is the one where I would go if I could go to only one. You should too. I insist. But first, you have to find it. It is located in the heart of Belgium's most picturesque city (alas more touristy now than when I first started going). Brugge is a Medieval time capsule that is a feast for the walker as Staminee De Garre is for the beer lover. On your first pass, you'll probably miss De Garre, the tiny pedestrian alley that leads to the front door.
When you find the alley and find the door, you'll probably ask your companions whether this can really be the right place, but as you step inside, you'll know that you have arrived, and that you have arrived in a place where you can relax in the rich, intimate, understated atmosphere with the three things that make such an experience sublime – extraordinary beer, a bite to eat, and good friends. You supply the latter and your hosts will supply the rest. There are "only" around 130 beers on the menu, but they are carefully selected from throughout Belgium. You'll see old favorites and usual suspects, but best of all, you and your friends will meet new friends among the selections that are offered. You'll find yourself thinking that it gets no better than this.
Toronado
547 Haight Street, San Francisco, California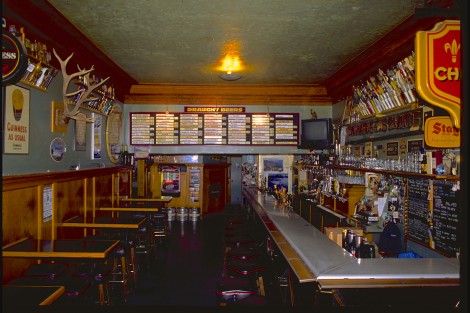 San Francisco is a city with a beer scene as lively and nuanced as any in the world. This is, after all, where Fritz Maytag crafted Anchor Brewing into the first modern craft brewery, and ran it as such for more than a decade before Jack McAuliffe, Allen Paul and Buffalo Bill came along. Amid San Francisco's constantly refreshing tapestry of microbreweries, nanobreweries and beer bars, there is one bar that is always on the list – as it has been since Dave Keene took it over a quarter century ago. To say that Toronado is the quintessential beer bar, is an understatement in the extreme. With a constantly changing selection of around four dozen handles, it is a place where even the most experienced connoisseur can always find an esoteric "something" or three that he or she has never sipped before. And speaking of handles, Keene has been collecting them for decades and has them displayed throughout the bar. I tried once, but had to stop counting at around a thousand.
Just about every beer ever brewed in the West has passed through these doors, as has just about every notable brewer. Vinnie Cilurzo from Russian River Brewing, the inventor of Pliny the Younger, a beer on most "top five in the world" lists was best man at Dave's wedding – and yes, when Pliny makes his annual two-week appearance, they line up around the block at Toronado.
 U Fleku Pivovar
Kremencova 11, Prague, Czech Republic
How can you put a bar that serves only one kind of beer on a list of pubs that includes Staminee De Garre and Toronado? When that bar has been brewing and serving its beer ever since the third voyage of Christopher Columbus!
In business since 1499, it got its name from Jakub "Flek" Flekovsky, who bought the place in 1762. U Fleku is the world's oldest brewpub, and their five prevent ABV Flekovsky Tmavy Lezak 13° dark lager gets a "94 outstanding" rating from RateBeer.com.
Step through the door beneath the old square clock on a cobbled street in Prague's old town and you'll find yourself in a jumbly-tumbly King Arthur's castle labyrinth of rooms and hallways that lead you back into another century. One room is dark and mysterious, another bustling with music and dancing. One room is a high ceilinged beer hall, another is small and cozy. In one room they're dining on Opékaná klobása and Flekovský guláš. In another, they are singing football songs. One moment, you discover that you're hopelessly lost, but in the next, you realize that you don't care. You're at Flek's, and they'll take good care of you here. They've had half a millennium of practice.
Kauai Island Brewery
4350 Waialo Road, Port Allen, Hawaii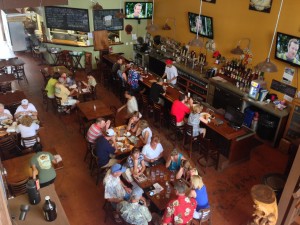 Someone asked me recently what beer I would take to a desert island. I asked whether I had a choice of islands. If I did, it would be Kauai, the least populated and most laid back of the main islands of the archipelago that is the fiftieth state. If I was able to pick the island, I wouldn't take any beer. I'd just head out State Route 50, make a left on Waialo, and find myself – metaphorically as well as literally – at the "westernmost brewery in the world."
I discovered the brewpub closest to this side of the International Dateline some time ago when they were about five miles farther west at an old coconut plantation in Waimea. A couple of years ago, Bret Larson and Dave Curry moved their operation to the present location across the road from Captain Andy, who has a tour boat operation not unlike the one that the Captain and Gilligan would've had if they hadn't been – well, you know the story.
I recall with great fondness the day that Mike Bolos and I spent with Dave Curry in the cool fermenting room just before they reopened, sampling the whole lineup, and savoring especially his 3.8 percent ABV South Pacific Brown which had earned him a second place ribbon at the West Coast Brewers Festival.
In a few weeks, give or take a month or so, I expect to be laid back on Waialo Road, watching the sun crawl through the cumulous on the horizon and settle into the fiery red Pacific while I sip a 6.3.