Oh man, I'm hungry. All I can think about is the original Petit Trois in Los Angeles. This restaurant proves the proverb that good things come in small packages. Really good things. Really small packages.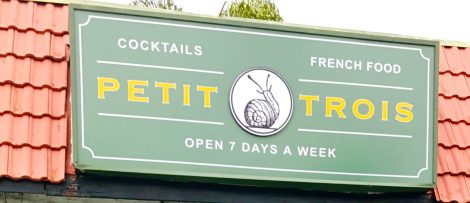 Located in a strip mall on Highland just off Melrose, the narrow French-focused bistro seats only 21 lucky folks on stools at two counters. One counter faces the open kitchen—the other, a wall of arched mirrors.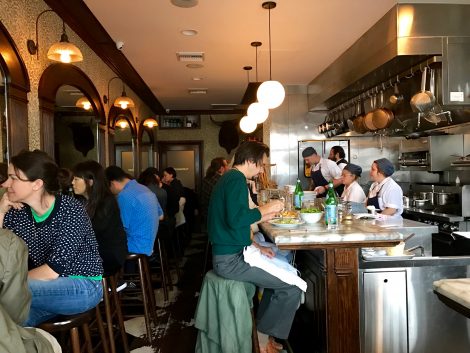 There are no tables. No chairs. No reception area to hold the crowds that gather for first come first served seating. Customers line up outdoors with seating on a bench facing the parking lot (just FYI, the wait is shorter on rainy days).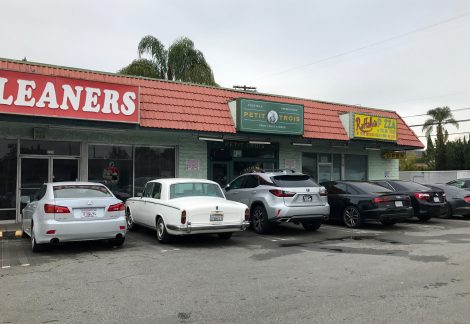 The bathroom, in the back, shares space with Trois Mec, Petit Trois's older, more formal sibling restaurant. A small, well-stocked bar at the entrance completes the set up.
It's not the intimate space, but the food that gathers the crowds and garners the accolades. Under the direction of celebrity Executive Chef Ludovic Lefebvre and the charming Chef de Cuisine Will Marquardt, the "Bar á la Carte" serves simple, unpretentious, perfectly prepared dishes that some critics claim is the best French food in all of America.
Petit Trois sports a slew of contradictions.
Small space/colossal reputation.
Casual setting/serious food.
Old-school bistro/trendy L.A. vibe.
Credit cards only/no cash accepted (can you imagine!).
So what am I craving? Actually the full menu, particularly
the pate de campagne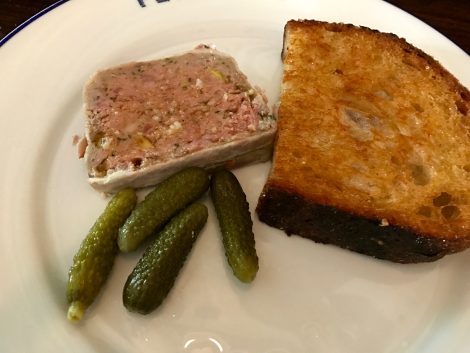 the dreamy omelette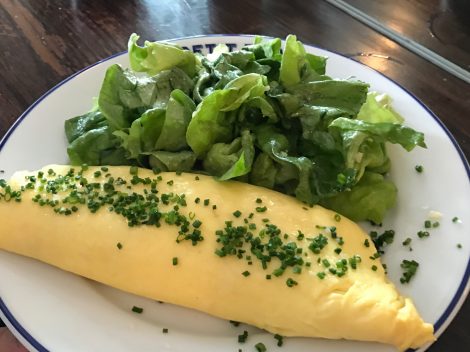 the cassoulet and other specials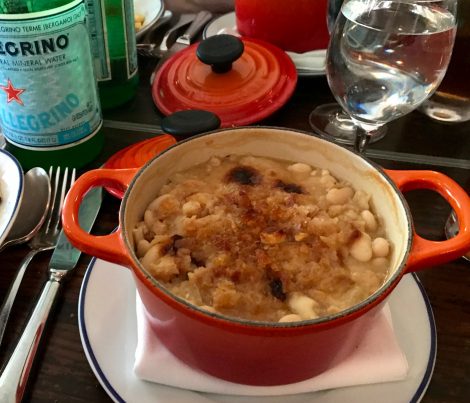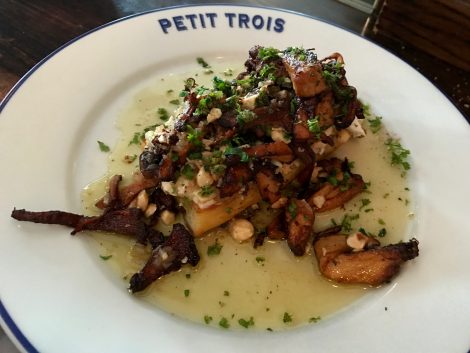 the salted caramel rice pudding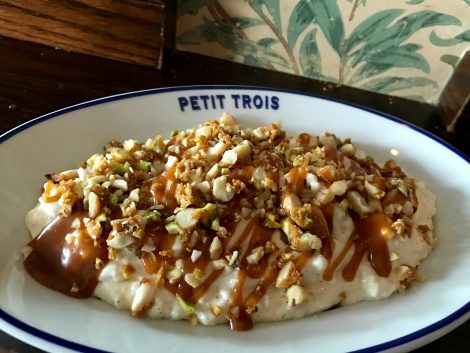 and
the awesomely rich, velvety divine, melt-in-the-mouth chocolate mousse.
PETIT TROIS CHOCOLATE MOUSSE
Yield: 6 to 8 servings.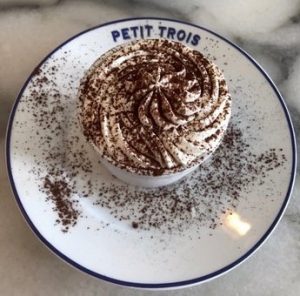 About 7 ounces 70% dark chocolate
6-1/2 tablespoons unsalted butter
6 eggs, separated
About 10 tablespoon sugar, divided
1 cup whipping cream
1 tablespoon unsweetened cocoa powder
Melt chocolate with butter over a baine marie and stir until well blended. Set mixture aside.
Put egg yolks and 1/4 cup sugar in a medium mixing bowl. Beat with an electric mixer set on medium-high speed until mixture is pale yellow and thick enough to form a ribbon when the beaters are lifted, about 5 minutes. Set aside.
Put egg whites in a clean medium mixing bowl. Using an electric mixer with clean beaters, beat whites slowly adding 3 tablespoons sugar. Continue beating until soft peaks form, about 3 minutes.
With a large spatula, gently fold yolk mixture with chocolate until no streaks remain. Gently fold whites into chocolate mixture, scooping around bottom and sides of bowl and rotating bowl as you fold.
Spoon mousse into ramekins. Cover each ramekin with foil or plastic and refrigerate for 4 hours before serving. The mousse can be made a day in advanced and refrigerated until ready to serve.
When ready to serve. Whip cream with remaining sugar until soft peaks form. Spoon dollops of whipped cream on top of mousse in each ramekin. Put each ramekin on a serving plate. Put cocoa in a fine mesh sieve and dust top of whipped cream and surrounding plate with cocoa.
Serve immediately.
Bon appétit!
For more information about Petit Trois click HERE.
To see a video of Will Marquardt click HERE.