I've driven past it many times without going in. That's never happening again.
Located on the route from Denver to Aspen, Colorado, where drivers switch from I-70 to Hwy CO-82, Glenwood Hot Springs lures like a siren song.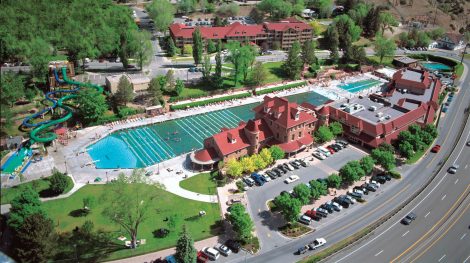 From above, the "largest mineral hot springs pool in the world" looks like a greatly elongated bright-blue football field, although it's narrow at one end, broad at the other. Drive a bit closer and one sees swimmers frolicking under bright blue skies and hears splashing squeals drifting over the water waves like an invitation to join the fun.
Looks joyful. Sounds festive. But one can't tell how relaxing and rejuvenating the spring water feels until actually plunging in, which folks have been doing since the facility was founded in 1888.
Driving by and want to partake? Go for it. There is no excuse to pass on the pleasure.
No suit. No worry. The facility rents swimsuits and towels for those without their own. And an on premise shop sells swimware along with upscale clothing, souvenirs and water-fun sundries.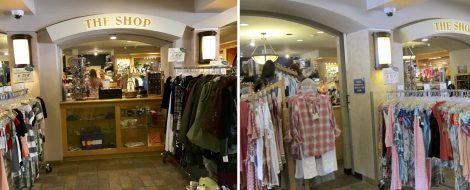 Hungry? No problem. An indoor/outdoor grill offers breakfast, lunch and snacks along with beverages that include beer and wine. One can even bring a cooler (but no glass or alcohol).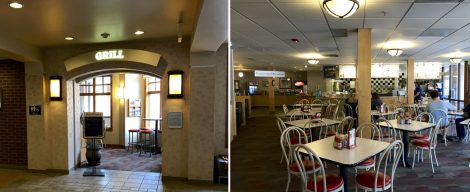 Not sure what to do? No sweat.
Park the car (plenty of free spaces) and enter through doors located in front of the peach-colored sandstone bathhouse.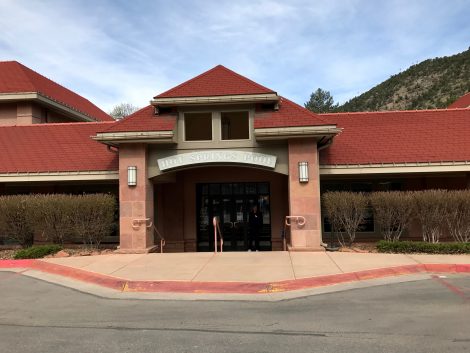 Pay at the entrance for access to the pools and to the men's, women's and family changing rooms and showers. A number of factors, including season, time of day and age determines charges. Be sure to reserve change for the coin-operated lockers.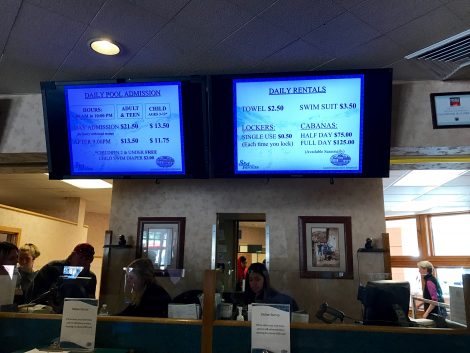 What looks like one enormous pool is actually two. Separate water slides and a kiddy wading pool, located at the west end of the property, operate in summer.
Water for the main pools come from the Yampah spring (Yampah means "big medicine" in the Ute Indian language). The spring water, naturally heated to about 122°F., is cooled with fresh water before being pumped to the facility's pools. Temperature of the 405-foot long main pool hovers around 90°F. With diving board and lap lanes at one end, this is the ideal pool for swimming play.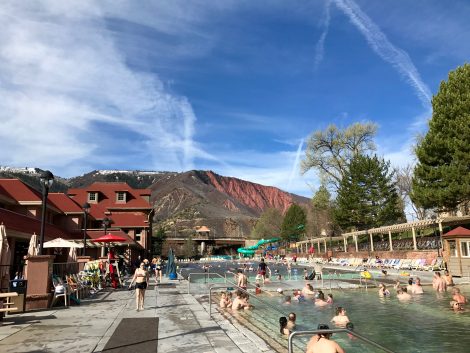 The 100-foot long therapy pool maintains a 104°F temperature ideal for soaking and socializing. Coin operated "bubble chairs" add effervescence to the therapy experience.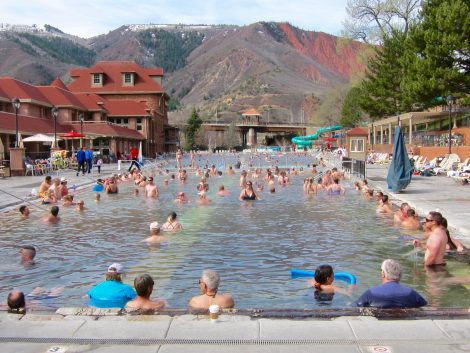 Backdropped by mountain scenery and surrounded by clear fresh mountain air, Glenwood Hot Springs provides an all-season Rocky Mountain high for those seeking water fun. So don't skip the delight on the drive to someplace else. Stop. Submerge. Soak. Swim. Socialize. Sunbathe. Smile.