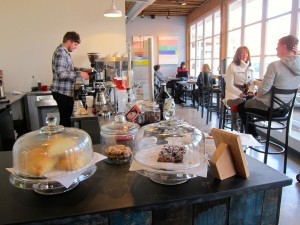 The cafe is all for the good.
Good deeds. Good coffee. Good treats. Good place to be.
According to head baker Nate Larson, the cafe's backstory involves his dad, Barry Larson—the founder of Bridges, an organization providing support services to people with physical and cognitive disabilities. Seems Barry bought a used coffee roaster for a lark, started roasting coffee as a hobby, and saw a way coffee and service could couple. In 2009 he opened Arthouse Coffees,  a wholesale, small-batch coffee roasting company that hired those "with barriers to traditional employment." And in December, 2014, he brewed up the Living Room, blending Arthouse Coffees with a small, high-quality coffee cafe.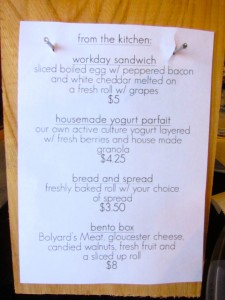 Located in Maplewood, Missouri, in the space of a former theatre, Living Room features a clean-cut contemporary decor with exposed brick wall, floor to ceiling windows, and mellow-wood display cases. All is kept to the sophisticated simple. Baristas hand-craft each cup of coffee, using beans freshly roasted in house. Menus feature uncomplicated, flavor-filled items, such as a breakfast sandwich, great granola with yogurt and fruit and assorted baked goods, with everything made from scratch on a daily basis. Specials include "bento-boxes," (bread, meat, cheeese, nuts and fruit) and weekend offerings of quiches and country-style galettes."
As to good deeds, the Living Room creates "job opportunities for people with unrecognized potential," as well as donates all baked goods left at end of day to a homeless shelter.
With a motto that states, "The folks at Living Room welcome and cherish all people.," Living room creates good will all around and works to the good of coffee lovers, the disability community, and the St. Louis public who get to sample the goods.
When asked for a recipe, Nate said " Sure. A recipe is for everyone to copy and build upon. Sharing is caring."
Good spirit. Good karma. Good recipe. Great cookie.
GLUTEN-FREE CHOCOLATE CHIP PEANUT BUTTER COOKIES
Yield: 6 jumbo cookies.
2 tablespoons granulated sugar for topping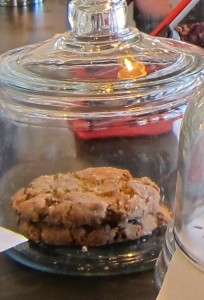 1/8 teaspoon kosher salt for topping
1 cup crunchy peanut butter
1/2 cup granulated sugar
1/2 cup brown sugar
1-1/2 teaspoons Kosher salt
1 teaspoon baking soda
1 egg
1-1/2 teaspoons vanilla
1/2 cup bittersweet chocolate chips
Preheat oven to 375°F. Line a large baking sheet with parchment paper; set aside. Put sugar and salt for topping in a small bowl and mix well; set aside.
Put all remaining ingredients except chocolate chips in a large bowl and beat with electric beaters until mixture is well blended and holds together.
Divide dough into six portions. Roll each portion into a ball. Roll balls in sugar/salt topping and place on the paper-covered baking sheet. With the palm of your hand, flatten each dough ball into a 1/3- to 1/2-inch round, keeping edges in a circle shape.
Bake in a preheated 375°F oven until large cracks form on top and cookies just barely begin to brown, 8 to 12 minutes. Remove baking sheet from oven and set on a rack to cool.
Let cookies cool completely before removing from baking sheet.