I started reading my mother's diaries. This is not as intrusive as it sounds as mom (Betty Manlin) wrote them when she was well into her eighties for her kids to read as desired.  When packing her home after she died, I put the diaries in a storage box, only to be found many years later, during Covid lockdown.
The diaries fascinate me—not that they disclosed secrets, but because they offer mini-memories of family cooking.
Mom was a remarkable woman, but a wretched cook. On the other hand, her mother, Maggie Steffen, won kudos for her culinary skills.
Granny lived in rural Missouri on a small family farm. Like other original farm-to-table cooks, she grew vegetables and herbs in a kitchen garden; plucked apples and plums from her backyard orchard; kept a cow for cream and butter; and raised chickens that wandered at will, yielding colorful eggs and flavorful dinners.
I find my mom's food memories touching, like the one of an old noodle board that she inherited from her mom and describes in her diary here: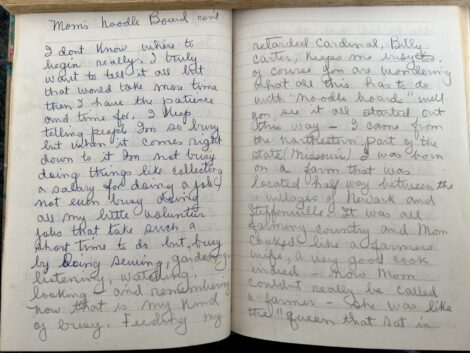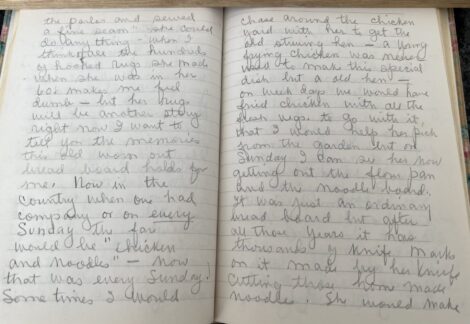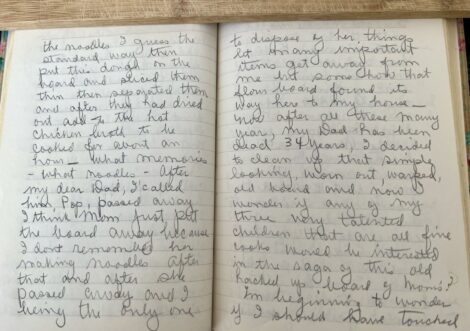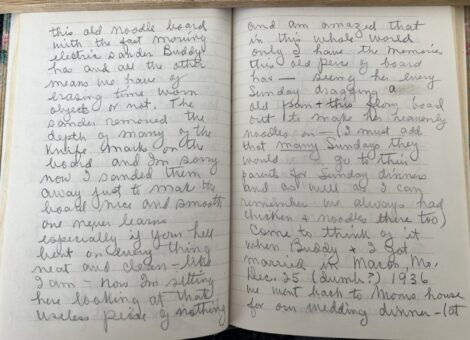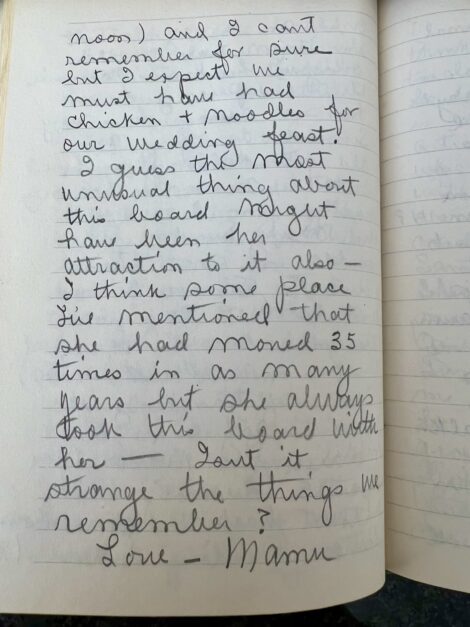 As far as I remember, Granny used similar dough—and her noodle board—to make two kinds of noodles. The dropped version resulted in squiggly dense bites also known as spaetzle.
She cut her rolled version into various sizes, with the thick, broader cuts also called dumplings.
Keep in mind that Granny didn't use measurements, so my interpretation of ingredient amounts in the recipes below are "abouts," to be adjusted as desired.
GRANNY'S DROP NOODLES (Also called Spaetzle)
Yield:  About 6 servings.
3 cups flour
Salt
1/2 teaspoon black pepper
3 eggs
Water
Butter for serving
To make noodles: put flour, 3/4 teaspoon salt and pepper in a mixing bowl. Make a well in the center of the flour mixture. Break eggs into the well and then add 1 cup water. With a fork, first beat eggs and water together until blended and then start incorporating flour from the side of the egg mixture. Keep incorporating flour, adding more water, if necessary, to make a smooth, thick moist batter.
Bring a large pot of water or broth to a rapid boil.
Put a portion of the batter on a wooden board. With a sharp knife, cut a sliver from the batter and roll it along the board until it curls into a slender noodle. With the knife, push the noodle into the boiling liquid.
Repeat until all batter has been used.

Noodles are cooked when they rise to the surface of the hot liquid.  (See NOTE.) Transfer hot noodles to a serving dish and toss with a generous amount of butter. Correct seasoning and serve immediately.
NOTE: If not serving immediately, transfer noodles as they are cooked to a bowl filled with cold water. To serve: drain noodles. Melt about 3 tablespoons butter in a large skillet, add noodles and toss gently over medium low heat until noodles are hot. If desired, sprinkle with salt and serve immediately.
GRANNY'S CHICKEN AND SPAETZLE NOODLES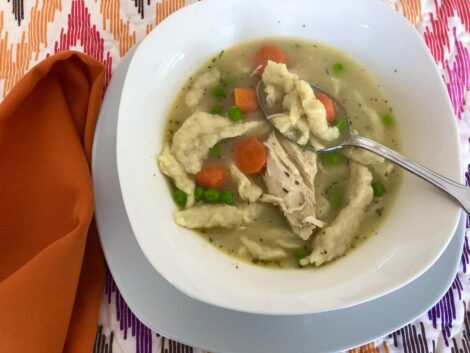 Yield: 6 servings.
About 4 cups chicken broth
1-1/2 cups trimmed, peeled carrots that have been cut into thick rounds
1 cup peas
3 cups cooked cubed chicken
Cooked drop noodles from recipe above
Bring broth to a rapid boil. Add carrots and boil until carrots are almost tender, about 15 minutes. Add peas, chicken, noodles, and more broth if necessary to cover all ingredients. Simmer until ingredients are hot throughout and flavors are blended, about 10 minutes.
GRANNY'S CHICKEN AND DUMPLING NOODLES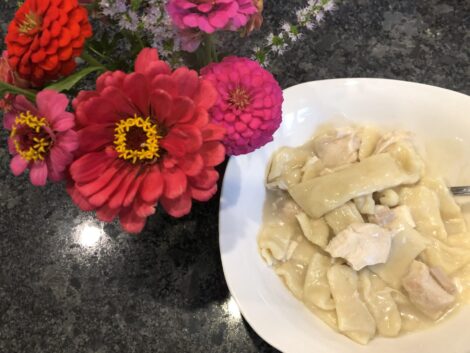 Yield:  6 servings.
3 eggs
1/4 cup water
1-1/2 teaspoon salt
3/4 teaspoon baking powder
3 cups flour
5 to 6 cups chicken broth
3 cups cooked chicken, cut into large chunks
2 tablespoons butter
Beat eggs, water and salt together. Add baking powder and 1/2 cup flour and mix well. Stir in flour, 1/2 cup at a time, until mixture forms a soft dough. Spread remaining flour on a countertop. Place dough on top of flour and knead lightly for 30 seconds incorporating enough flour to make a smooth soft, but not sticky, dough. Roll dough 1/4-inch thick, turning dough over to coat evenly with flour. Cover with kitchen towel and let dry 30 minutes.
Turn dough over and dry another 30 minutes.
Put dough on board and slice into noodles with a very sharp knife. (Can layer the dough pieces and cut through several sheets at one time. Cut thick or thin, as desired.)
Spread cut noodles out on floured surface, cover with kitchen towel, and let dry another 30 minutes.

Bring broth to a rolling boil in a large saucepan. Pick up handfuls of noodles and shake off excess flour. Drop noodles by handfuls into pot, stirring constantly.
Add chicken to noodles in pot and cook over medium low heat for about 15 minutes, until noodles are tender, but no longer doughy. Stir in butter.