ROSEMARY BEACH is aptly named: "Beach"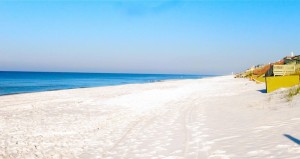 for the

glorious sparkling white-quartz sand that hugs the Gulf of Mexico and "Rosemary" both for the flavorful herb and, by extension, the flavorful food that thrives in the northwest Florida beach community.
For a 107-acre town welcoming homeowners and vacationers—and an area where almost every rental accommodation sports a kitchen—Rosemary Beach boasts an unusual number of luscious dining options.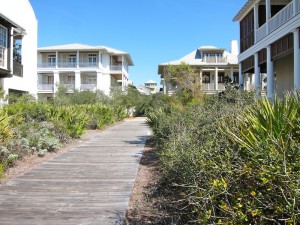 Town planners, who founded the community in 1995, filled Rosemary Beach with architecturally unique homes using natural materials and a palette of soft colors. They gave ample space to broad grassy grounds and green, garden-lined footpaths and boardwalks. They added tennis courts, fitness center and swimming pools. And they put restaurants in the bulls-eye center of everything.
As restaurants are literally and figuratively the centerpiece of the community, we created an itinerary for a two-day Rosemary Beach eating spree (with a few suggestions for killing time in-between meals). Consider the itinerary a speed-dating preview of Rosemary Beach restaurants highlights—an introduction from which to choose favorites and return for more.
And for those not lucky enough to be on location, we added recipes—tasty tidbits from a town where food shares vacation significance with sun, sand and sea.
TWO DAYS IN ROSEMARY BEACH
DAY 1
Start the morning at AMAVIDA COFFEE, a pet-friendly, neighbor-sociable, family-owned coffee shop in the center of town. Amavida provides a plethora of wake-up pleasure, including WIFI, newspapers, magazines and books, morning pastries, breakfast sandwiches and 100 percent natural Fair Trade coffee prepared every which way.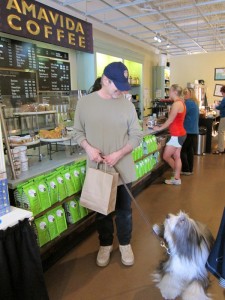 Off to the beach for a morning of sunshine.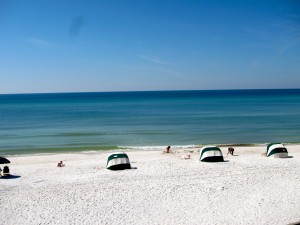 Lunch at SUMMER KITCHEN CAFÉ,  the first restaurant to open at Rosemary Beach and a breakfast/lunch hangout known for salads (recipe follows), wraps, sandwiches and other casual fare. Summer Kitchen also sports a more gourmet dinner menu, but patio dining is especially appealing in lunchtime sunshine.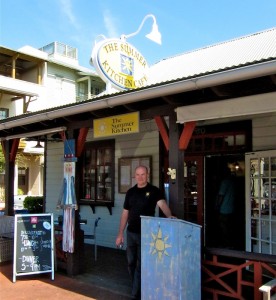 Spend the afternoon on a bike, which can be rented from BAMBOO BICYCLE COMPANY  located next door to Summer Kitchen. Ride along Scenic 30A, stopping at DEER LAKE STATE PARK  (4 miles away) to catch the coastal dune lakes found in only two other parts of the world (Africa and Australia).

Return to Rosemary Beach, for mid-afternoon refresher at THE SUGAR SHAK, a candy land selling a cornucopia of the sweet stuff as well as ice cream concoctions, shaved ice refreshers and frozen yogurt.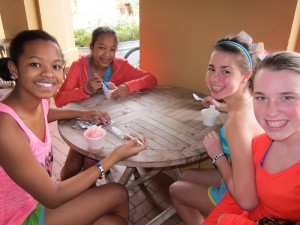 Dinner time?  Head to ONANO, a restaurant that bills itself as a NEIGHBORHOOD CAFE, which is right on the mark if the neighborhood is in the heart of Tuscany. Italian and Mediterranean flavors blend with Florida favorites and all come together in dishes such as the locally caught grouper served with spinach, gnocchi and a Tomato Olive Vinaigrette (recipe follows).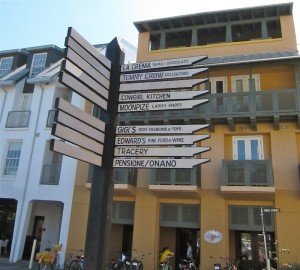 Sleep well.  Rosemary Beach vacation rental accommodations are tucked into large homes, carriage houses, lofts, flats and inns, and all but the inn rooms come with equipped kitchens, washers and dryers, linens and TVs.  Rentals run the gamut from multi-bedroom units to studios and all are unique.
The comforts of the Moreland Carriage House studio cottage, one of the simpler choices near the beach, include a big brass bed, shower only bathroom, fully equipped kitchen and little balcony to catch the morning sun as well as glimpses of the Gulf.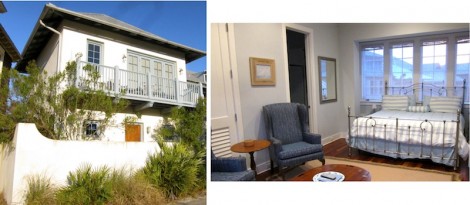 DAY 2
Having breakfast at COWGIRL KITCHEN  is de rigueur for a Rosemary Beach stay. Although the café remains open for lunch and dinner, it's the praline bacon waffle breakfast that lassos the crowds. (Recipe follows.)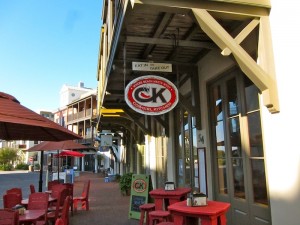 More beach on the agenda—walking, swimming, lounging, until it's time for lunch at the new, stylish and sophisticated AQUA COASTAL SUSHI.  Chef Steve Kim packs his menu with an array of unusually delicious, unusually creative and unusually attractive Japanese-inspired dishes. And no matter what one orders, the Lobster Nests starter and Chocolate Sushi in Heaven dessert are must haves!

After lunch drive to EDEN GARDENS STATE PARK  and wander the grounds graced with moss-draped live oaks and, in season, camellias, azaleas and roses. Visitors can tour WESLEY MANSION, a historic homestead with a collection of antiques that include, what is said to be, the second largest collection of Louis XVI furniture in the United States.

Head back to Rosemary Beach in time for a stop at LA CREMA TAPAS & CHOCOLATE. True to its name, the charming café, which is open from 11 a.m. until 9 p.m. (later on weekends), specializes in tapas and chocolate, so visitors are obligated to try both (YES!). Good choices: the fig tapas  (recipe follows) with a glass of Spanish wine, followed by the luscious…well…the… luscious….well any of the desserts—all are fabulous.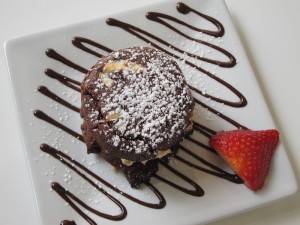 Enjoy a sunset stroll on the beach before heading to the four-star RESTAURANT PARADIS for dinner. Start with the specialty martinis (recipe follows), move onto the seafood and steaks, and end with the luscious desserts. A WOW on all accounts.
RECIPES FROM ROSEMARY BEACH
PARADIS MARTINI from Restaurant Paradis
Yield: 1 serving.
3 ounces Pinnacle or Pearl Pomegranate Vodka
1/2 ounce white cranberry juice
1/2 ounce peach schnapps
4 ice cubes
1 Tea Forte lavender citrus infuser
Put vodka, juice and schnapps in a cocktail shaker with ice. Shake and strain into a martini glass. Serve with the infuser on the side. The imbiber dips the infuser into the martini until it is flavored as desired.
PRALINE BACON from Cowgirl Kitchen
Yield: 10 strips.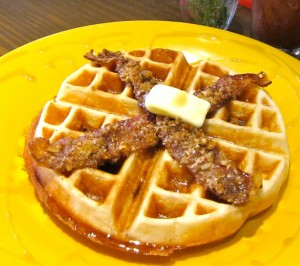 2 ounces dark brown sugar
5 ounces chopped pecans
10 slices extra thick bacon
Combine sugar and pecans in a food processor or blender and process until finely chopped and well blended.
Bake bacon strips in a preheated 350°F oven for 10 minutes. Remove bacon from oven and generously coat each slice with sugar/pecan mixture (use about 1-1/2 tablespoons mixture for each slice). Return bacon to oven and bake for 5 minutes. Set bacon aside to cool.
To serve Praline Bacon Waffles as does Cowgirl Kitchen: chop some of the bacon and sprinkle pieces over cooked waffles. Garnish top of waffle with whole strips. Serve with butter and maple syrup.
QUINOA  SALAD from Summer Kitchen Café
Quinoa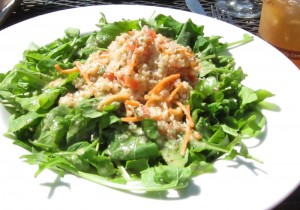 Juice from 1 medium lemon
1 teaspoon chopped garlic
1 teaspoon Dijon mustard
About 1/4 cup olive oil
Finely chopped tomato
Coarsely grated carrots
3 to 4 fresh basil leaves, chopped
Arugula or salad greens
Prepare quinoa as directed on package. Cool completely.
Make dressing by combining lemon juice, garlic and mustard in a small bowl. Whisk in olive oil.
Mix quinoa with finely chopped tomatoes, carrots and basil and toss lightly with dressing.
Put a generous amount of arugula or your choice of greens on a plate. Drizzle with a little dressing. Top with quinoa mixture.
TOMATO OLIVE VINAIGRETTE from Onano 
Yield: About 8 servings.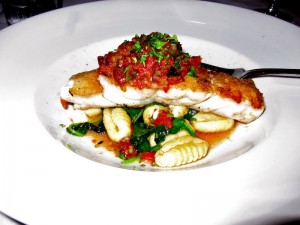 4 large ripe tomatoes, (peeled, seeded, and diced)
2 shallots, minced
1 cup kalamata olives, pitted and minced
1/2 cup red wine vinegar
1/2 cup extra-virgin olive oil
Salt to taste
Black pepper to taste
Combine all ingredients and set aside for 1 hour to let flavors blend.
Serve as desired.
(To serve Spinach & Gnocchi Grouper with Tomato Olive Vinaigrette as does Onano Neighborhood Cafe, sauté baby spinach leaves and potato gnocchi in browned butter and set on a plate. Add a piece of grilled grouper. Top fish with a large dollop of room-temperature Tomato Olive Vinaigrette.)
SERRANO WRAPPED FIGS from La Crema
Yields: 36 pieces.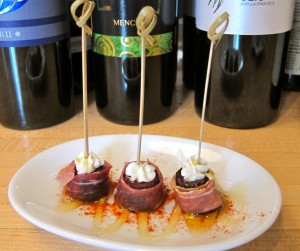 36 figs
1/2 cup red wine
Sweetened Goat Cheese (recipe follows)
36 thin (3- by 1/2-inch) slices Serrano ham
Smoked paprika
Tupelo honey
Put figs in a bowl and add wine; set aside 30 minutes.
Cut off both ends of figs and create hole in the center with a large pastry tip. Fill hole with Sweetened Goat Cheese.
Wrap each fig with a slice of Serrano ham. Insert a toothpick in top. Serve on a plate sprinkled with paprika and drizzled with honey.
SWEETENED GOAT CHEESE
Yield: About 1-1/2 pounds.
1 pound cream cheese, room temperature
8 ounces goat cheese, room temperature
Tupelo honey to taste
Beat cheeses together until well blended. Add honey as desired. Refrigerate until used.