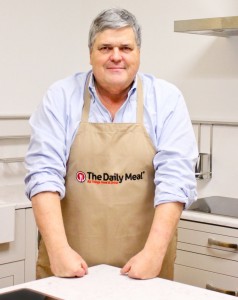 Breathes there a cook with soul so dead who has never heard of Colman Andrews. Hard to imagine as Colman's list of high-profile accomplishments have long dazzled those interested in food and beverage. Colman founded Saveur magazine and also served as an editor. He wowed us with a slew of prize winning cookbooks and guided us with his restaurant column in Gourmet magazine. At present he sheds his light as editorial director of The Daily Meal, a top food and beverage website. As a culinary superstar, Colman travels the world and seeks out the best of the best wherever he lands, including airports. Yes. Airports. Today Sweet Leisure brings you Colman's favorite airport food outlets—culled from The Daily Meal's list of the world's best.
FAVORITE AIRPORT MEALS
by Colman Andrews
 There's a wonderful old restaurant guide, first published in 1906, called The Gourmet's Guide to Europe, written by a retired military officer and man-about-London who signed himself Lieut.-Col. Newnham-Davis. In his section on the northern French port city of Calais, the continental terminus of the boat train from Dover, across the English Channel, he begins a listing of the town's more acceptable eating places by saying "If you are detained in Calais, and every young man is detained in Calais at least once in his life…"
I doubt that very many people get detained in Calais anymore, but plenty of us — young and old, men and women — get detained in airports all the time, and once you've stocked up on magazines you wouldn't ordinarily be caught dead with and wandered idly through the duty free shop wondering if it's worth lugging four extra pounds of dead weight in your carry-on just to save $7 on a magnum of Jack Daniels and maybe getting one of those neck massages right out there in public, what else is there to do but eat and drink?
That being the case, it always seemed curious to me that for many years airport dining around the world wasn't a lot better than it was. Or maybe that was because once you were through security, you were pretty much a captive audience, so folks figured out that they could serve you any old thing (and charge you far too much for it) and you'd eat and pay and like it, because, hey, who wanted to go back outside just for a decent turkey sandwich or some Sichuan-style tofu if it meant you'd have to stand in line for another 45 minutes behind several dozen people who didn't see why they couldn't bring their Big Gulps through the x-ray machine then have to take off your belt and shoes and wiggle your laptop out of your bag yet again?
For whatever reason, for far too long, far too much airport eating meant limp salads and dried-out sandwiches and junk-food burgers and high-calorie so-called Italian food so bad that it probably ought to be considered an anti-Italian hate crime. Happily for travelers, and especially for those who are detained, things have gotten a lot better in recent years. Oh, there's still plenty of rubbish, and plenty of street-level fast food (McDonald's, Taco Bell, and all their kin). But now we've got famous

chefs on the order of Gordon Ramsay, Jamie Oliver, Dani Garcia, Rick Bayless, and Todd English with airport restaurants in various places, top-quality casual chains like Five Guys and Wolfgang Puck Express, local favorites like Gold Star Chili (Cincinnati/Northern Kentucky) and Pink's Hot Dogs (LAX), and a whole lot of quite reasonable delis and pizza emporiums and steakhouses and on and on.
At TheDailyMeal.com, we set out recently to discover the best airport restaurants in the world (http://www.thedailymeal.com/31-best-airport-restaurants-around-world). The results are admittedly subjective, but we think it's a pretty good list. Here are four of my favorites from our selection, plus an outlier that I usually don't admit to patronizing:
Sometimes you can have a really good sit-down meal at an airport. Altitude, at Geneva's Cointrin International, is quite possibly one of the top five restaurants in Geneva, period. Chef Fabien Legon cooks assertively but with a sure hand, blending Mediterranean and Asian flavors with a French flair. His sautéed foie gras with lemon confit and Taggiasca olives, crab cannelloni with seaweed and crustacean emulsion, and marinated beef fillet with autumn vegetables, chanterelles, and pumpkin cream are memorable — and the dining room is sleek and cool and not very airporty at all.
Down in Spain, two Michelin-starred chefs are making airport dining much better than it probably needs to be. Carles Gaig, who has a star for his restaurant Gaig (pronounced "gatch") in Barcelona and also runs a popular traditional Catalan place called Fonda Gaig, brings his region's soulful cooking to the new Terminal 1 at the city's airport with Porta Gaig. Shredded salt cod salad, flatbread rubbed with tomato and served with good Spanish ham, butifarra sausage with white beans, the cabbage/bacon/potato cake called trinxat, and all kinds of other solid, satisfying local dishes are on the menu.
In Málaga, down the coast in Andalusia, Dani García — whose high-tech Calima restaurant in Marbella serves imaginative avant-garde cuisine (the chef sometimes seems to use more liquid nitrogen than olive oil) — has opened a branch of his La Moraga chain of modern tapas bars. The decor is sleek and airy and the food is traditional reinvented. The cherry gazpacho and the small oxtail burgers will brighten any airport layover.
Here in the U.S., I can rarely resist the brisket sandwiches at Salt Lick Bar-B-Que in Austin's Bergstrom Airport. Now, Salt Lick isn't the best barbecue place in the Austin area, and of course the meats aren't slow-smoked on airport premises, but Salt Lick isn't bad, and barbecue actually keeps pretty well. And being able to enjoy a smoky taste of the Texas countryside on your way to Jet Blue Flight 1064 is pretty cool.
And then there's my secret airport vice, my guilty en route pleasure… Auntie Anne's pretzel stands are found in airports all over America. They all sell pretzel dogs. Some of them, for instance the one Dallas-Fort Worth, also offer a jalapeño cheese pretzel dog — a plump, juicy dog swaddled in buttery pretzel dough coated in cheese, with pickled jalapeño slices on top. A lowbrow treat, high in calories, fat, and sodium. Just delicious.
And other airport restaurants Sweet Leisure particularly likes: