Miami International is just about the only airport in the world that I actually look forward to long layovers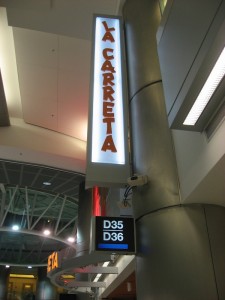 between planes—at least long enough to pop into La Carreta Restaurant for an overload of rich and flavorful Cuban food. Recent renovations brought this Cuban chain from the terminal outside of security to the inside. Now located across from gate 37 in terminal D, the restaurant is super accessible to transit passengers, especially those flying American.
Maybe it's my imagination but the food isn't quite as good since the move, still it is about the best airport food I know.
Lines (there are always lines) in front of the cafeteria steam table move quickly, but if I'm in a hurry, I cut to the chase and order a Cuban sandwich with a side of meltingly sweet plantains from the counter at the end of the room.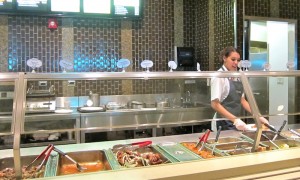 If time allows, and the cafeteria is serving Cuban specialties (not in the morning when ordinary American breakfast is served), I join the line and load a tray with thick chunks of roasted pork or fork tender lamb shanks or maybe the arroz con pollo (chicken with yellow rice).
The place is usually packed and a tad chaotic. Portions seem huge (if on a return trip, I fly leftovers home in easy-to-tote containers) and prices run relatively moderate. Once again, that's La Carreta in the Mmmmmmmm-iami airport.