Today is National Pie Day. Schools should be out, banks should be closed and mail delivery stopped, but I'm afraid that all the attention this holiday is going to get will come from dedicated cooks baking pies. That being the case let me tell you about a knockout pie worthy of the holiday.
The recipe comes from the Smithfield Inn, a charming B & B in Smithfield, Virginia.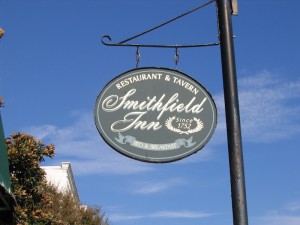 Everything about this historic property represents the best of genteel Southern comfort, including the graciously appointed rooms, the soft-spoken well-mannered staff and the deeply delicious Southern specialties served in the dining rooms.
As good as the food is, the undoubted jewel in the crown of the menu's tasty treats has to be lemon chess pie.
It's hard to imagine more butter or sugar baked into one pie, and the Inn adds to the calories by serving the pie with whipped cream. Because it is so rich, a thin sliver should suffice for a serving. Of course a second and third thin sliver would be even better. When it comes to this pie, to paraphrase Mark Twain, too much is barely enough.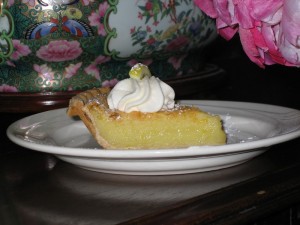 SMITHFIELD INN LEMON CHESS PIE
Yield: 1 (9-inch) pie; 8 servings.
2 sticks (1/2 pound) unsalted butter
2 cups granulated sugar
1/4 cup all-purpose flour
1/2 teaspoon salt
6 eggs
Zest and juice from 3 lemons
1 (9-inch) unbaked pie crust (recipe follows)
Whipped cream (optional garnish)
Preheat oven to 300°F.
Cream butter and sugar together in a large bowl with an electric mixer. Beat in flour and salt. Add eggs, one at a time, beating after each addition. Gradually beat in zest and juice.
Spoon batter into pie shell. Bake until pie's top is golden brown and filling is set, 45 to 65 minutes. Set pie on a rack and cool to room temperature. Cover with plastic or foil and refrigerate until firm enough to cut, several hours to overnight. Serve garnished with a dollop of whipped cream if desired.
PIE CRUST
Yield: 1 (9-inch) pie shell.
1 cup all-purpose flour
1/2 teaspoon salt
7 tablespoons shortening
3 tablespoons ice water
Additional all-purpose flour for rolling dough
Mix flour and salt in a medium mixing bowl. Put each tablespoon shortening in a different place on top of flour. Mix lightly with fingers to form coarse crumbs. Sprinkle water over top of crumbs. Mix with a fork until dough begins to hold together. Turn dough out of bowl onto a lightly floured surface and knead lightly and quickly until smooth. Form dough into a ball, flatten slightly with palm of hand, wrap in waxed paper or plastic wrap and refrigerate 30 minutes or until ready to use.
Roll dough on a lightly floured surface with a lightly floured rolling pin to an 11-inch circle. Carefully transfer circle to a 9-inch pie plate. Fold overlap under at edge of plate and crimp decoratively. Refrigerate 30 minutes.