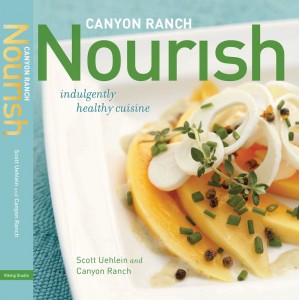 So long, farewell, auf weidersehen, goodbye; I'm dumping all my bad eating habits and hooking into good health with the help of Canyon Ranch's new cookbook, NOURISH. Aptly subtitled, 'indulgently healthy cuisine," this 372-page tome diffuses lasagna, moussaka, enchiladas, chicken pot pies, double chocolate brownies, key lime pie and other diet weapons of mass destruction, with recipes (over 200 of them) that favor flavor over fat, the natural over the artificial and satisfaction over sacrifice.
I've been a long-time fan of Scott Uehlein, Canyon Ranch's corporate chef and author of NOURISH—so am not surprised at the high quality his newest book which, in addition to recipes, includes photos, nutritional information and helpful hints. Gotta confess, I find some of the hints as inspiring as the recipes—for example what dieter could not love the nutrition note accompanying the warm chocolate cake recipe "Nutrition Note: We are so happy to tell you again how healthy chocolate is."
Thank you Scott—your book is terrific and I am so happy to have it in my collection.
Nourish is a Viking Studio publication with a list price of $40. For a tasty sample of a typical recipe try this:
BEEF SHORT RIBS
Makes 4 serving
2 pounds bone-in beef short ribs or 1 pound boneless short ribs
2 cups Mongolian BBQ Sauce (recipe follows)
2 cups water
1/4 cup firmly packed brown sugar
Pre heat oven to 350 degrees F.
Sear the short ribs in a large heavy-bottomed pan over medium-high heat for 1 to 2 minutes on each side. Place in a shallow glass baking dish with a cover.
Combine the BBQ sauce, water, and brown sugar in a medium bowl and mix well. Pour over ribs. Cover tightly and roast for 2 to 3 hours, or until tender.
Serve 2 ribs with 2 tablespoons sauce,1/2 cup mashed potatoes and 1/2 cup braised red cabbage (recipes for potatoes and cabbage are included in NOURISH)
Each serving contains: 370 calories, 35 g carbohydrate, 15 g fat, 58 mg cholesterol, 22g protein, 740 mg sodium, 4 g fiber.
MONGOLIAN BBQ SAUCE
Makes sixteen 2-tablespoon servings
1/2 cup plus 2 tablespoons low-sodium tamari sauce
2 tablespoons evaporated cane juice
1/4 cup rice vinegar
1 tablespoon sesame oil
1/2 cup sake
1/3 cup plus 2 tablespoons water
1/3 cup low-sodium ketchup
Pinch ground coriander
Pinch ground ginger
1/4 teaspoon crushed red pepper flakes
1/4 cup minced leeks, white part only
2 teaspoons minced garlic
2 teaspoons minced fresh ginger
Combine the 1/2 cup tamari, the cane juice, rice vinegar, sesame oil, sake, and the 1/3 cup water and bring to a boil over medium heat, then reduce to low. Add the ketchup, coriander, ground ginger, and red pepper flakes. Simmer for a 10 minutes. Remove from the heat.
Combine the leeks, garlic, fresh ginger, the 2 tablespoons water, and the 2 tablespoons tamari.
Add the leek mixture to the sauce mixture and stir until combined.
Each serving contains: 35 calories, 4 g carbohydrate, trace fat, 0 mg cholesterol, trace protein, 288mg sodium, trace fiber.