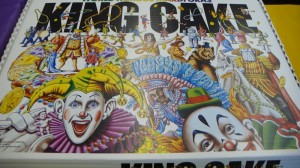 So I was going to give you a recipe for king cake—you know—that luscious coffee cake that, in Louisiana, reigns over parties, festivities and celebrations from January 6 (to honor Kings' Day, the meeting of the three wise men with the infant Jesus) to Mardi Gras .
Traditional king cakes are iced and decorated with Mardi Gras colors (green representing faith; purple, justice; and gold, power) and have a small trinket, often a plastic baby, hidden inside the baked dough. Custom dictates that the person getting the piece of the cake with the trinket must host the next king cake party.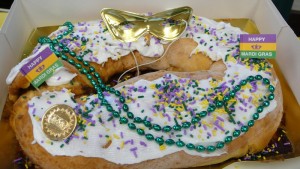 As I said, I was going to give you a recipe, but I have something better: a bakery where you can order the cake (baby and all). Delicious Donuts & Bakery in Lake Charles, Louisiana, makes majestic king cakes with a wide variety of fillings (pecan praline and pralines-n-cream to die for) and ships the cake to addresses all over the world. My mouth is watering just typing the contact numbers: www.deliciouskingcakes.com and phone: 337-479-2-YUM.