Here's a New Year's gift—an eating exercise that could: (1) change your life-long relationship with food, (2) help you lose weight and, at the same time, give you more pleasure from eating and (3) increase your awareness of ingredients making you a better cook.  No need to thank me.  I was introduced to mindful eating at Miraval, the test-yourself spa in Tucson, Arizona, and am just passing what I learned along to you.
Each morning, staff at Miraval would gather a group and practice mindful eating at breakfast. Once was enough for most participants to understand the potential of the exercise and those who repeated the experience became long-time converts and practitioners.
Call it what you want: meditative eating, mindful eating, eating with intention—once learned, the benefits are life-changing, but let me cut to the chase:
HOW TO SAVOR FOOD, CONTROL EATING AND UPGRADE YOUR COOKING IN 10 EASY STEPS
or more simply
THE 10 STEP PROGRAM TO MORE MINDFUL EATING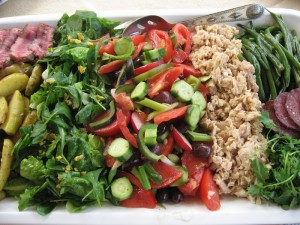 1. Set a pleasant place to eat at an uncluttered table. Turn off phones, radios, televisions and/or anything else that might cause distractions.
2. Prepare a simple meal or snack. Choose uncomplicated foods that you like and that vary in texture, taste and color. Arrange the food on a plate. Don't over fill the plate.
3. Sit at the table and place the plate of food in front of you.
4. Close your eyes and take three long slow breaths. Think of your breathing. Then breath normally while you count to 30. Open your eyes.
5. Look at the food. Notice colors and shapes.
6. Pick up a utensil; take a small bite. Put the utensil down.
7. Chew slowly, paying attention to taste and texture of the bite. Is the bite juicy? Dry? Crunchy? Salty or sweet?  Prolong the chewing to analyze all you can about the bite.
8. Become aware of your intention to swallow the food. Swallow giving the swallow full concentration. Notice tastes lingering in your mouth. Notice how your body feels. Sit still for a moment or two. Savor.
9. Continue eating in silence, putting the utensil down after every bite and noticing attributes of every bite. Take time. Chew slowly. Swallow with intention. Notice when you begin to feel satisfied. On a scale of 1 to 10, with 1 being ravenous and 10 being Thanksgiving stuffed, notice when you reach a 4 or 5. Stop just when you are satisfied. Note where you are on the number scale—maybe a 6, no more than a 7.
10. After eating to satisfaction level, stop. Put utensil down. Put hands in lap. Sit for a few moments and reflect on the food you consumed and how it makes you feel.