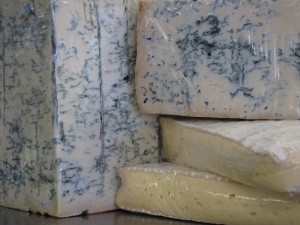 How do you improve perfection? Butter does it. This is not an ad (unfortunately no dairy pays me), but rather a cook's mantra: butter makes everything better. For example, take two of the world's best cheeses—a soft, sweet-silky Brie and an aristocratic, richly robust Gorgonzola, add as much butter as each cheese will hold (and it will hold more if you also add cream cheese), sandwich the butter-bulging cheeses together with some fresh herbs and you have a party spread better than the sum of its parts. It's true. See for yourself:
BRIE AND GORGONZOLA TORTE
This recipe makes enough spread for a huge crowd, but the recipe can be halved and even quartered.
8 ounces Brie cheese
32 ounces cream cheese, divided
16 ounces (unsalted) butter, divided
About 2 tablespoons chopped parsley
About 2 tablespoons chopped scallions
8 ounces Gorgonzola, Roquefort or other blue-veined cheese
Sprigs of fresh herbs for garnish
Line an 8- or 9-inch springform pan with plastic wrap (Use two long sheets of wrap so that bottom and sides of pan are covered and about 8 to 9 inches of wrap extends on all sides of pan); set pan aside. (If you are halving the recipe use an appropriate smaller pan to mold the cheese—it doesn't have to be a springform pan—even a souffle dish will do.)
Cut outer white rind from Brie; discard rind. Cut remaining Brie into small pieces and put pieces in a large mixing bowl. Add 16 ounces cream cheese and 8 ounces butter. Beat with electric beaters until mixture is smooth and well blended. Spread mixture in bottom of prepared pan, pressing firmly so that mixture is evenly packed in pan. Sprinkle parsley and scallions over mixture; set aside.
Cut Gorgonzola into small pieces and put in mixing bowl with remaining cream cheese and remaining butter. Beat until smooth and well blended. Smooth mixture over top of herbs in pan, again pressing to insure mixture is tightly and evenly packed in pan.
Pull plastic over hang over top of mixture in pan, pressing top to smooth cheese mixture. (If necessary to completely cover cheese mixture, cover top of pan with plastic wrap or aluminum foil). Refrigerate overnight.
Before serving, remove plastic or foil from top of cheese mixture. Invert pan on a serving platter (so that gorgonzola mixture is at the base). Remove pan and all plastic wrap. Garnish torte with fresh herbs. Serve chilled, as an appetizer with cheese crackers or French bread.
Yield: One 4-pound torte.