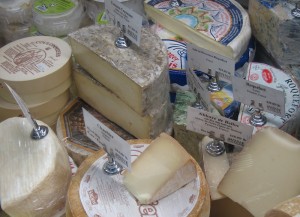 Take an assortment of fine cheeses, arrange them on a cheese board or tray and you have a great dish for a party. Dress up the tray with cheese bling-bling and it's even better.
The following cheese condiment recipes come from The American Club in Kohler, Wisconsin. This AAA Five Diamond resort hotel is famous not only for golf, but also for its Immigrant Restaurant & Winery, which prides itself on serving the best artisanal Wisconsin cheeses found in the United States. Cheese does not stand alone at the Immigrant, but is offered with a variety of condiments, adding flavor and flair to the already wonderful.
Busy hosts and hostesses are going to love these recipes, as they are multitaskers.
Beat Fig Rum Conserve into Mascarpone for a knock-out cheese spread; stir a touch of Port Wine Sauce into a vinaigrette for a distinctive salad dressing; and top vanilla ice cream with Preserved Kumquats for a sophisticated holiday sundae. But of course, don't forget the original concept: group the condiments together and add panache and pizzazz to any party cheese platter.
CONDIMENTS TO SERVE WITH CHEESE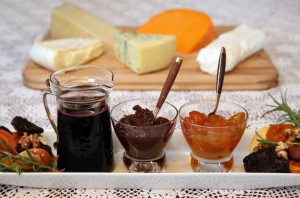 FIG RUM CONSERVE
Yield: About 3 cups.
12 ounces dried figs
About 1-1/2 cups dark spiced rum
1/4 cup granulated sugar
Water
Put figs in a 2-quart saucepan. Pour enough rum into pan to come to top of figs. Let soak until figs are softened, 1 to 2 hours. Sprinkle sugar over figs. Add enough water to cover figs by one inch. Set saucepan over medium heat and bring liquid to a gentle boil. Gently boil until figs are very tender, 30 to 45 minutes.  Let mixture cool slightly then puree in a blender. Cool completely at room temperature then refrigerate in a covered container.
PORT WINE SAUCE
Yield: About 2 cups.
6 cups port wine
1/2 cup plus 2 tablespoons granulated sugar
Bring port to a boil in a medium saucepan set over high heat. Boil until port is reduced by half, about 30 minutes. Stir sugar into port and continue boiling until mixture is slightly syrupy and lightly coats a spoon, about 20 minutes (sauce will become more syrupy as it cools). Cool completely at room temperature then refrigerate in a covered container.
PRESERVED KUMQUATS
Yield: About 2 cups.
1-1/2 cups granulated sugar
Water
1 pound (about 3-1/2 cups) kumquats
1/2 teaspoon salt
Combine sugar and 1-1/2 cups water in a medium saucepan and set over high heat. Bring to a boil, stirring constantly until sugar dissolves. Without stirring, boil mixture 3 minutes. Set aside.
Cut kumquats in half and remove all seeds. Put halves in a medium saucepan, add salt and enough water to cover generously (about 6 cups) and bring to a boil over high heat. Boil 15 minutes.
Drain kumquats and place in saucepan with sugar syrup. Cover and simmer until kumquats are translucent, about 1 hour.
Set saucepan aside, keep covered, and cool completely at room temperature. Refrigerate in a covered container.