Most Los Angelenos are religious about dieting. With movie star focus on beautiful bodies, the savvy shun sugar, fat and all those awful carbohydrates. But when it comes to breakfast, the devil takes over the City of Angels and lures even stringent believers to abandon restraint for total decadence. Dieters tempted to indulge in forbidden fruit of sugar, fat and carbs can go wrong—divinely—at any one of the following:
7916 Sunset Blvd.
Hollywood
323-874-0377
It's probably a combination of gigantic portions, reasonable prices and really tasty dishes that make The Griddle Café a perpetual favorite and THE L.A. breakfast hot spot for locals and visitors alike. It's not unusual to find the bustling café packed from early morning to late afternoon, especially on weekends, when long lines form for entrance. The diner atmosphere with counter service adds to the casual charm and the menu overflows with goodies. Although most of the calorie-laden pancake combinations reach star status, the top seller is, as described on the menu, "Red Velvet panCAKE topped with swirls and swirls of cream cheese icing. (Love at first sight & bite) $8.95."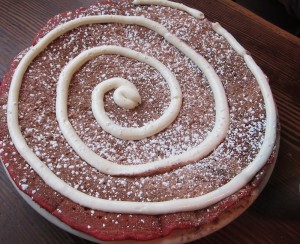 6333W. 3RD ST
Farmers Market
323-933-8446
Du-Par's catapulted to breakfast stardom when first opening in Los Angeles's Farmer's Market in 1938. Although changing hands in 2004 and expanding outlets to several locations in 2009, the original restaurant still sits as a cornerstone of the lively market, still stays open 24/7 and still serves its justly famous buttermilk hotcakes in an authentic 1930s-coffee shop atmosphere. Shown: a short stack of silver dollar hotcakes (not on the menu), served with the customary excess of clarified butter and maple-flavored syrup. $7.75.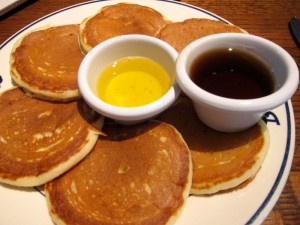 8401 Santa Monica Blvd.
West Hollywood
323-654-3993
Hugo's tagline reads, "Hugo's for Healthy Living," and indeed the restaurant focuses on healthful, organic (even the ketchup is organic) and unusually delicious foods that fit a number of diets including vegan and vegetarian. The Pumpkin Pancakes served with orange slices, currants and organic maple syrup ($9.50) has graced the menu since the restaurant first opened in 1980 and is, no doubt, partly responsible for Hugo's great reputation. Although offering breakfast, lunch and dinner, Hugo's is famed for serving "power" breakfasts to Hollywood heavyweights (no pun intended).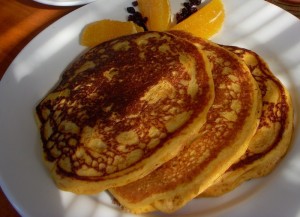 108 N Larchmont Blvd.
Larchmont Village
323-461-1528
Larchmont Bungalow perfectly fits its quiet, upscale and quaint Larchmont Village neighborhood, being a homey, hip and family-happy place. One orders at a counter, and then sits on the outdoor patio or in a choice of different rooms, one with a comfy couch in front of a fireplace. Billed as an "Artisan Café' Bakery & Brew," the restaurant offers a breakfast-all-day menu filled with healthful choices (vegan, vegetarian, gluten-free). It also serves a variety of delicious and incredibly rich, sweet dishes along with house-roasted coffees and interesting teas. Shown is the Morning Starter on the children's menu: one scrambled organic egg, tempe bacon, fresh fruit and a portion of the café's famous Red Velvet Pancake ($8.95).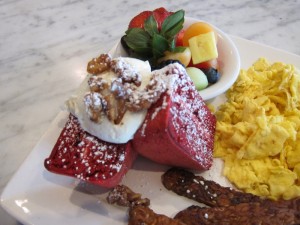 7371 Melrose Avenue
Mid-City West
323-951-9191
Neighbors and assorted hipsters frequent Blu Jam for breakfast, brunch and lunch, sitting on the sidewalk "patio" or in the large, busy dining room. Although a wide range of items grace the menu, (many with European touches) the signature breakfast/brunch specialty is Crunchy French Toast, a pretty concoction made with egg-rich brioche, which is dipped in batter, rolled in crunchy corn flakes and grilled. The glory comes topped with fresh bananas and berries. Syrup or vanilla bean sauce sits on the side. $12.95. SIGH!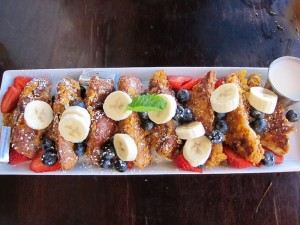 4854 Fountain Avenue
East Hollywood
323-661-1109
A light, bright dining room and garden patio make the perfect setting for Square One Dining's food that includes organic, locally sourced (when possible) and meat products that are natural and hormone free. The lunch and breakfast menu sports a variety of pancakes and French toasts with creative toppings, among them, the thoroughly indulgent favorite as the menu describes, "four slices of brioche French toast served with bourbon-pecan topping and vanilla whipped cream" $14.25.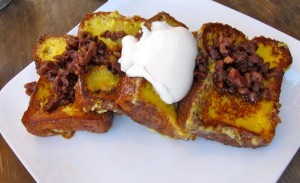 SUPER RICH FRENCH TOAST
Adapted from a recipe said to be adapted from Square One Dining.
Yield: 4 servings.
 1-1/2 cups heavy cream, divided (or more if needed to thin batter)
1 vanilla bean (split lengthwise)
1/2 cup sugar
10 egg yolks
1/2 teaspoon salt
Clarified butter (see note)
1 loaf brioche or other egg-rich bread, sliced into 1/2 -inch thick slices
Toppings, as desired
To make the batter, place 1 cup of cream in a medium saucepan and set saucepan over low heat. Scrape the seeds from the vanilla bean into the cream, and then drop in the bean shell. Stir in 1/4 cup of the sugar. Bring mixture just to a simmer, stirring often, and then remove the pan from the heat and let mixture sit until warm, but not hot.
Put yolks in a medium bowl and beat with a whisk until yolks become somewhat thick and lighter in color. Whisk in remaining 1/4 cup sugar and salt. Slowly add the warm cream to the egg yolks, whisking constantly until fully incorporated. Pour the mixture back into the saucepan and return the pan to low heat.
Cook over low heat, stirring constantly, until the mixture thickens (take care to not over heat the mixture or it will curdle). When thickened, remove the mixture from the heat and strain through a fine mesh strainer into a medium bowl, discarding any solids and the vanilla bean. Set bowl over an ice bath and whisk in the remaining 1/2 cup cream; continue whisking gently until mixture is cool.
Put batter in a covered container and refrigerate until ready to make toast. Batter can be refrigerated overnight. Stir well before using. If batter is too thick, thin it with a little cream.
To make French toast: Put a thin coat of clarified butter in a saute pan or griddle and heat over medium heat until hot. Dip bread, one slice at a time, into batter, coating both sides of bread and letting batter soak into bread slightly. Shake off excess batter and put bread in the hot pan.
Cook until bread slices are golden on both sides, about 4 minutes in all.
Transfer cooked toast to a warm plate. Serve, topped as desired.

NOTE–TO CLARIFY BUTTER Put unsalted butter over low heat in a small saucepan. Heat butter until it melts and foams. Set butter aside for a few moments; it will separate into three layers. Skim off the top white foam. Spoon off the clear middle layer (the clarified butter), and discard the milky residue on the bottom of the pan. 
Eight tablespoons of butter should yield about six tablespoons clarified butter.
Refrigerate clarified butter in a covered container until ready to use.
For additional great places to eat in Los Angeles, click

HERE