You know what I'm going to miss most about winter? No, not skiing in St. Moritz, and certainly not heating bills large enough to pay for skiing in St. Moritz. I'm going to miss the après ski hot chocolate mélange as served at the Hauser Hotel in St. Moritz. The hot chocolate is so comforting and warming that it heightens the wonder of icy winter.

 You know what I'm looking forward to most about summer? No, not sunning in Anguilla, and certainly not air conditioning bills large enough to pay for sunning in Anguilla. I'm looking forward to the happy hour rum punch as served at the Frangipani Beach Resort in Anguilla.  The punch is so cheering and cooling that it increases the splendor of steamy summer.
Winter/Summer. Hot/Cold. The ying/yang of seasonal sipping. Mmmmmmmmm!
And you don't have to be in St. Moritz or Anguilla to enjoy the drinks—although, must say, being there is as  good as it gets…
HAUSER'S HOT CHOCOLATE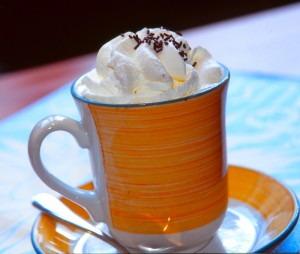 Yield: 1 to 2 cups.
1/2 cup water
1/3 cup sugar
6 tablespoons cocoa powder
1-1/2 ounces Maracaibo 65% or other high-quality dark chocolate, chopped
1/2 to 1 cup warm milk, half and half or cream (see note)
Sweetened whipped cream
Chocolate sprinkles (optional)
Bring water to a boil in a saucepan. Add sugar and stir until sugar completely dissolves. Add enough water to the cocoa powder to make a smooth paste. Whisk cocoa paste into hot sugar water and keep whisking until mixture is very well blended. Reduce heat to low. Add chopped chocolate; stir to melt. Add hot milk to taste. Stir until well blended. Pour chocolate into mugs and top each serving with sweetened whipped cream and garnish with chocolate sprinkles.
NOTE: The less milk, half and half or cream you add to the base chocolate mixture, the sweeter and more intensely chocolate the drink will be.
FRANGIPANI'S RUM PUNCH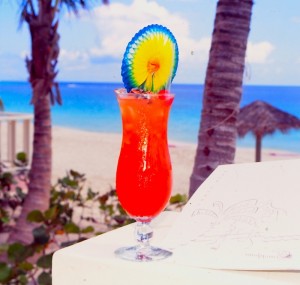 Yield: 1 serving.
1/4 cup pineapple juice
1/4 cup orange juice
2 ounces Myers's Rum
1/2 ounce Grenadine syrup
1/2 ounce apricot brandy
1 teaspoon fresh lime juice
Dash nutmeg
Maraschino cherry for garnish
Mix all ingredients and pour into a 12-ounce glass filled with iced. Garnish with a cherry and, if you like, add a paper fan.