Don't you just hate it when you can't get your MRI scan, dental crowns, acupuncture and a facial in the same day, at the same place. Oh, and did I mention botox, a pedicure, fitness counseling and cooking classes?
Those who find the inconvenience of multi-stops annoying can now enjoy one-stop health and fitness shopping at the California Health & Longevity Institute located in the Four Seasons Hotel in Westlake, California.
Originally designed for busy executives to have annual physicals, the California Health & Longevity Institute employs physicians, dentists, nurses and other professionals to provide complete health screenings as well as personal lifestyle consultations.
One can dip in for a half-day, whole day or multi-day visit, and do as little as get a check up, or indulge in the full monty which includes a physical exam, diagnostic testing, a complementary-medicine treatment, personal consultations with healthcare professionals, cooking classes, wellness workshops and spa treatments.
Ever hear Mary Poppins sing, "A spoonful of sugar helps the medicine go down?" Well the non-medical sugar of the complex includes the 270-room Four Seasons and the hotel's 16,000-square-foot fitness area, four dining areas (balancing healthy-haute and super-indulgent cuisines) and glorious 40,000-square-foot spa.
Decorated with waterwalls and bridges, an outdoor pool with cabanas and waiting rooms filled with orchids (did I mention there is an orchid house on property), the 28-treatment room spa is the largest in the Four Season's system and, to me, the best of any day spa in any hotel, anywhere.
I'm not going to tell you the cost for a medical/spa/stay, but can say it falls into the if-you-have-to-ask category and is probably not covered by Medicare.  Have you heard the saying, "People who say money can't buy happiness don't know where to shop."? Applies in this case.
On the other hand, you've no doubt also heard  "The best things in life are free." I'm passing along some of the Institute's cooking class recipes, which are yours free for the copying.
ASPARAGUS WITH SESAME CHILI VINAIGRETTE
Yield: 6 servings.
1-1/2 pounds asparagus, ends broken off (see note)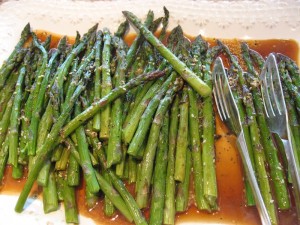 1 tablespoon olive oil
Sea salt
Freshly ground black pepper
1/4 cup red wine vinegar
2 tablespoons water
1-1/2 tablespoons soy sauce
1 tablespoon toasted sesame oil
1 teaspoon chili oil
1-1/2 tablespoons sugar
1 tablespoon sesame seeds
3/4 teaspoon dry mustard
Spread asparagus on a foil lined baking sheet. Toss with olive oil and season to taste with salt and pepper. Set asparagus in a preheated 400°F oven and roast for 15 minutes.
Meanwhile make vinaigrette by whisking together:  vinegar, water, soy sauce, sesame oil and chili oil. Whisk in sugar, sesame seeds, mustard and black pepper to taste.
Remove asparagus from oven and toss, while hot, with vinaigrette. Serve asparagus warm or at room temperature.
NOTE: If asparagus are large, peel stalks with a vegetable peeler and then break off ends.
STRAWBERRIES WITH BALSAMIC VINEGAR
Yield: 6 servings.
3 pints of strawberries, hulled and halved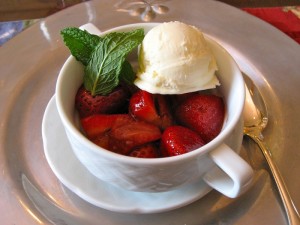 2 tablespoons balsamic vinegar
2 tablespoons sugar
6 small scoops frozen yogurt or lite whipped topping
Put strawberries in a medium-size bowl and toss gently with vinegar and sugar. Set mixture aside for 10 minutes.
Divide strawberries evenly among 6 goblets. Drizzle any vinegar/sugar syrup remaining in bowl over strawberries, dividing syrup evenly among the six servings.  Top each serving with frozen yogurt or whipped topping.