Oops, my last post mentioned good things tourists find in Fredericksburg (a terrific museum, interesting National and State parks; super shopping, a thriving wine industry), but I didn't mention the art scene.
This Texas Hill Country community positively overflows with art galleries, showcasing and selling a eclectic mixture of visuals, including sculpture, glass and all sorts of paintings (representational, Western, European…well, you get the picture). And once a month most of the galleries participate in First Friday Art Walks, enhancing the viewing with music, wine tastings and/or tidbits to eat.
I found a state-of-the-art tidbit served at the Whistle Pik Galleries on an art walk evening.  It was sweet and savory, appropriate to accompany cocktails or afternoon tea and pretty as a picture, being fashioned into decorative shapes and even dressed-up with drizzles of chocolate.
The "cookies" were so good, that right after emptying the plate, I went searching for the baker. Turns out he is John Dubea, co-owner of Clear River, an old-time bakery, ice cream parlor and 1960s themed café that does catering for some of the gallery openings.
Color me happy. Life imitates art—I imitate Dubea for my own cocktail party or little-tidbit events—and so could you:


John Dubea's  SWEET AND SAVORY SHORTBREAD
1/2 cup finely chopped dried cranberries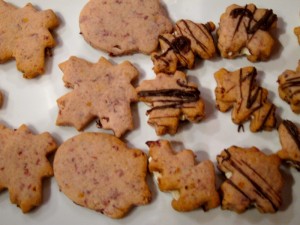 1/2 teaspoon crushed red pepper
Boiling water
1-1/2 cup all-purpose flour
1/2 cup sugar
2 tablespoons cornstarch
1/2 teaspoon salt
1/4 teaspoon baking powder
3/4 cup cold unsalted butter, cut into cubes
Put cranberries and pepper in a small bowl. Cover with boiling water. Let sit 10 minutes. Drain well.
Mix together flour, sugar, cornstarch, salt and baking powder. Sprinkle butter cubes over top. Process mixture in a food processor or work with hands until mixture forms a smooth dough. Mix in cranberries and red pepper.
Roll dough 1/4-inch thick between two sheets of parchment paper. Remove the top sheet of parchment. Cut dough into desired shapes. Spread cookies apart and place parchment on a baking sheet.
Bake in a preheated 325°F until cookies are set and beginning to brown, about 15 minutes.
That said, I also have to add a P.S. to the Fredericksburg restaurant suggestions. In the last post, David Kuhlken listed only six of the 70-something places to eat in Fredericksburg. My friend, Rothwell Pool, took exception. This bon vivant, gourmand, Texas bad boy, rancher/lawyer who hangs out in Fredericksburg says that the town has a Texas-size variety of outstanding restaurants and deserves more than six listings. He (and his lovely wife Leigh) would add: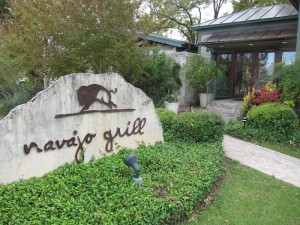 Located right on East Main, the Navajo Grill is convenient, but away from the frenzy that can be downtown. With quintessential Hill Country décor, open and covered patios, and seasonal menu featuring beautifully presented dishes made of the freshest ingredients, Navajo Grill is well worth a stop.
A little Greek, a little Cajun and a lot of rock and roll — or maybe blues and boogie woogie.  Eleven miles west of Fredericksburg, Hill Top cafe is a former gas station (the pumps still grace the entrance) that is owned by husband and wife team Johnny
and Brenda Nicholas.  He's of Greek decent from Rhode Island who performed with Grammy-winning Western Swing band Asleep at the Wheel and often performs for diners.  Brenda brought the Cajun influence and is the pastry chef extraordinaire.  Whether it's an amazing Greek salad and flaming Kefalotiri Saganaki or oysters Bruton and whole Gulf flounder for two with shrimp and blue crab stuffing, topped w/ sauté shrimp and the occasional to-die-for snapper throats — it's all fabulous.  And the local veggies and sides are amazing.  Occasionally local peppers will be offered for free by the cash register.  The desserts are killers. Personal favorites include the blackberry, raspberry and strawberry rhubarb pies. The crusts and fillings are amazing.  Staff is super friendly and accommodating.  It's one big funky family.  Reservations are recommended.
AUSLANDER BIERGARTEN AND RESTAURANT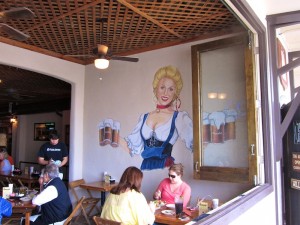 Right in the heart of Fredericksburg, the Auslander is a perfect combination of German biergarten and Hill Country honky tonk. The biergarten in the back is semi-enclosed with picnic tables on pea gravel and is a great place to eat some 'shrooms, drink Spaten Optimator and listen to music.  The wife loves it primarily because she can drop me there and I'll be content for hours while she shops.  By the time she appears loaded down with must-have goodies, I've mellowed on Optimator and made tons of new best friends.  It's like Luckenbach without having to drive there!