Last time I saw Bangkok, I took cooking lessons at Epicurean Kitchen, a cooking school founded by Seth Jacobson, the originator of Thai Kitchen products. The school's stated goal was to teach Americans to cook simple Thai dishes in their own home kitchens. The unstated goal was to create a broader customer base for Thai Kitchen products.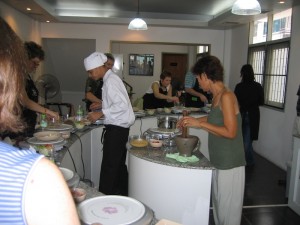 The school's recipes were authentic, but slightly adapted to please American palates, and gentle Thai cooking teachers explain how each recipe could be further adjusted to suit individual tastes.
For example, teachers said that when making Pad Thai, cooks could:
1. substitute rice vinegar for the tamarind juice—although the tamarind adds a distinctive "fruity" taste;
2. use roasted red pepper instead of paprika for color;
and/or
3. substitute cubed raw chicken for the shrimp.
Then again, cooks could follow the original recipe with perfectly pleasing results.
Epicurean Kitchen Cooking School's

PAD THAI
Yield: 1 large serving
About 2 ounces Thai Kitchen Stir-Fry Rice Noodles (or rice sticks, also called banh pho)
2 tablespoons dried shrimp, optional
1-1/2 tablespoons granulated sugar
1-1/2 tablespoons water
1-1/2 tablespoons premium fish sauce
2 teaspoons tamarind juice (or rice vinegar)
Pinch paprika for color
About 2 tablespoons vegetable oil
1 large shallot, peeled and finely sliced
2 tablespoons preserved sweet radish
1 tablespoon cubed extra firm tofu
About  7 medium shrimp, shelled and deveined
1 small egg
1 cup bean sprouts
2 scallions, trimmed and slivered
For Garnish
Chiles
Lime, cut into wedges
Crushed roasted peanuts
Put rice noodles in room-temperature water to cover and let soak until pliable, but firm—not soft or mushy; soaking can take from 20 minutes to 1 hour (see note below). Drain noodles well and set aside. Cover dried shrimp with water and let soak until tender, about 20 minutes; drain well.
Combine sugar, water, fish sauce, tamarind juice and paprika; set aside.
Heat wok or large frying pan over medium high heat; add vegetable oil. When oil is hot, add shallots and stir-fry until golden brown. Turn heat to high. Add radish, dried shrimp and tofu to wok; stir-fry 1 minute. Add softened noodles. Pour sugar mixture over top. Stir-fry ingredients until noodles are tender (taste, they should be al dente). Push noodle mixture to the side of the pan. Add raw shrimp and stir fry until cooked. Push shrimp to the side with noodles. Add egg and stir-fry until scrambled. Mix all ingredients together (if necessary, continue stir-frying another minute or so until mixture is "dry" and sauce incorporated). Toss in bean sprouts and scallions and stir-fry until mixed.  Serve immediately garnished with chiles, lime wedges and/or peanuts.
NOTE: If you are in a hurry, you can "fast soak" the noodles, but they won't be as good. To fast soak: bring a pot of water to the boil, turn off heat, add the noodles and let sit until pliable—3 to 10 minutes. Drain noodles and rinse in cold water.)