In honor of Saint Valentine,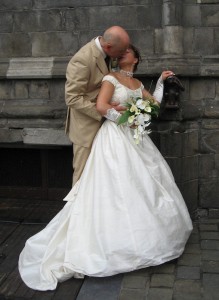 We thought you'd like us to define
What people do when they pitch woo
And spoon and neck and bill and coo.
They pucker up their lips and press
Another's lips in a caress.
What we're describing is a KISS.
In other words, it's also this:
A PECK, a BUSS, a KISSAROO,
A SMACK, a SMOOCH—to name a few.

The XXX that one bestows
On a letter with some Os.
A dictionary will confirm

That OSCULATE's a kissing
term.
And so is HONEY COOLER,

though
It's not in use much that we know.
To make our kiss-word list complete
We should include those that people eat:

The little foil-wrapped chocolate drops
(Available in many shops),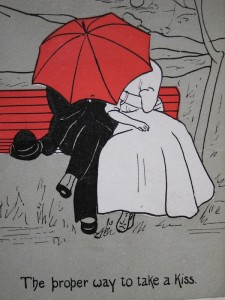 And sweet, delicious cookie bites
Of sugar beaten with egg whites.
Before we go we'd like to say
We hope that kisses come your way,

And those that you consent to share
Are given with a bit of flair.
And just in case you don't know how

To give your kisses extra WOW,
We'll tell you all the steps to take
To make your kisses double great!
Copyright S M. Katzman, 2010
DOUBLE GREAT KISSES

3 egg whites, at room temperature (Be sure whites are free of all yolks; whites with even a touch of yolk will not beat well.)
1/4 teaspoon cream of tartar
Pinch salt
1/2 cup granulated sugar
1/2 teaspoon vanilla
About 24 chocolate kisses (foil wrap removed)
Preheat oven to 225°F. Cover two baking sheets with parchment paper. Set baking sheets aside.
Put egg whites in a large bowl. Beat whites on low speed with an electric mixture until foamy. Add cream of tartar and salt. Beat on high speed until whites stand in soft peaks. Constantly beating at high speed, very slowly add sugar to whites. Continue beating until whites stand in straight peaks. Beat invanilla.
Using 1 level tablespoon for each mound and leaving space between mounds, drop mounds of whites on paper covered baking sheet. Put a chocolate kiss in the center of each mound. With a kitchen knife, carefully bring whites up and around each chocolate kiss, completely covering chocolate with whites.
Bake in a preheated 225°F oven for 60 minutes. Then turn off heat and leave cookies in the warm oven for another 20 minutes.
Remove baking sheets from oven and set on racks to cook. When completely cool, remove kisses from paper.
Yield: about 24.