If real men don't eat quiche, I want to sit next to one the next time I'm at a brunch or luncheon where Pear and Roquefort Quiche is served. This is undoubtedly the best quiche I've ever encountered and I'll eat my helping as well as any piece a real man leaves behind.
Michaël Dessimiroff gave me the recipe many years ago, when he was chef on the Horizon II, a hotel barge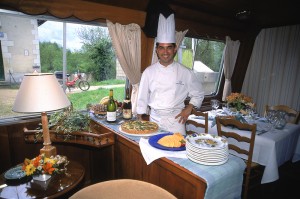 floating the canals of France. Trained as a pastry chef before joining the barge staff, Michaël baked particularly marvelous quiches, one for every day of the trip.  He said that the secret to a great crust is to not overwork the dough and to refrigerate the dough after each handling. He also said that cooks can make a variety of different quiches by using one basic recipe and altering a few flavoring ingredients.
Although it can be done, I can't imagine altering Michaël's Pear and Roquefort Quiche as to me it was the pièce de résistance of his entire quiche repertoire, offering a flawless balance of delicate flavors and a perfect ratio of rich buttery crust to soft custard filling. Also I can't imagine any real man refusing this quiche—although, mon dieu, I do keep trying to find one.

PEAR AND ROQUEFORT QUICHE
2-1/2 ounces (about 1/3 cup) Roquefort cheese (or good quality blue cheese)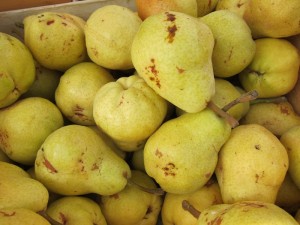 1/2 cup whipping cream
3 eggs
1/4 cup sour cream
1-1/2 cups whole milk 
Pinch each: nutmeg, cinnamon, cloves, ginger
Salt, to taste
Pepper, to taste
1 tablespoon fine, dry bread crumbs
1 partly baked 10-inch pastry shell (recipe follows)
1 small pear, peeled, cored and thickly sliced
1 to 2 teaspoons honey
On a plate, using a fork, mash cheese with some of the cream to form a smooth paste; transfer to a medium bowl. Gently beat in remaining cream. Add eggs and beat until mixture is blended, but not foamy. Whisk in sour cream, milk, nutmeg, cinnamon, cloves, ginger, salt and pepper; set aside.
Sprinkle bread crumbs in center of pastry shell. Arrange pear slices in a circular pattern over crumbs and drizzle with honey. Set pan on a baking sheet. Stir egg mixture and pour into shell. Bake in a preheated 375°F oven until quiche has puffed slightly and top has lightly browned, 30 to 35 minutes.
Cool slightly on a rack. Release side and bottom of pan and slide quiche onto a serving platter. Serve quiche warm or at room temperature.
Yield: About 8 servings.
PASTRY SHELL
2 cups all-purpose flour plus additional flour for rolling dough
12 tablespoons chilled salted butter, cut into pieces
1 egg, beaten
Pinch salt
Sift 2 cups flour into a mixing bowl. Add butter. With fingertips, rapidly rub butter and flour together until mixture is in small crumbs. Make a well in center; add egg and salt. Stir gently with a fork to incorporate egg, then gather ingredients into a rough ball and knead gently and quickly to form a dough. Put dough on a flat surface and, with the heel of your hand, smear about three tablespoons of the dough into a thin streak; repeat until all dough has been smeared once. Gather dough into a smooth ball, flatten ball, wrap with plastic or foil, and refrigerate at least 30 minutes.
Roll dough on a lightly floured surface to an 11- to 12-inch circle. Transfer to a 10-inch, false-bottomed quiche pan and gently maneuver dough to line pan. Turn excess overhang into pan and press to make double-thick sides to the pastry case. Trim off excess dough. Prick at 1/4-inch intervals with the tines of a fork. Place a sheet of foil, shiny side down, in pan and smooth over dough. (The foil should be large enough to come about 2 inches above rim of pan on all sides.) Refrigerate several hours or overnight.
Fill foil lining with pastry weights, dried beans or uncooked rice. Bake in preheated 425°F oven until bottom of shell is set and sides are beginning to brown, 14 to 16 minutes. Remove foil and weights. Return shell to oven and bake 2 minutes. Remove pan from oven and put on a rack to cool.
Yield: One 10-inch pastry shell, partly baked.