CHRISTMAS DECOR. HERE. THERE. EVERYWHERE.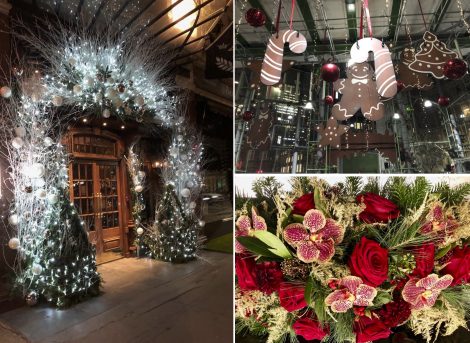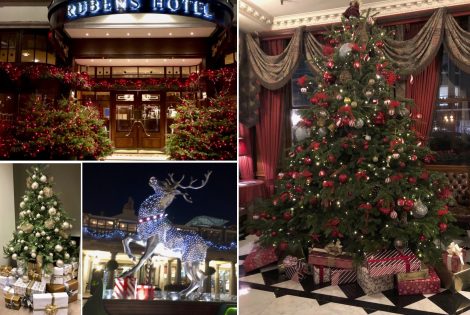 WARMING AND LINGERING AT LONDON'S TOP INDOOR ATTRACTIONS
THEATRE
AFTERNOON TEA WITH A HOLIDAY THEME
ONE-STOP CHRISTMAS SHOPPING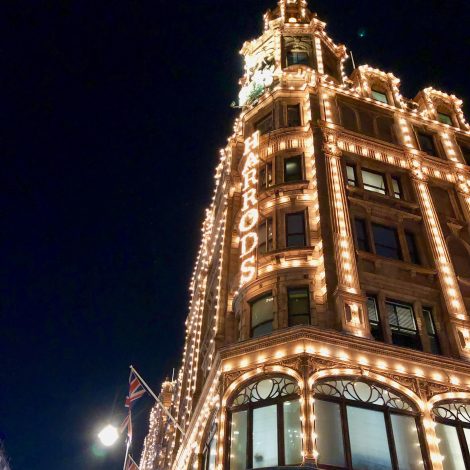 PUBS, PUB GRUB AND HAPPY PEOPLE 
FULL ENGLISH BREAKFAST
POP UP ICE RINKS AND MERRY GO ROUNDS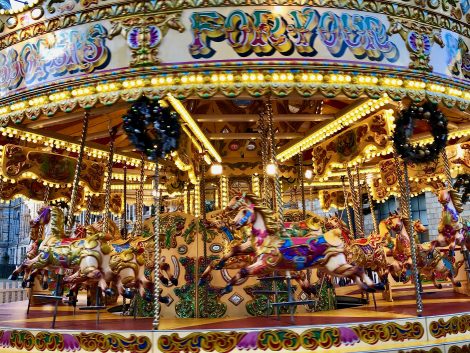 COSY HOTEL ROOMS
MERINGUES, MARZIPAN AND ESPECIALLY MARSHMALLOWS
M

A

R

S

H

M

A

L

L

O

W

S
Recipe supplied by Sarah Houghting, pastry chef of Rubens at the Palace hotel, London
Yield: Depends on size of pan and way of cutting. 
A 9- by 13-inch pan will yield about 42 1-inch marshmallows. 
Vegetable oil for coating pan and cutting knife
1/2 cup cornstarch
1/2 cup powdered sugar
3 packages (1/4 ounce each) powdered gelatin
1 cup water, divided
1-1/2 cups castor or superfine sugar (see NOTE below)
1 cup light corn syrup 
Flavoring (see NOTE below)
Food color, optional 
Coat bottom and sides of a metal, glass or ceramic pan with oil. 
Sift cornstarch and powdered sugar into a mixing bowl. Sprinkle a generous amount of the cornstarch mixture in the oiled pan and swirl pan around to coat with mixture, knocking out excess back into the mixing bowl. Set prepared pan and bowl with remaining cornstarch mixture aside. 
Put  gelatin in a small glass bowl. Cover with 1/2 cup water and stir to dissolve gelatin. Set bowl aside to soften gelatin.
Put sugar, corn syrup and 1/2 cup water in a heavy 3- to 4- quart saucepan. Put saucepan over moderate heat and bring mixture to a boil, stirring until the sugar completely dissolves. Put a candy thermometer into the boiling syrup and continue boiling without stirring, until thermometer registers 240°F. Remove saucepan from heat and set aside until the bubbles dissipate slightly.
Meanwhile, put gelatin in a microwave and heat for a few seconds to melt gelatin.
Scrape gelatin into the bowl of a stand mixer fitted with a whisk attachment. With mixer on low speed, slowly pour hot syrup in a thin stream down the side of the bowl into the gelatin. Gradually increase the mixer speed to high and beat until the mixture is very thick, white in color and forms a thick ribbon when the beater is lifted, about 5 minutes. Beat in flavoring and color if desired. 
With a spatula dipped in water or wet hands, transfer the marshmallow mixture to the prepared pan, spreading mixture evenly and smoothing top. (The mixture will be very thick and sticky. You may need to repeatedly wet the spatula and/or your hands to smooth marshmallow mixture evenly in pan.)
Set pan aside, uncovered, at room temperature, until marshmallows are set and no longer sticky, 4 hours to overnight.
Sprinkle a generous amount of reserved cornstarch mixture over a large cutting board. With a rubber spatula, release marshmallow from pan and invert onto cutting board. 
Sprinkle top with a thick layer of cornstarch mixture. 
Lightly oil a long sharp knife and dust with cornstarch mixture (or wet knife with water). Cut marshmallows as desired. 
Working with a few at a time, put cut marshmallows in the bowl of  the cornstarch mixture and toss to coal all sides. Transfer marshmallows to a sieve and shake off excess cornstarch mixture (can shake back into bowl for next go around). 
Store marshmallows at room temperature in an airtight container, layered between sheets of wax or parchment paper, for up to 1 month. 
NOTE:  Castor sugar is a British term for superfine sugar. If you can't find superfine sugar, you can whirl granulated sugar in a food processor or blender for a few seconds until the sugar is a cross between granulated sugar and powdered sugar. 
NOTE:  Marshmallows may be flavored and colored in a variety of ways. Here are a few suggestions:
Vanilla: Add 2 teaspoons vanilla extract.
Peppermint: Add 1 teaspoon peppermint extract. To color peppermint marshmallows, add a few drops of red food color randomly onto top of marshmallow mixture in pan and pull table knife through food color to create a swirl pattern. Sprinkle top with crushed candy canes.
Green tea: Add 1 teaspoon green tea powder and a few drops of green food color.
Raspberry: Add raspberry oil or flavor concentrate to taste.  
For more information:
Tea at The Chesterfield Mayfair Hotel