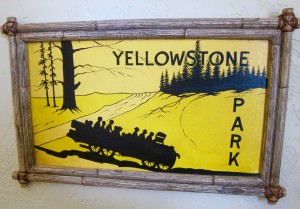 The park is packed. Yellowstone National Park hosts about four million visitors a year with numbers swelling in July and August. Most people book lodging about a year in advance and make their dinner reservations well before arriving. Although not impossible, last minute reservations are rare, however most park restaurants have a first come, first served policy at breakfast and lunch allowing those without reservations to savor top eating spots.
For several reasons my favorite place in the park for lunch is the Roosevelt Lodge.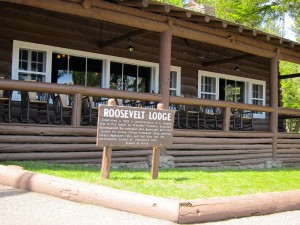 Located in an Historic District at the northern part of the park, The Roosevelt Lodge and Cabins complex feels remarkably uncrowded.
The setting supports a feeling of serenity. Mountains sit at the back, a sage-brush filled meadow graces the front, streams trickle through and a surrounding pine forest not only shades the property but also deliciously scents the air.

Without crowds of fellow travelers, one can hear horses neighing in the background and birds chirping above. The attitude is that of a summer camp or dude ranch or gentle Western frontier town.
Built in 1919/1920 near a site where Yellowstone enthusiast President Teddy Roosevelt once camped, the property contains a grouping of individual wood cabins—all rustic and sparsely furnished.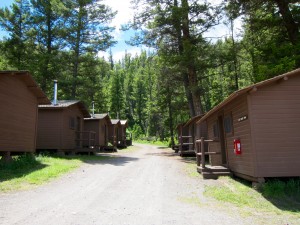 The more expensive "Frontier Cabins" include shower, toilet and sink while the bare-bones "Roughrider Cabins" are heated with wood burning stoves and share "facilities" a short walk away.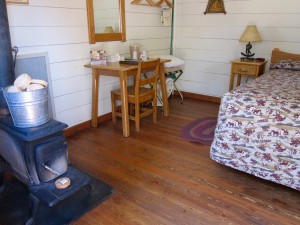 In addition to cabins, the property sports a general store,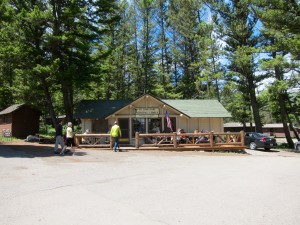 a corral complex offering horseback and stagecoach rides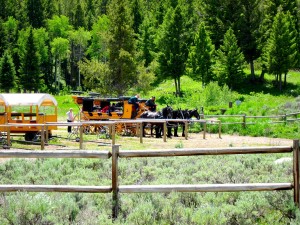 and a log-lodge with with gift shop, bar, front porch and restaurant.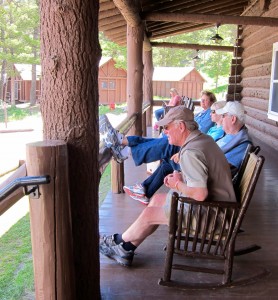 Although the porch offers an ideal place to relax while waiting for a table if the restaurant is full—or recoup after a meal if you are full, it is the lodge restaurant, with its unpeeled log posts, copper light fixtures, great stone fireplace and luscious food that lassos my heart.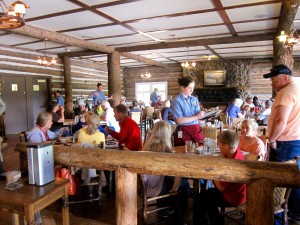 Branded with a hodgepodge of popular as well as unfamiliar dishes, the lunch menu include such specialities as barbecue ribs, wild game chili, bison burgers and linguine topped with bison and elk bolognese.

The dinner menu ups the ante to offer all lunch items as well as a broader variety of chicken, fish and beef dishes and the Lodge takes it's good food on the road by rustling up Old West Dinner Cookouts in a remote setting reachable by horseback and stagecoach.
Justly famous, Roosevelt Beans show up on all Roosevelt Lodge menus. The beans are the favorite dish served at the Lodge and probably the post popular in the park itself. Wrangle up a batch with the following recipe and you will understand the hoopla. The dish will win raves whether served in Yellowstone or your own home on the range.
ROOSEVELT BEANS
Yield: 8 to 12 servings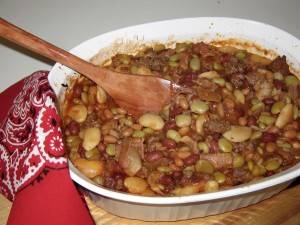 8 ounces ground beef or sausage
8 ounces bacon, diced
1 onion, peeled and diced
1 can (16 ounces) pork and beans
1 can (15 ounces) kidney beans
1 can (15 ounces) lima beans (see Note)
1 can (15 ounces) butter beans (see Note)
1/2 cup brown sugar
2 tablespoons cider vinegar
1 tablespoon spicy brown mustard
1/2 cup ketchup
1 teaspoon garlic powder
Salt to taste
Pepper to taste
Put beef or sausage and bacon in a large skillet. Set over high heat and cook, stirring frequently until meat looses it's red color. Drain excess fat from pan. Add onion and continue cooking, stirring often, until meat browns. Stir in remaining ingredients.
Bake in a preheated 325°F oven for 45 minutes or simmer on low heat for one hour.
NOTE: For a thicker dish, drain lima and butter beans before using.