"Sweet" is not an adjective I would apply to Dolores Roux. "Energetic," "outspoken," "generous" seem more fitting descriptors. Yet, sweet is a word inseparable from Dolores as she owns and runs the well-loved Dolores' Sweet Shoppe in Apalachicola, Florida.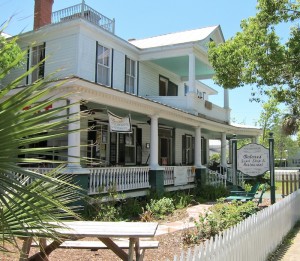 Located in the heart of downtown, the shop occupies a white frame house that was built in 1906 and shows it's age. ("We are fixen to get it painted," says Dolores, but don't know if we'll keep it white.")
As laid back and casual as is its owner, Dolores' shop operates as part café, part bakery and part antique (in the shabby chic sense of the word) store. She keeps it open Monday through Friday from 7 a.m. to 3 p.m. and serves both breakfast and lunch.
Locals claim Dolores' breakfast is the best in town, with eggs-prepared-any-way and breakfast sandwiches sharing menu space with Southern items such as grits and biscuits and sausage gravy. Lunches focus on simple salads, subs, and sandwiches made without unnecessary frou frou and served on Styrofoam or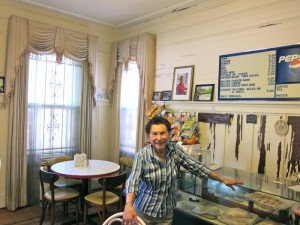 packaged to take out.
Everything about the service remains super relaxed. Guests order from a counter (although Dolores says, "People don't have to stand there to order. We're so small that folks can just go sit down at one of the tables and holler out to me what they want and I'll get it for them.")
But the counter is where the action is, sporting glass shelves luring the diner with an array of baked goodies. 
"We are known for our old-fashioned pound cake and lemon cookies," says Dolores. "And also for our pecan pie. And we happen to make the world's best carrot cake."
I can't speak to the other specialties, but did try the carrot cake and have to say that Dolores understates its appeal.
The cake, sold both as a three-layer masterpiece and in individual Bundt cake portions, is calorie laden, rich, dense and over loaded with cream cheese frosting.
"Could Sweet Leisure have the recipe?" I begged after the first bite. Dolores didn't hesitate before replying, "Go get yourself two bowls. Put the dry ingredients in one of the bowls and…" Without consulting a recipe she gave detailed instructions, which we happily pass along to you. Thank you Dolores. You are exceedingly sweet to share.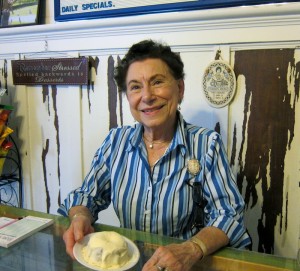 CARROT CAKE
(Based on a recipe from Delores Roux.)
Yield: 1 large three-layer cake or 12 individual-serving Bundt cakes.
Shortening to grease cake pans
2 cups all purpose flour plus a little extra to sprinkle on grease pans
2 teaspoons baking soda
1 teaspoon salt
1 teaspoon cinnamon
3 large eggs
1 cup buttermilk
1 cup vegetable oil
1 tablespoon vanilla extract
2 cups granulated sugar
1 can (7- to 8-ounces) crushed pineapple (undrained)
1/2 pound grated carrots (about 2 cups)
1-1/2 cups chopped pecans
1 to 1-1/2 cups flaked coconut
Cream cheese frosting (recipe follows)
Heat oven to 350°F. Heavily grease and flour either three 9-inch layer cake pans (See NOTE) or 12 mini Bundt cake pans. 
Combine flour, baking soda, salt and cinnamon in a medium mixing bowl. Set bowl aside.
Put eggs in another medium mixing bowl and beat until yolks and whites are well blended. Beat in buttermilk, oil and vanilla. Add sugar and beat until ingredients are well mixed. Stir in pineapple with juice from can and carrots, and then fold in flour mixture, pecans and coconut.
Divide batter equally among the three prepared 9-inch round cake pans or the 12 mini Bundt cake pans. Place pans in a preheated 350°F oven and bake until a toothpick inserted the in the center of cake comes out clean, about 40 minutes for the layer cakes, about 25 minutes for the mini Bundt cakes.
Remove pans from oven and set on a rack to cool completely. When cool, remove cakes from pans and frost.
NOTE: For greatest ease of releasing baked cake from the layer cake pans, first grease the pans, then cut a round piece of parchment paper to fit in the bottom of each pan and grease the parchment paper. Be sure to remove parchment paper from the cake layers before frosting.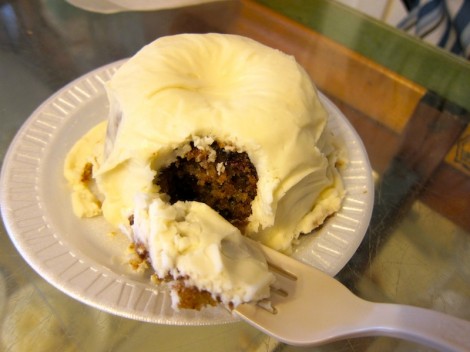 CREAM CHEESE FROSTING
1 cup butter (or margarine), softened
8 ounces cream cheese, at room temperature
2 teaspoons vanilla extract
1/4 to 1/2 cup milk or cream
2 to 3 pounds confectioners sugar
Beat butter with cream cheese and vanilla until mixture is fluffy and well blended.
Slowly beat in sugar, adding a little liquid as needed, until the frosting is the desired sweetness and thickness. (Spreading thickness for cake layers; spooning thickness for Bundt cakes.)
For more on where to stay and eat in Apalachicola, see: Apalachicola  and Coombs House Inn.