Take a poll and most people familiar with Mexico's Bahías de Huatulco (a tourist development on the Pacific Coast of the state of Oaxaca) will say Maguey Bay sports the most popular beach. On weekends, particularly, the beach fills with playful locals as well as vacationers who to come to swim, sun, snorkel, relax and eat.
Most tourists arrive by boat (usually on a tour booked through one of Huatulco's resorts or a cruise ship docked in Santa Cruz Bay). Locals generally sail their own boat or drive, tackling the rough and winding roads to reach the secluded pocket of pleasure.

Besides warm, clear water and soft golden sand, the bay's draw includes a few stalls selling beach goods, some gentle food and souvenir hawkers, and several seafood-serving, barefoot-casual restaurants.
El Camaron Gigante stands out from the other restaurants as it offers Wi-Fi, takes credit cards and specializes in not only well-prepared Oaxacan dishes, but also (true to its name) giantic (enormous, colossal) shrimp, prepared in a variety of ways.
Pineapple Shrimp, baked in the restaurant's outdoor oven, is a top favorite and home cooks can duplicate the dish, if not the setting (what a shame), in their own kitchens.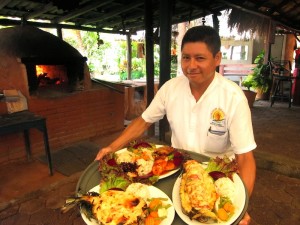 PINEAPPLE SHRIMP
(Recipe based on shrimp served at El Camaron Gigante, Maguey Bay, Huatulco, Mexico)
Yield: 2 servings.
1 fresh pineapple
1 small onion
1/2 red bell pepper
6 to 8 jumbo shrimp
Queso Oaxaca (Can substitute Mexican-style quesadilla, Monterey Jack, Mozzarella or other semihard, melting white cheese.)
Cut pineapple in half, lengthwise, leaving green leaves intact. Remove core and pineapple flesh from each half, keeping 1/4 inch of flesh in each shell half (see note). Cut flesh into 1/3-inch thick wedges (you will not need all of the pineapple, so reserve some flesh for another use.)
Peel onion and cut into thin segments.
Remove stem and seeds from pepper. Cut flesh into large chunks.
Peel and devein shrimp.
El Camaron Gigante alternates pineapple, onion, pepper and shrimp on skewers and bakes the skewers in the pineapple shell. Home cooks can skip the skewers and just fill the pineapple with ingredients. (If you do use skewers, insert skewers into one end of the pineapple, thread ingredients onto skewers, and then insert the point of the skewers through the other end of the pineapple.
Cover top of ingredients with a thick layer of cheese.
Set filled pineapple halves on a baking sheet and place in a preheated 425°F oven. Bake until shrimp is cooked though, cheese melts and ingredients brown lightly, 10 to 20 minutes. Serve immediately (removing skewers before serving).
NOTE: Working with one half shell at a time and using a small sharp knife, cut around the core lengthwise at an angle, and then cut across both ends of core. Remove core. Cut around flesh on each side core, releasing the pieces of flesh in whole pieces.