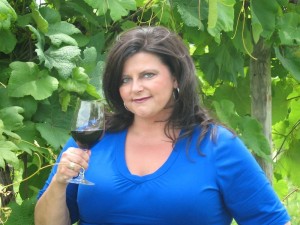 Danene Beedle is the perfect person to suggest where to eat in Columbia, Missouri. As the marketing director for the Missouri Wine and Grape Board, Danene is a wine connoisseur. As an avid foodie and accomplished cook, she sports a highly developed appreciation of fine food. Her job description includes traveling through Missouri, co-coordinating food and wine activity with restaurants and bringing food and wine information to the general public.
Danene stays abreast of all things connected with food and wine for her blog Missouri Wine Girl and is particularly focused on food and wine in Columbia having contributed to The CoMo Collective blog.
In addition, Danene has great taste and lives in Columbia where she has had ample opportunity to try the best of the best. 
The college town boasts more than 200 restaurants. Here, in her own words, are Danene's favorites: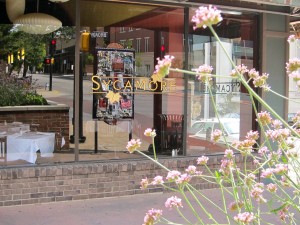 Sycamore on Broadway is local at it's best! Chef/partner Mike Odette earned a James Beard award nomination for his delicious food sourced from local purveyors. The pork belly sliders are justly famous, but the beet salad with goat cheese is my year round favorite! Sycamore offers a unique list of beer and Missouri wines—and they have the best happy hour in town!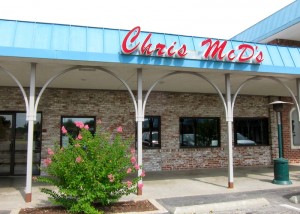 Chris McD's  on Forum is a new favorite.  Although the restaurant has been in Columbia for decades, I just recently discovered it. Expect an extensive menu, outstanding service and high quality food.  You'll find many seafood options (the scallops are to die for!).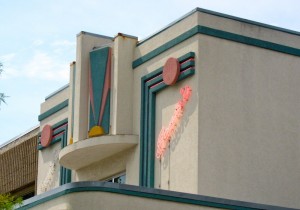 If you are looking for the classic diner, Ernie's Café & Steak House on Walnut is your place. The inside counter and few booths are very cozy, but I like dining outside on the sidewalk. Don't miss the French toast and crispy hash browns. Great service too!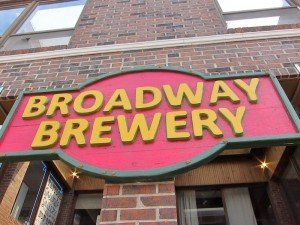 While we are on the subject of breakfast, Broadway Brewery  on Broadway has an incredibly tasty Sunday brunch! Their burger bar offers Kobe beef as well as locally sourced beef, and the build-your-own Bloody Mary is superb! Biscuits and Gravy, local eggs and omelets make for a hearty meal. This place is good for lunch and dinner too, offering lots of local produce, proteins and house-brewed beer.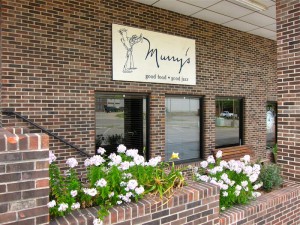 I would be remiss if I didn't mention Murry's  on Green Meadows; it's a Columbia institution!  The menu includes healthy options such as salads and the Ahi Tuna Pesto Sandwich, as well as richer specialities such as the Blue Chips Cheese Bread. Fresh hand-breaded oysters and spicy shrimp are not to be missed. And the steak sandwich is absolutely the best in town!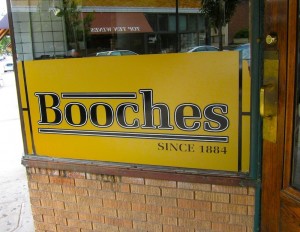 Columbia sports the world-famous Booches, a 100-year-old-plus pool hall serving burgers, chips and beer. They stock the local favorite Stag beer in a bottle which pairs perfectly with a couple of burgers. Closed on Sundays—they say they'll see you in church!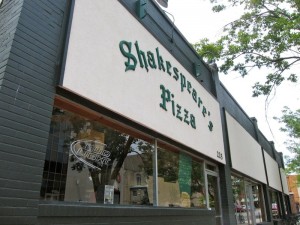 For pizza, Shakespeare's  is a national landmark. Order the signature Masterpiece, it comes with everything. You won't be disappointed!  
For happy hour with wonderful food try Room 38!  Great drinks, swanky vibe and really good dishes; try their baked Brie, or prosciutto wrapped asparagus. Very cool.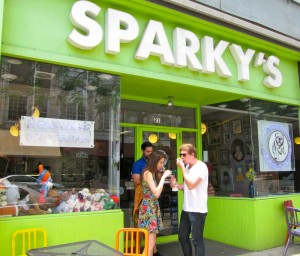 For the ice-cream fans, Sparky's on 9th street is SWEET!  They have lots of unique flavors for kids and adults alike, all house made in small batches. Flavors change constantly.
For a CoMo winery experience, travel nine miles west to Blufftop Bistro at Les Bourgeois Vineyards.  Not only can you enjoy award winning Missouri Wines, but the menu is a seasonal, ever-changing array of locally sourced foods.  The Gorgonzola savory cheesecake and the chocolate Nemisis are the perfect beginning and ending to a delicious meal in Missouri Wine country.