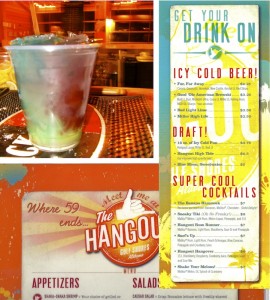 I'm most impressed by the color palette and how The Hangout's signature cocktail, the Surf's Up, matches the restaurant's aqua, orange and yellow menus. No accident here. The coordination is highly calculated. Then, again, so is everything about the property.
Location right on the beach, indoor/outdoor seating, kid's activities, DJs who badger the tourists into dancing on tables and the too-loud-for-talk music are just a few components calculated to draw the crowds, which include families, couples, groups and lots of tourists.
I like several things about The Hangout in addition to the cocktail.
Of course, I really (really really) like the beach on which the property sits in Gulf Shores, Alabama.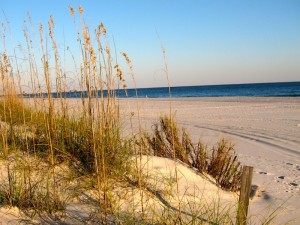 I sort of like the store, which stocks a step-up-from-low-down souvenirs sold at most beach shops.

And I like the wish wall—where anyone can write a wish on a slip of paper, roll the paper into a cylinder and slip it in a wall slot. (Disclaimer:  I did not win a Pulitzer, the lottery or the heart of George Clooney, which I would like even more than I do the beach).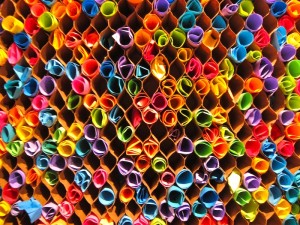 But, back to the menu-matching, multi-color cocktail. One Surf's Up is calculated to refresh and relax the imbiber. Several are calculated to get him/her/me looped enough to join the tourists dancing on tables. (Unlike the wish wall—the Surf's Up delivers.)
SURF'S UP COCKTAIL
Yield: 1 serving.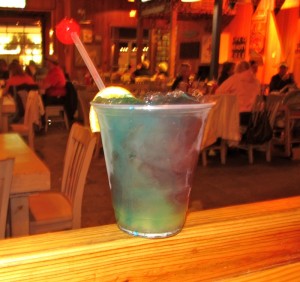 Fill a 12 ounce glass with ice cubes. Add: 1 ounce Bacardi light rum, 1 ounce Malibu coconut rum and 1/2 ounces peach schnapps.  Then carefully, to keep colors as separate as possible, pour enough pineapple juice in one side of the glass and cranberry juice in the opposite side to fill the glass. Top with a generous drizzle of Blue Curacao. Garnish, if desired, with an orange slice and a cherry, which you stick on the end of a straw.