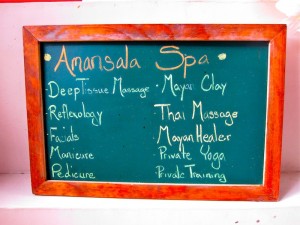 According to recent research (conducted by myself and certainly not with any facts attached), The Riviera Maya, along Mexico's Caribbean coast, hosts more spas than any other similar-sized area on the planet.
Riviera Maya spas run the gamut from five-star palaces of perfection, where attentive staff oil and spoil tony clients in settings both serene and luxurious to bare-bones, beach-side set ups with massage offered along with the sounds of the sea. 
Spiffy or spartan, Riviera Maya spas are easy to categorize—with one exception. Bikini Boot Camp in Tulum defies description.
Whereas most Riviera Maya facilities are day spas, Bikini Boot Camp is a casual, weight-loss, heavy-on-yoga,  sort of destination spa, taking guests for three to six night programmed stays.
I took a peek, not the program, so I can't comment on the full monte, but do know that (1) the boys and babes with beautiful bikini-buff bodies who run the place are competent, if not keen on rigid scheduling;  (2) the facilities are comfortable in an eco, hippie-chic sort of a way;
(3) the yoga is terrific; 
(4) the zumba, lively; 
(5) the Maya clay treatment (self administered and washed off in the sea) is interesting and somewhat fun;
and (6) the kitchen is top notch.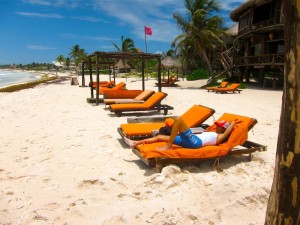 The Amansala boutique hotel that houses the camp puts up non-camp guests when rooms are available, a boon to travelers as the property sits directly on a great beach and makes a swell spot for a relaxing getaway.
And best of all for those whose bodies are beyond boot camp repair, the kitchen is open to the public.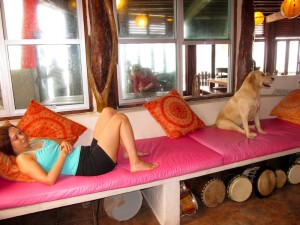 I stayed for lunch, which was slowly served in a large airy dining room overlooking the beach. Dining décor included hummingbirds flying by to visit surrounding flowers, the owner's white labs working the room, seeking strokes and scratches, and a bikini camper who ditched an exercise class in favor of a siesta on a nearby couch. A gentle breeze cooled the afternoon and the food matched the setting, being simple, straightforward and totally pleasurable.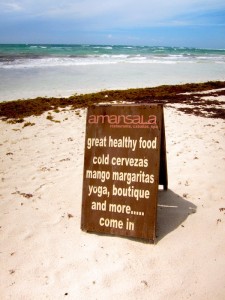 Amansala chefs focus on lowish-calorie dishes based on fresh local fruits, vegetables, fish and chicken, and the owners believe in weight loss without deprivation, so I was able to accompany my light and flavorful grilled fish salad with a mango margarita and an order of bananas foster. Sigh!
In summery, after only a short stop skimming the surface of Bikini Boot Camp, I can sincerely say that the scenery, the setting and the salad are simply sensational and that those I saw settled in for a longer stay looked like happy campers indeed.
GRILLED FISH SALAD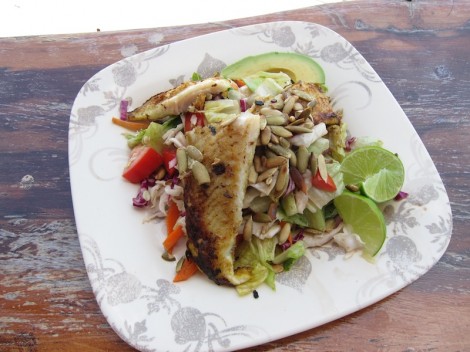 Yield: 2 servings.
 6 small fish fillets 
Amansala Fish Marinade (recipe follows)
Vegetable oil
About 2 cups finely cut lettuce
About 1 cup shredded red cabbage
About 1 cup shredded green cabbage
1 small carrot, peeled and grated
1 small tomato, trimmed and chopped
Amansala Salad Dressing to taste (recipe follows)
2 tablespoons pumpkin seeds
Several thick strips ripe avocado
1 lime, cut into quarters, for garnish
 Put fish in a glass bowl. Pour marinade over fish and let marinade several hours. Drain well.
Put a very light layer of oil in a large non-stick skillet set over medium heat. When oil is hot, add fish to skillet and sauté, turning once, until fish is just cooked through, about 5 minutes.
Meanwhile combine lettuce, cabbage, carrot and tomatoes. Toss lightly with dressing.
Put equal portions of salad on two serving plates. Sprinkle each serving with pumpkin seeds. Top each serving with three cooked fish fillets and several avocado strips. Drizzle a little dressing over fish and avocado. Garnish salads with lime quarters.
AMANSALA FISH MARAINADE
Yield: About 3/4 cup (enough for six fish fillets)
1/2 cup white wine
Juice from 1 large lime
2 large garlic cloves
1/2 teaspoon curry powder
1/2 teaspoon coriander seeds
Put all ingredients in a blender and blend until smooth.
AMANSALA SALAD DRESSING
Yield: About 3/4 cup.
1/4 cup olive oil
1/4 cup balsamic vinegar
2 tablespoons honey
2 tablespoons soy sauce
2 tablespoons sesame oil
1 quarter size piece ginger, peeled and cubed
Put all ingredients in a blender and blend until smooth.