Kimmswick, Missouri, counts 97 official residents and two main attractions: the Anheuser Museum
& Estate—the ancestral home of a relative of the founder of the Anheuser-Busch Brewery, and the Windsor Harbor Road Bridge—a 60- (or thereabouts) foot long pedestrian bridge thought to be one of the oldest wrought iron spans in Missouri. Add a handful of buildings dating from 1860 and a few antique/craft shops and the whole scene still sounds a bit sleepy, yet the tiny town, located on the banks of the Mississippi river about 25 miles south of St. Louis, attracts hundreds of visitors each day.
And visitors come from around the world. The Kimmswick Visitors Center's 2010-2011 register sports signatures from 16 countries and 49 states (not New Mexico, but New Mexicans could have slipped in without signing).
What's the draw?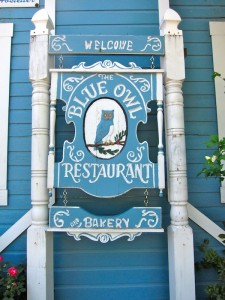 My guess is the Blue Owl Restaurant and Bakery. Open from 10 a.m. to 3 p.m. on Tuesday thru Friday and from 10 a.m. to 5 p.m. on weekends, the Blue Owl serves good, old fashioned breakfast and luncheon items, with specials including such Missouri country classics as biscuits & gravy, chicken and dumplings, pot pies and chicken-fried steak. But frankly, good as they are, the main courses don't account for the crowds.
Desserts do.
Levee-high caramel apple pecan pie, peanut butter & chocolate cheesecake, coconut cream dream layer cake—OMG—and that's just a start.  At any given time, calorie seekers can find 25 handmade pies, 10 different specialty cakes and cheesecakes and at least two-dozen different pastries on the menu for dine in and/or take home. (Blue Owl also satisfies cravings by mail. See www.theblueowl.com for ordering instructions.)

Gooey butter goodies (derivatives of the gooey butter cake born in St Louis sometime in the early 1940s) top the list of perpetual favorites. In addition to cakes and cheesecakes, Blue Owl sells two heavenly gooey butter cookies: Gooey Butter Balls and Jumbo Gooey Butter Cookies.
Mary Hostetter, owner of Blue Owl, said that both cookies are made from the same basic recipe, but the dough is shaped and baked differently to produce variety. I cut Mary's recipe in half to print here—(a form of calorie control as I will devour as many cookies as I make). You can double the recipe if you dare.
GOOEY BUTTER COOKIES
Yield: About 2 to 3 dozen small Gooey Butter Balls or 6 Jumbo Gooey Butter Cookies.
4 tablespoons butter, softened
4 ounces cream cheese, softened
1 small egg
1/4 teaspoon vanilla
1 (about 18-ounce) box yellow cake mix
Powdered sugar
Put butter and cream cheese in a large bowl and beat with an electric mixer until well blended. Add egg and vanilla and beat until mixture is light and fluffy.
Add cake mix; beat until blended. Cover bowl and refrigerate 30 minutes.
Preheat oven to 350°F.
Shape cookies:
To make Gooey Butter Balls, form dough into 1-inch balls and roll in powdered sugar. Place balls on a greased or parchment-lined baking sheet, about 1-1/2 inches apart.
To make Jumbo Gooey Butter Cookies, shape dough into 3-inch balls and put on a greased or parchment-lined baking sheet, at least 2 inches apart. Gently pat balls into large flat rounds. Sprinkle with powdered sugar.
Place baking sheets in preheated oven and bake until balls/cookies are set but not beginning to brown, 12 to 15 minutes.
Cool cookies and sprinkle with sifted powdered sugar before serving.