Although it is self-designated "the smallest town on earth, " Durbuy
is large enough to have a restaurant serving what my traveling companions claim is one of the biggest taste treats in all of Belgium. Considering the nature of our trip, this is super-size praise for any size town.
I was traveling with four fellow food writers through Wallonia, the French-speaking region of Belgium, enjoying a luscious sneak preview of the up-and-coming Belgian 2012 Year of Gastronomy.
The day we landed in Durbuy for lunch (day three of our trip), we had already devoured a huge breakfast at the Auberge du Sabotier in Awenne (our previous night's stop), followed by a generous beer and charcuterie tasting in Rochefort.
By the time we settled into Le Victoria Restaurant and Grill, I had so overindulged that I could only manage to order a small salad. My colleagues had more fortitude; they ordered grilled chicken.
Le Victoria is a pretty place with several dining areas. We chose an indoor table, near the open grill, and from my seat, I could hear the sizzle when chef Koen Timmerman put the chickens on to cook. Lured by the sound and scent, I stood to watch.
One half chicken constituted an order and Koen grilled the halves, over a medium high flame, basting and turning them often, until the skins were nicely browned and crispy. He then transferred the halves to a large bowl, tossed them for a few moments in what he called a "marinade." and sent them to the table hot, fragrant and chin-dripping juicy. The whole process took about 20 minutes.
My colleagues raved. They raved after the first bite. They raved when they finished eating. They raved the following day. And they raved at the end of the trip when asked to remember their favorite meal.
They raved so much, that as soon as I returned home, I adapted Koen's recipe (which he had given to me in restaurant proportions and European measurements), and made the chicken for a casual dinner party. My guests raved. My husband raved. Chances are you'll rave too.
GRILLED CHICKEN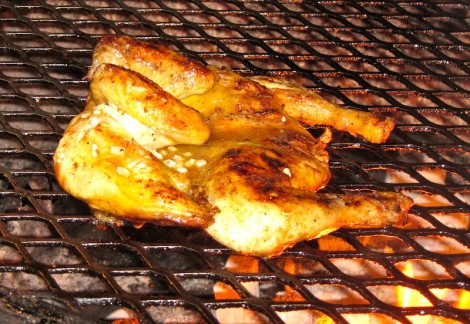 (Adapted from a recipe from Koen Timmerman. Le Victoria Restaurant and Grill)
Yield: 4 large servings.
2 frying chickens, halved
Basting ingredients:
1/2 cup olive oil
1-1/2 teaspoons red wine vinegar
2 teaspoons chopped garlic
1 teaspoon Tabasco sauce
1/2 bay leaf
Finishing ingredients "marinade":
1/3 cup butter or margarine
1-1/2 teaspoons lemon juice
1 teaspoon chopped garlic
3/4 teaspoon Tabasco sauce
Salt to taste
Freshly ground black pepper to taste
Put basting ingredients in a small bowl and whisk until well combined; set aside.
Melt butter in a small saucepan. Add remaining finishing ingredients and stir well. Set aside. If necessary reheat mixture to melt butter before using.
Set chicken halves on a grill over hot coals. Grill, brushing often with basting mixture and turning as necessary, until halves are cooked through, but not dry, and skin is well browned and crispy.
Transfer chicken from the grill to a large dish. Pour finishing mixture over chicken and turn halves over several times to coat with mixture. Serve immediately.