Almost every city has a farmer's market, but best of them all has to be the Dane County Farmer's Market in Madison,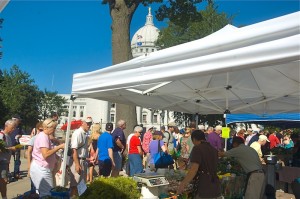 Wisconsin.
Held outdoors, rain or shine, every Wednesday and Saturday from May to November (and indoors, on Saturdays, in winter), the market draws the most crowds on summer Saturdays when vendors set up about 160 booths around four long blocks surrounding Wisconsin's majestic State Capital building.
If it were made for a movie, the Madison market couldn't be more perfect.
Locals show up when the market opens at 6 a.m., chefs come around 7 a.m., tourists join the crowd at 10 a.m. and students drag themselves out of bed getting to the market about an hour before it closes at 2 p.m. The array creates a charming cast of thousands who stroll counterclockwise around the booths, interacting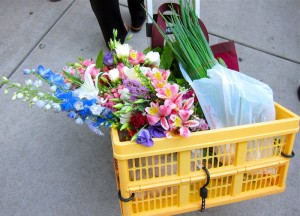 as if they were attending one big happy neighborhood party. Street musicians, laughing children and picnickers lounging on the capital's green grounds add to the Midwest dream scene, but it is the vendors and their products that play starring roles.
Wisconsin farmers man the booths selling their own homegrown seasonal produce and farm-related products (flowers, cheese, honey, maple syrup, jams, breads, etc.).  Although everything for sale is of such high quality as to make one want to move to Madison and become a dedicated locavore, in mid-summer, particularly rave reviews go to the pick of the peak produce: tomatoes, cucumbers and green peppers.

TWO BLOCKBUSTER WAYS TO USE THE BOUNTY
GAZPACHO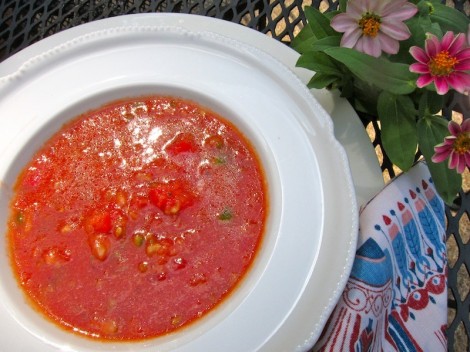 Yield: 6 servings.
2 large ripe tomatoes, trimmed and cut into large chunks
4 cups tomato juice
1 large cucumber, peeled, seeded and cut into large chunks
1 large green pepper, trimmed and cut into large chunks
1 small onion, peeled and quartered
1 large clove garlic, peeled and put through a press
2 to 3 tablespoons extra virgin olive oil
2 to 3 tablespoons red or white wine vinegar
Celery salt
Salt
Pepper
Ground cumin (optional)
Croutons, for serving
Working in small batches, put tomatoes in the jar of a blender. Add a little tomato juice and blend until finely chopped, but not pureed. Transfer blended mixture to a large bowl. Repeat blending with cucumber, green pepper and onion. Add any remaining tomato juice, garlic, oil and vinegar to blended mixture in bowl. Sprinkle lightly with celery salt, salt and pepper. Add a little cumin if desired. Stir and taste. Correct seasoning. Refrigerate in a covered container until you are ready to serve. Serve chilled soup with croutons.
GREEK SALAD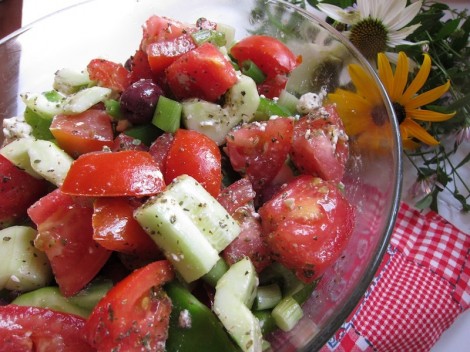 Yield: 6 servings.
4 large ripe tomatoes
2 slender cucumbers
2 green peppers
4 scallions
About 1/2 cup crumbled feta cheese
About 1/3 cup pitted kalamata olives
1-1/2 teaspoons dried oregano
1/4 cup extra-virgin olive oil
2 tablespoons fresh lemon juice
1/2 teaspoon salt
1 large clove garlic, peeled
Trim tomatoes and cut into bite-size chunks.
Trim ends from cucumbers. (If the cucumber skin is tough, peel it. Young slender cucumbers do not need peeling.) Halve cucumbers and remove seeds. Cut cucumbers into bite-size chunks.
Trim peppers and cut into bite-size chunks.
Trim scallions and cut white part into 1/4-inch pieces.
Put all cut vegetables in a large bowl.
Add feta and olives. Sprinkle with oregano. Toss lightly.
Refrigerate until ready to serve.
Meanwhile make dressing: Combine olive oil, lemon juice and salt in a small jar. Cut garlic into slivers and add. Set dressing aside until ready to serve.
Just before serving, remove garlic and pour dressing over vegetables. Toss lightly.
Serve.