The Grove Café & Market  in Albuquerque, New Mexico, is not your usual food outlet. Owned and operated by
husband and wife team, Jason and Lauren Greene, the property is part restaurant, part coffee house (great espresso) and part shop (selling artisan food products, culinary gifts, table-top items and books). It is open only part of the day (breakfast and lunch) and part of the week (closed on Monday).
Even the Café menu breaks with tradition. In a city where chiles dominate and food specialties lean to the Native American and Hispanic, The Grove's food inclines towards the French. But only part of the menu wears French names, and even that part deviates from traditional classics, as Chef Jason likes to add personal twists to his repertoire.
All and all, the sum of The Grove's parts equals a whole lot to admire, not the least being wholesome food (based on locally grown, organic and natural ingredients) that is wholeheartedly delicious. Perfect example: The Grove Café's Croque Madame.
CROQUE MADAME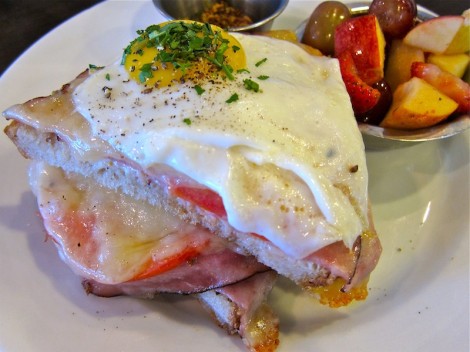 Yield: 1 serving.
1 large slice whole-wheat sourdough bread
Olive oil
Salt
Pepper
Black pepper aioli (recipe follows)
3 thin slices Black Forest ham
3 thin slices heirloom tomatoes
1 ounce shredded Cheddar cheese
3 thin slices French Gruyere cheese
1 egg
Chopped parsley
Preheat oven to 350°F.
Brush bread with olive oil and sprinkle with salt and pepper. Set in oven until lightly toasted, about 10 minutes. Let cool.
Spread a thin layer of black pepper aioli on one side of toasted bread. Add slices of ham. Top with tomato slices. Lightly salt and pepper tomato. Sprinkle shredded Cheddar over tomatoes and top with slices of Gruyere.  Set sandwich in oven until cheese melts, about 10 minutes.
Meanwhile, put a little olive oil in a small skillet, set skillet over medium heat and fry egg, sunny side up.
Remove sandwich from oven. Cut sandwich in half and stack one half over the other. Top with egg. Sprinkle with parsley and serve immediately.
BLACK PEPPER AIOLI
Yield: 1 cup.
1 cup mayonnaise
2 teaspoons fresh lemon juice
1 teaspoon freshly ground black pepper
1/2 teaspoon whole-grain mustard
1 garlic clove, peeled and minced
Combine all ingredients.
Cover and refrigerate until ready to use.