Summertime,
And the sippin' is easy.
Bars are jumpin'
And the patrons are high.
The menu's rich.
And the cocktails' good lookin.'
So I'm thinking maybe
You'd like to give some a try.
ROYAL DREAM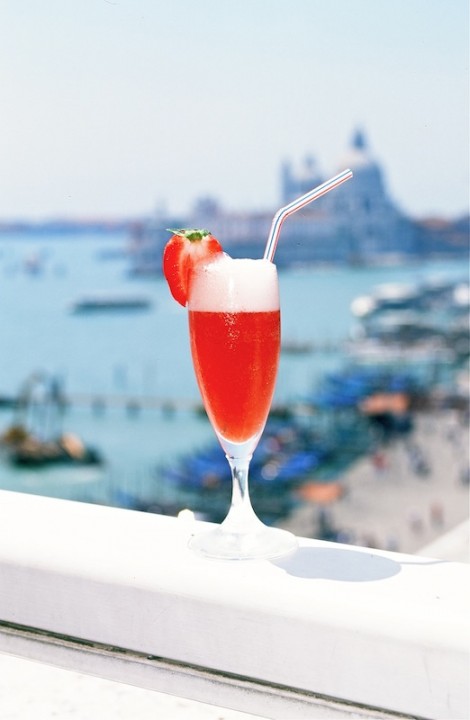 It takes a dictionary's worth of adjectives to describe the

Hotel Danieli

, and all of them mean magnificent. In addition to architectural glory, sumptuous décor and luxurious service, this once-upon-a-time palace turned hotel could have the best location of any property in Italy. The ground floor opens to the Riva degli Schiavoni, Venice's principal waterfront promenade. And the top floor holds the Ristorante Terrazza Danieli offering an unparalleled panoramic view of the Grand Canal and Adriatic sea. Nothing short of Champagne is good enough for the Danieli's specialty cocktail, but as if Champagne alone is no match for the glory of the surroundings, the Danieli decorates the drink with fresh strawberries and a splash of cherry flavored liqueur.
ROYAL DREAM
Yield: 1 cocktail
3 large ripe strawberries, hulled
1 teaspoon sugar
1 ice cube
2 ounces Kirsch (cherry brandy)
Chilled Champagne
1/2 strawberry for garnish
Sprinkle strawberries with sugar and mash; set aside 5 minutes. Put strawberry mixture and ice cube in a blender and blend until smooth. Strain puree into a Champagne flute. Add Kirsch and fill glass with Champagne. Stir lightly with a spoon and serve immediately.
BLUE DREAM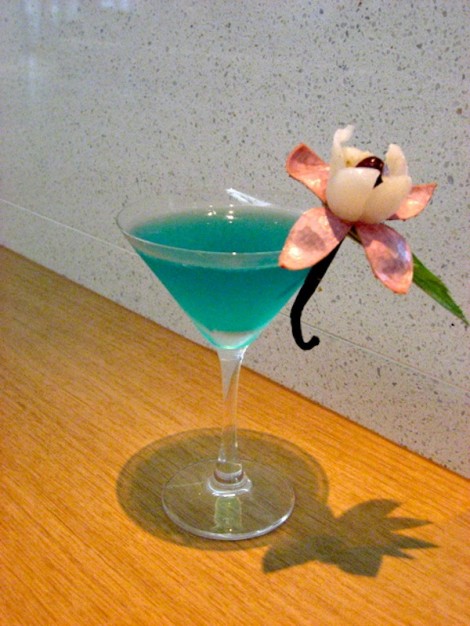 Dolce La Hulpe Brussels bills itself as a hotel, resort and conference destination serving both business and leisure travelers. Located in the midst of a lush forest on the outskirts of Brussels, the property's contemporary architecture and minimalist décor adds sleek sophistication to the nature-packed setting. In addition to 265 guest rooms and suites, extensive conference facilities, several restaurants and full-service spa, the center sports two great bars serving smashing cocktails, many of which have won top awards in national and international cocktail contests. Top winner, the Blue Dream, scores points for taste as well as beauty.
BLUE DREAM
Yield: one serving.
1 ounce dry French vermouth
1/2 ounce banana liqueur
1/2 ounce Blue Curacao
1-1/2 teaspoon Marie Brizard Manzanita green apple liqueur
1-1/4 teaspoon fresh lemon juice
Ice
1 lychee for garnish
1 vanilla bean for garnish
Put all ingredients except the garnish in a cocktail shaker with ice. Shake well. Strain into a martini glass. Cut lychee to resemble a flower. Garnish drink with the lychee "flower" attaching the vanilla bean as a stem.
GATUN PUNCH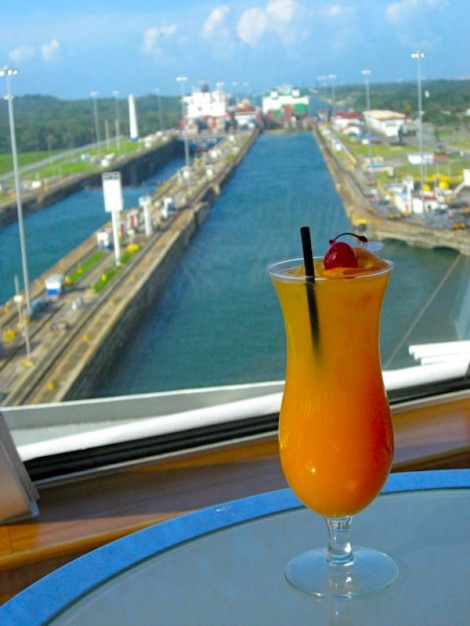 Perhaps building the Panama Canal was man's most arduous task. Blood, sweat and tears marked construction where upwards of 25,000 people died, fortunes were lost and disasters lurked around every bend. It's hard to imagine the turmoil when transiting the canal today, especially if the crossing is aboard a luxurious, six-star, Crystal Cruises ship. Life with Crystal Cruises is as good as it gets. All that's required of passengers taking the short cut from the Pacific to the Atlantic is that they relax and enjoy. Crystal doesn't pull punches when it comes to passengers' pleasure, that is unless the punch was created for the occasion of the ship entering the Gatun Locks (the locks closest to the Canal's Atlantic side). Cheers!
GATUN PUNCH
Yield: one serving.
2 ounces fresh orange juice
2 ounces pineapple juice
1 ounce sour mix
Dash grenadine
Ice
2 ounces rum
Cherry for garnish
Orange slice for garnish
Put orange juice, pineapple juice, sour mix and grenadine in a 12-ounce hurricane glass. Stir. Fill glass with ice. Float rum on top. Garnish with cherry and orange slice.