I first met the tart in my hotel room at the L'Auberge Du Lac Casino Resort in Lake Charles, Louisana. Temptation knocked on the door in the guise of a "welcome gift" and I confess I abandoned all control and immediately,voraciously indulged. The encounter left me filled with guilt, but wanting more.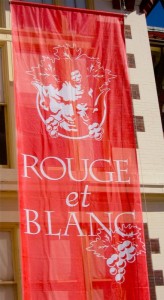 Fortunately we met  again, at the popular Rouge et Blanc, Lake Charles' premier wine and food festival. I spied the tart in a discreet corner of the festival, seductive as ever. Bypassing the crowd waiting to sample the festival's fine wines and food specialties, I rushed to the tart and again yielded to desire. Once. Twice. I couldn't get enough.
According to dietician Shively Lampson, who made the tarts for both the hotel gift and the festival, I am not alone in my passion.
"Dark Chocolate Ganache Tarts are best sellers at our shop," says Shively referencing Pure Foods & Health, the retail healthy foods shop in Lake Charles that she co-owns with her husband Gene.
"Because the tarts are made with unprocessed and uncooked plant foods, they are great for vegans, vegetarians as well as raw food dieters." In addition, Shively said that  "using coconut butter makes the tarts heart healthy. The fat in coconut oil is made up of medium chain fatty acids, and as such is more likely to be used as an energy source rather than stored as fat."
Talk about lucky in love. My sinfully rich, deeply decadent-tasting chocolate tarts turned out to be a vegetarian "health" food.
Ingredients may be a bit hard to find—and a tad expensive, but if you can't get to Lake Charles and Pure Foods & Health, you can make the tarts at home with Shively's recipe.
DARK CHOCOLATE GANACHE TARTS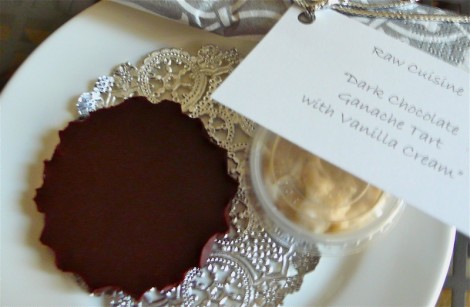 Yield: 8 to 10 three-inch tarts.
CRUST
3/4 cups cocoa powder
3/4 cups almond meal or fine almond flour
1/2 cup maple sugar or maple syrup powder
1/4 cup coconut butter or coconut oil
Pinch of salt
Put cocoa powder, almond meal, maple sugar, coconut butter and salt in a large bowl. Stir with a wooden spoon or mix your hands until ingredients are thoroughly combined and form a "dough."
Line 8 to 10 three-inch tart pans with plastic wrap and then press dough over the bottom and up the sides the pans, dividing the dough evenly among the pans. Cover with plastic wrap and place in the refrigerator to chill 1 hour or more.
GANACHE FILLING
1 cup plus 2 tablespoons cocoa powder
1 cup plus 2 tablespoons maple syrup
1/2 cup coconut butter
Put cocoa powder, maple syrup and coconut butter in the jar of a blender. Blend until ingredients are thoroughly combined and completely smooth (taste to make sure the mixture is not grainy).
Spoon filling into the chilled tart crusts. Lightly lift and drop each pan onto the counter to release any air bubbles.  Place tarts in the refrigerator to chill and set at least 3 hours. (Tarts freeze well at this stage.)
TO SERVE
Remove plastic wrap and, if desired, garnish with fresh strawberries or raspberries or with a dollop of Shively's Vanilla Cashew Cream Sauce (recipe follows).
VANILLA CASHEW CREAM SAUCE
Yield: 1 cup.
1 cup raw cashews, soaked in water for four hours and drained well
1/4 cup plus 2 tablespoons water
2 tablespoons maple syrup or agave
1 teaspoon vanilla extract
Place all ingredients in a blender and process on high speed until smooth. Chill for at least 30 minutes before serving.