I only have two memories from the trip. One is going to a Nice casino with a young American who lost a shocking number of dollars by gambling without accounting for the exchange rate, and a happier memory—the win win of meeting Nathalie Dupree. 
Nathalie and I were taking cooking lessons at Château du Domaine St.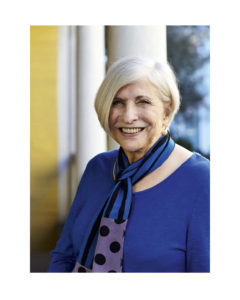 Martin in Vence, France. I remember that the chef taught us to made a Salad Nicoise. Nathalie remembers the class featuring an "orange sugar thing like a gastrique for duck."  This was in the mid 1970s. 
As all of today's cooks know, Nathalie returned to the States to become a superstar of Southern cooking.
She has authored 15 cookbooks, winning James Beard awards for 
SOUTHERN MEMORIES,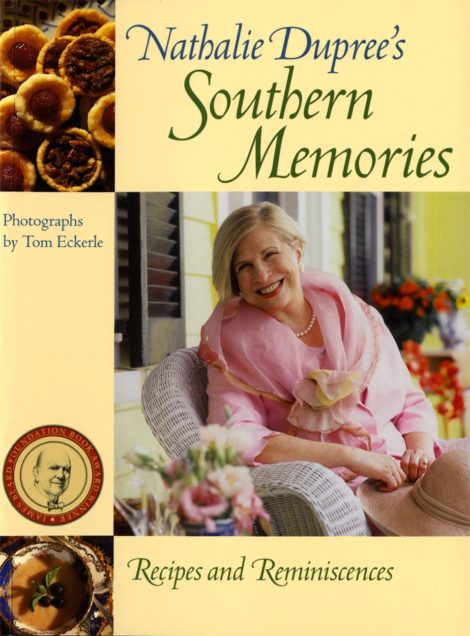 COMFORTABLE ENTERTAINING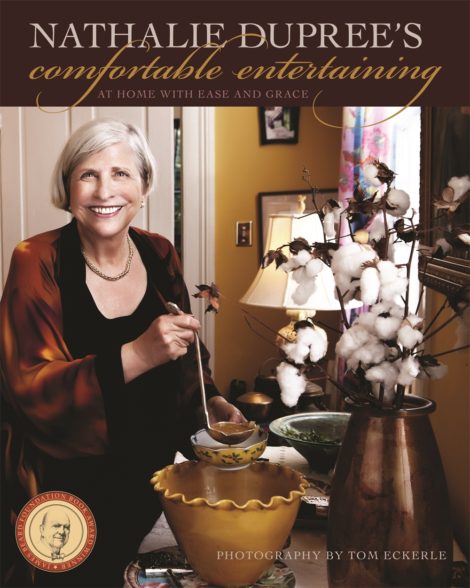 and 
MASTERING THE ART OF SOUTHERN COOKING.
Her credentials include hosting cooking shows on The Food Network, PBS and The Learning Channel as well as being the author, producer and/or subject of countless TV and radio programs, magazine and newspaper articles and…well..the list goes on and on. I'll jump to the chase and send you to her blog for more information: http://www.nathalie.com.
Asking Nathalie to pick one favorite recipe to share with Sweet Leisure readers is like asking an encyclopedia to pick its favorite article. Too many choices. All worthy. 
At last Nathalie settled on a tian of zucchini, onions, tomatoes and basil with feta cheese for a favorite summer recipe. As Nathalie explains, "A "tian" is a fancy French name for a simply assembled and cooked casserole. It is even better the next day after the flavors have melded, making it a good fix-ahead dish. A "use-what-is-in-the pantry" dish, choose any vegetable that will cook in about the same time; don't worry if a layer gets a little tinged with brown. A flexible dish, it will taste different each time it is cooked, depending on the freshness and amount of the vegetables. The texture is up to the cook as is the amount of vegetables. Since this recipe can be adjusted to using any amount of vegetables, from enough for two or more, the time is variable as well and is just a general guideline."
TIAN OF ZUCCHINI, ONIONS, TOMATOES AND BASIL

 by Nathalie Dupree
Yield: 4 to 6 servings.
1/4 to 1/2 cup olive oil
2 onions, or 3 to 4 shallots, thinly sliced
2 garlic cloves, finely chopped
2 pounds ripe tomatoes, sliced or small grape tomatoes, halved or  quartered
1-1/2 to 2 pounds zucchini or half zucchini and half yellow squash
Salt to taste
Freshly ground pepper to taste
1 to 2 tablespoons fresh basil, thyme and/or oregano, chopped
1/3 to 1/2 cup feta or other soft goat cheese such as Montrachet
Preheat oven to 400 degrees.  
Oil an oven-to-table pan or dish large enough to allow the vegetables to come to the rim.
Heat a large skillet, add the olive oil, and when hot enough to ripple add the onion. Cook the onion until soft, add the garlic and cook a few minutes longer. Remove the soft onion and garlic and spread on the the bottom of the oiled pan, or if you are using shallots, set aside for later so their pretty frizzle and color can go on top.  Meanwhile slice the zucchini thinly and add to the skillet, adding oil as necessary, and cook until lightly soft, but not mushy. If you prefer it a light brown that is fine. Spread over the bottom of the pan, over the onions. Season well with salt and pepper and half of the herbs. Move to the hot oven and bake one half hour. (Cover with foil if vegetables brown.) Add the tomatoes across the top if sliced, or around the edges, if using halved small ones. Sprinkle remaining herbs on the vegetables and if using shallots, add them on the top.  Drizzle the top lightly with oil if desired. Cover with foil and continue cooking until the vegetables are tender and juices bubble around the edges, another half hour to an hour. Remove from the oven and sprinkle with cheese.  
Serve hot or cool down and serve at room temperature or reheat the next day.  May be refrigerated or frozen, once cooled and covered.
Optional addition:
1-2 large long thin purple or globe-type eggplant, thinly sliced
Variation: use rosemary rather than the other herbs.
Nathalie published a similar recipe in her terrific book, NATHALIE DUPREE'S FAVORITE STORIES & RECIPES. The book gives details of her recipe for Ratatouille Tian and uses eggplant which she adds to the Sweet Leisure recipe as an option.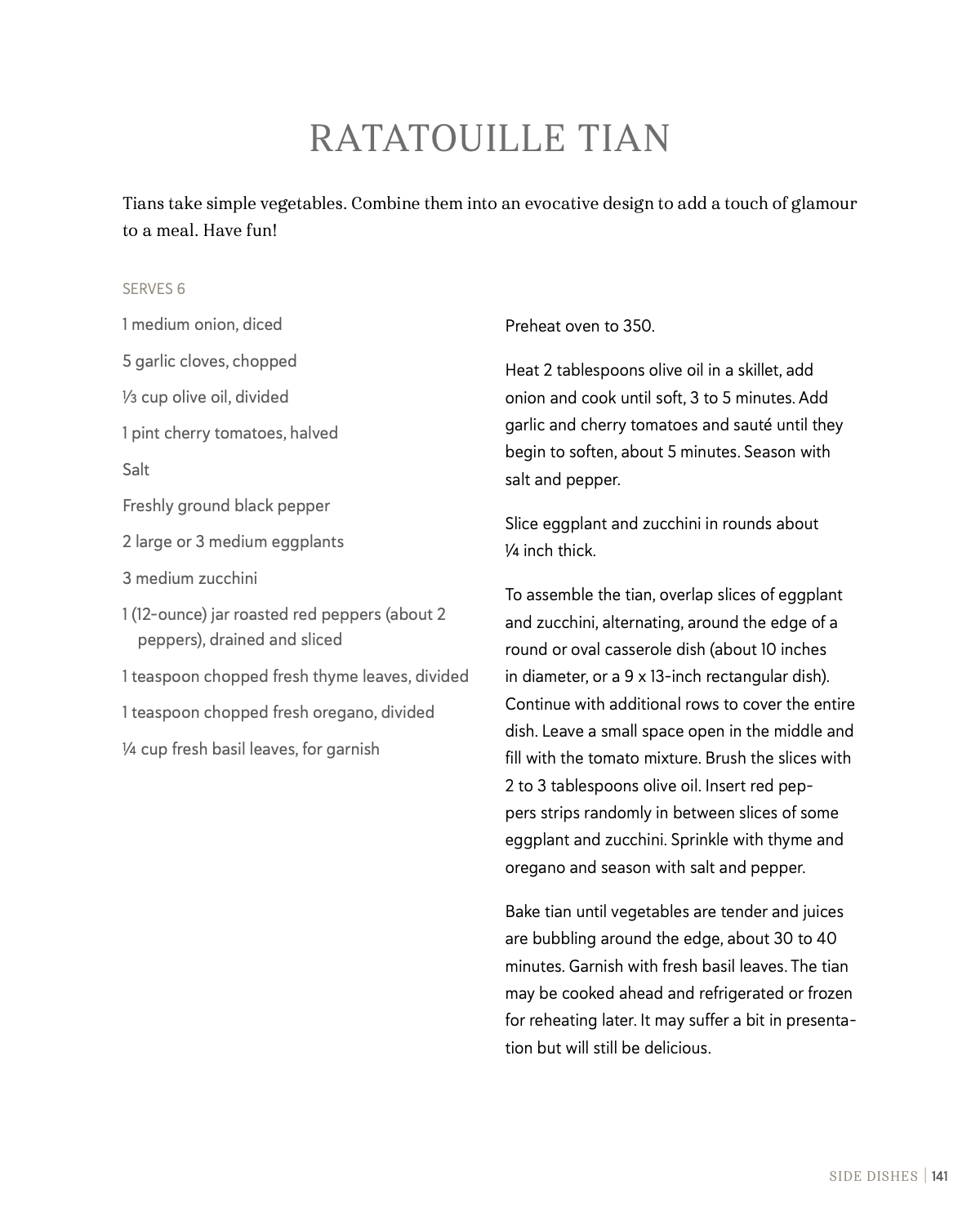 To buy NATHALIE DUPREE'S Favorite Stories & Recipes from Amazon (am testing their affiliate program) click HERE.  
Her books are also available through book sellers everywhere and through her own website.