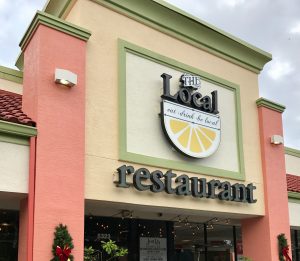 Wish The Local restaurant was local—to me that is. The restaurant is local to lucky residents of Naples, FL, which I think is essentially unfair. It may be jealousy talking, but folks in Naples get all the breaks. They enjoy great weather, sand and sea and a cornucopia of other pleasures. I don't see why they should have the added perk of this inexpensive, super cool restaurant open for lunch and dinner six days a week (closed on Monday).
Located in a strip mall on Airport Pulling Rd N, The Local takes casual dining to a tasty, healthful high.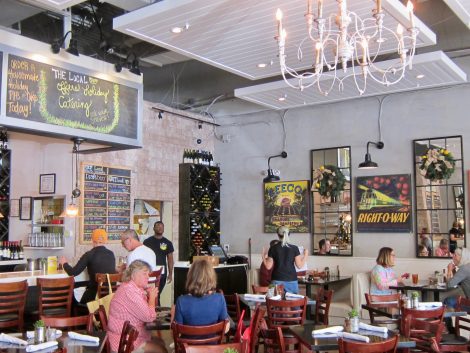 Most ingredients come from sustainable Southwest Florida farms (thank you Florida weather)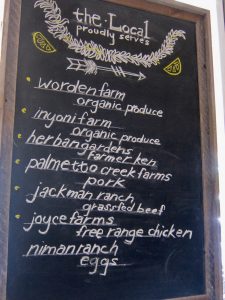 and menu items present a feast for vegans, vegetarians, carnivores, omnivores, pescatarians…well…let's just cut to the chase. People with all sorts of food preferences will find something to strike their fancy from the ever-changing menu of delectable
soups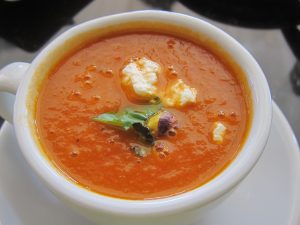 salads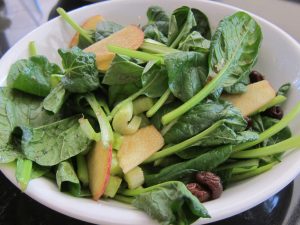 flatbreads, both constructed and deconstructed (see recipe below)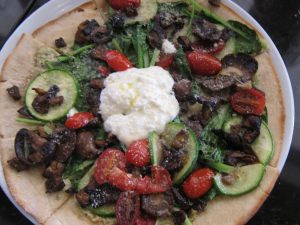 sandwiches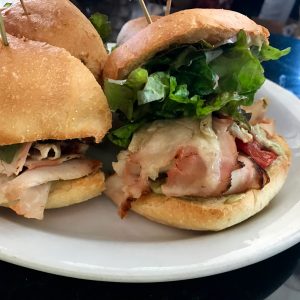 specials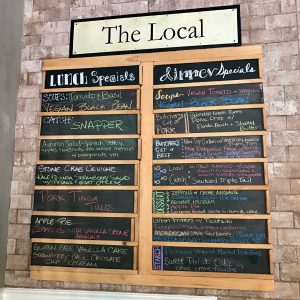 desserts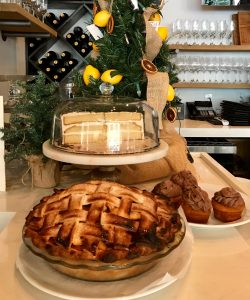 and beverages.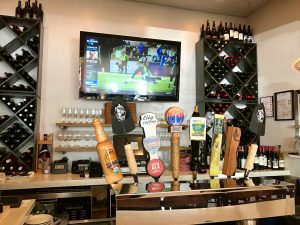 Although owner-chef Jeff Mitchell serves some of the freshest, most gorgeous vegetables in Florida,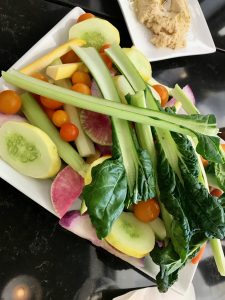 he also devotes detailed attention to pork. "We butcher a hog daily," Mitchell says, "and use everything from the hooter to the tooter."
Much can be said about The Local's food. Often used descriptors include:
"organic," "grass-fed," "free-range," "farm-to-table," "sea-to table,""so delicious" "beautiful" "clean," "healthful" and "Mmmmmmmmm!"
Meticulous sourcing, creative preparation, vibrant presentation—oh, how I wish The Local was local to me.
THE LOCAL'S MEDITERRANEAN FLATBREAD
Yield: 2 to 4 servings.
2 ripe tomatoes
1 cucumber
1/2 red bell pepper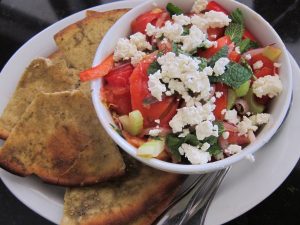 1 stalk celery
1 tablespoon diced red onion
1 teaspoon chopped fresh dill
Juice from 1/2 lemon
Extra virgin olive oil
Sumac
3 mint leaves
1/4 cup feta cheese
Seasoned toasted flatbread (recipe follows)
Trim tomatoes and cut into bite size pieces.
Peel and cut ends off cucumber. Cut cucumber in half lengthwise. Remove seeds. Slice cucumber crosswise into 1/4-inch thick half moons.
Trim, seed and cut red bell pepper into 1/4 inch thick strips.
Trim celery and cut into 1/4-inch thick pieces.
Put all cut vegetables into a medium mixing bowl. Add onion and dill. Sprinkle lemon juice over ingredients. Drizzle with olive oil. Sprinkle with sumac. Toss gently with two spoons to distribute ingredients and seasonings. Taste and correct seasonings. Put into a serving bowl. Tear mint leaves into thirds and sprinkle over top of salad. Top with feta.
Serve with seasoned toasted flat bread.
SEASONED TOASTED FLATBREAD
Flatbread
Olive Oil
Za'tar
Cut flatbread into wedges. Brush both sides of each wedge with extra virgin olive oil and set on a baking sheet. Sprinkle wedges with za'tar. Place baking sheet in a preheated 350°F oven and toast flatbread until golden brown and crispy, about 7 minutes.
For more information about The Local click HERE.