Some folks might say that Disneyland is L.A.'s top attraction, or Universal Studios, or the grand art museums, or restaurants, or beaches. Me? I love the flea markets.
Flea markets reveal the overall tone of a place. By selling collections and discards, treasures and trivia—both splendid and spent, flea markets showcase the life-styles of locals, revealing a veritable storehouse of consumer culture.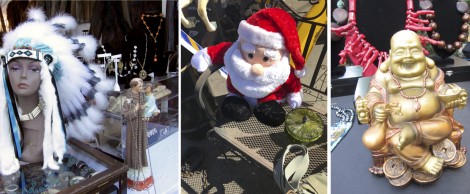 L.A. flea markets provide even more than a peek at residents' recycling magic. In addition to an opportunity to score the unique and useful, L.A. flea markets offer sunshine, look-at-me shoppers perfect for people watching, star sightings and a dribbling of super-special, straight-from- Hollywood, movie-making leftovers.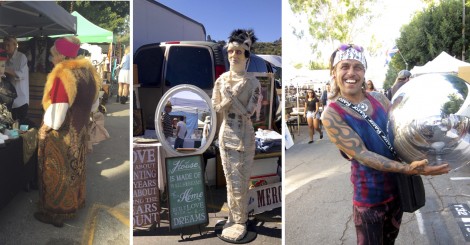 Although L.A.'s Melrose Trading Post never disappoints,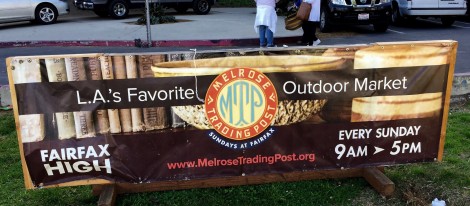 the blow-out-biggie of L.A. flea markets has to be the Rose Bowl Flea Market and Market Place held rain and shine the 2nd Sunday of each month in Pasadena.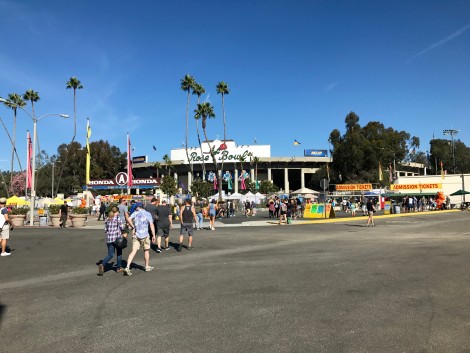 It may not be "The Greatest Flea Market on Earth," as advertised, but it is a sensational secondhand-shopping extravaganza not duplicated elsewhere.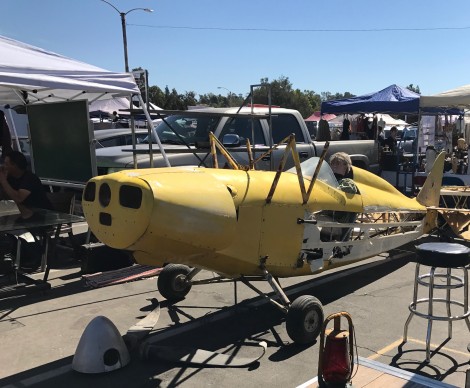 According to brochures, the market draws about 20,000 shoppers to buy from a million items on sale from 2,500 vendors. As scope and size can stymie first-time visitors, especially tourists new to L.A., we're listing some tips telling newbie out-of-towners what they need to know to go: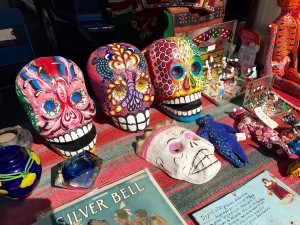 MapQuest directions to 1001 Rose Bowl Drive, Pasadena, CA 91103. Driving the freeways can be the pits for newcomers. (As an alternative to going alone, try to find a flea-market-loving L.A. friend and hitch a ride or join a tour group and leave the driving to them.)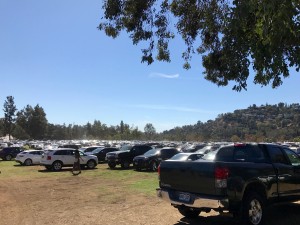 Keep looking and you will find a free parking spot on one of the grassy lots edging the Rose Bowl or on the street. A handicap parking lot is near the entrance (also free). VIP parking lots closest to entrance charge a fee. Bottlenecking happens, but compared to driving the freeways, parking is a piece of cake, easy as pie.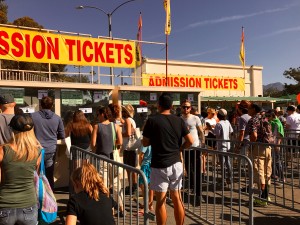 Line up to buy admission tickets. The line moves quickly.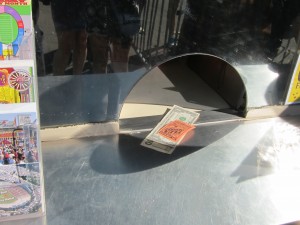 VIP admission  (5-7 a.m.) runs $20. Early bird tickets, ( 7-8 a.m.), cost $15. Express tickets  (8-9 a.m.) ring in at $11. And general admission (9 a.m.-3 p.m when ticket sales stop), cost $9. Kids under 12 are free with an adult.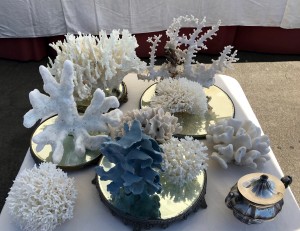 To find the choice pieces, dealers, decorators and the stars usually show up first thing in the morning.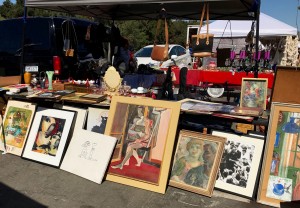 Some vendors like to shop before opening their own stands, grabbing early bird bargains in the morning and reselling the items for a profit later in the day. This means that not all vendors are set up before 9 a.m.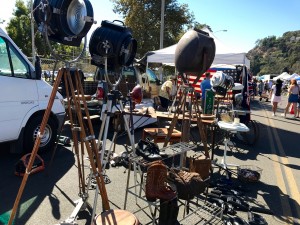 Bargain hunters do well after 3 p.m. when vendors start to break down their stands and sell items cheaply rather than  tote them home. The public can shop until 4:30 p.m.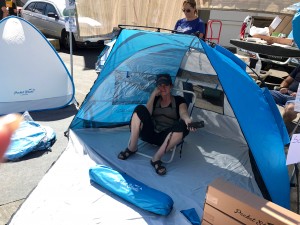 Dress for the sun and space. Wear sunscreen and a hat, or carry a sun umbrella (can buy both hat and umbrella on the spot). Keep shoes comfortable. Mornings can be chilly—afternoons, blazing.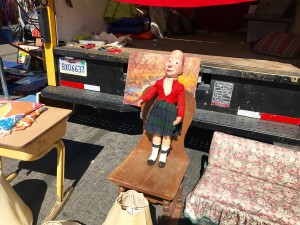 Bring your own water; vendors sell water, but at an inflated price.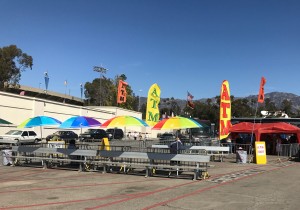 Bring cash. ATMs are located on site, but charges apply.
Pick up a map when you walk in door. Head first to the areas that most appeal. Chances are you'll cave before walking all seven miles of aisles. Shop til you drop is not a cliché at the Rose Bowl Flea Market.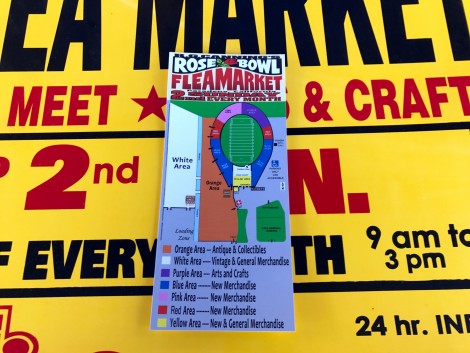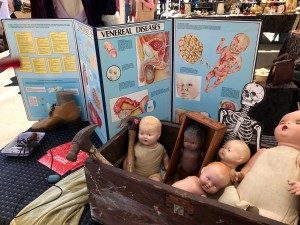 Merchandise prices vary from ridiculously low to unreasonably high. I picked up a small green plastic buddha. Saw that it was marked 80. Thought it was 80 cents. The vender said $80. I don't think he was joking. On the other hand, I bought four charming desert plates for $2.50 and a vintage dress and three cashmere sweaters for total of $15 dollars. (I know the black turtle neck must have belonged to Marilyn Monroe as it was from her era and looked just like her. What a score!)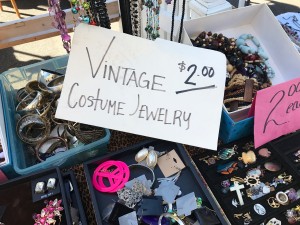 Bargaining works, but be California laid-back, friendly and polite.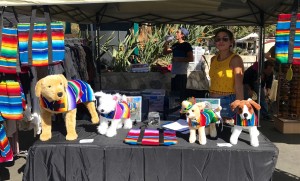 No pets allowed.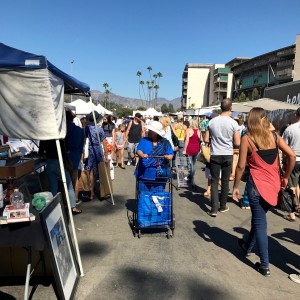 Many vendors will let you purchase an item and will hold it for you until you finish shopping—if you can find them again. You can buy rolling carts on site.
Food and drink concessions polka dot the market. (The $5 slushy Freshers lemonade is worth it!)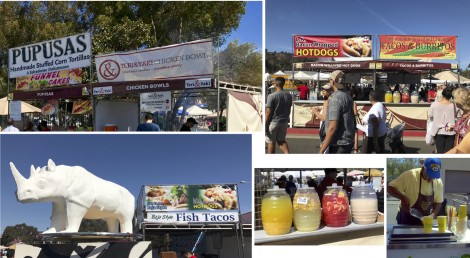 As 20,000 visitors can't be wrong—join the throng, have fun, treasure hunt. I'll join you—every second Sunday rain or shine (mostly shine).
Now here's a recipe for a cake perfect to serve on my new/old plates. The recipe comes from Carol Gray, a marvelous L.A. cook and flea market aficionado.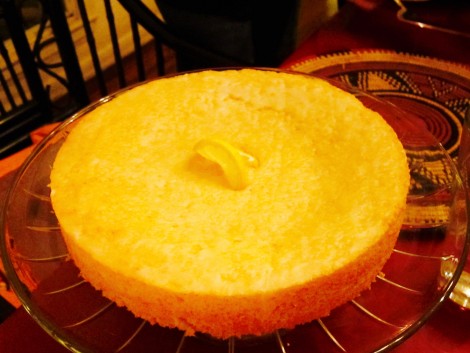 CAROL GRAY'S SUNNY CALIFORNIA CAKE
Yield: 8 to 10 servings.
Butter to grease cake pan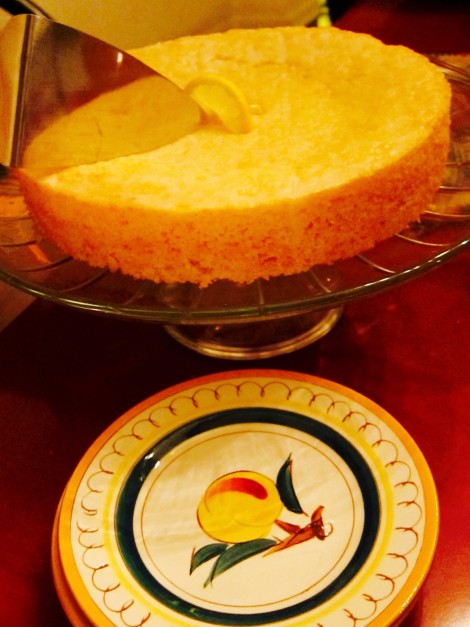 1-1/2 cups sifted powdered sugar
2 to 3 tablespoons fresh lemon juice
1-1/2 cups all purpose flour
1/3 cup yellow cornmeal
3/4 cup sugar
3-1/2 teaspoons baking powder
1/2 teaspoon salt
1 cup buttermilk
2 large eggs
1 tablespoon finely grated lemon zest
3/4 teaspoon vanilla
1/2 cup melted unsalted butter
Lemon curl for garnish
Sweetened whipped cream for serving.
Preheat oven to 350°F.
Butter a 9-inch, deep (should be 2-inches high), cake pan.
Line bottom of pan with parchment paper. Set pan aside.
Put powdered sugar in a small bowl. Stir in 2 tablespoons lemon juice.
Add more lemon juice, a little at a time, if necessary to make a smooth
thin glaze; set glaze aside.
Combine flour, cornmeal, sugar, baking powder, and salt in a large bowl;
stir to blend. Put buttermilk, eggs, lemon zest and vanilla in small bowl
and whisk to blend. Pour buttermilk mixture and melted butter into flour
mixture; fold gently with a spatula until just blended. Spread batter
evenly in prepared pan.
Set pan in preheated 350°F oven and bake until cake pulls away from
sides of pan and a toothpick inserted in center comes out clean, about 30
minutes.
Remove cake from oven and immediately run a knife around edge of
pan. Put a rack on top of cake and invert cake onto rack. Remove pan.
Place another rack on top of cake and invert again so that cake top is top
side up. Immediately stir lemon glaze, adding more juice if glaze is too
thick to spread.
Spread glaze over top of cake coming within 1/2-inch of edge. Set cake
aside to cool completely.
Before serving, garnish center of cake with a lemon curl.
Serve with sweetened whipped cream.