FAMILY CELEBRATION DINNER



Lets run the numbers:
94 glasses
89 plates and platters
32 guests
9 bottles of wine
7 roasted chickens
6 patchwork quilts (to cover the folding tables set end to end making one long table)

4 fragrant flowers in centerpieces
3 times the recipe for FAMILY-FAVORITE PARTY SALAD
2 great desserts (Sweet Leisure Cake and
decorated cookies
1 happy family


FAMILY-FAVORITE PARTY SALAD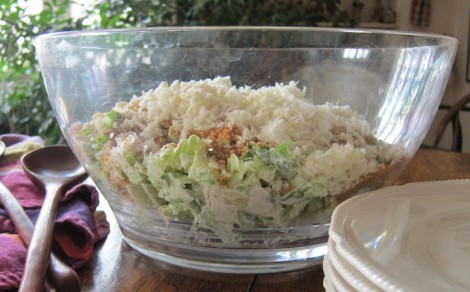 DRESSING
1 cup mayonnaise
2 tablespoons grated Parmesan
cheese
1 tablespoon fresh lemon juice
1 garlic clove, minced or pressed
Salt to taste
Black pepper to taste
SALAD
3 tablespoons butter
1 cup unseasoned fine dry bread crumbs
1 pound romaine lettuce, torn into bite-size pieces and chilled
1/2 head cauliflower, trimmed
Combine dressing ingredients in a small mixing bowl and refrigerate until ready to use.
Melt butter in a large skillet over medium heat. Add bread crumbs and sauté, stirring constantly, until crumbs are lightly browned. Set crumbs aside to cool.
Put lettuce in a large salad bowl. Pour dressing over lettuce and toss gently until dressing evenly coats the lettuce pieces.
Pour crumbs over top of lettuce: don't toss. Coarsely grate cauliflower and sprinkle over bread crumbs; don't toss.  Refrigerate until ready to serve. Serve salad without tossing.
Makes 6 servings.