I am going to try and seduce you with a wonderful cake recipe. Hopefully you'll try it, fall in love and come back for more.
The cake base came from the Alden House Inn in Belfast. Maine. Innkeepers served sweets at check-in time and the day I checked-in white-chocolate brownies graced the table. I embarrassingly devoured a plateful and made getting the recipe a condition of paying my bill.
Shortly thereafter my friend Ina had a birthday and I volunteered to make the cake. As Ina is unique and totally special, her cake had to be equally worthy—it also had to be easy to make and accommodate a  crowd (by the time I started baking, the 15 guests originally invited had grown to 137).
So I made several batches of the brownies. Cut them in squares, then as the guest list continued to grow, cut the squares into triangles. For the birthday, I arranged the triangles, pointing in all directions, in a very large shallow dish, then dotted the top with small spoonfuls of vanilla ice cream and finally poured a hot caramel sauce over all.The sauce sort of melts the ice cream and covers the cake in a rich, velvety caramel. I stuck long skinny candles at random into various cake pieces and have been receiving requests for this recipe happily ever after. The cake delivers far more pizzazz than the work involved—and is a great vehicle for birthday parties when ordinary cakes won't do.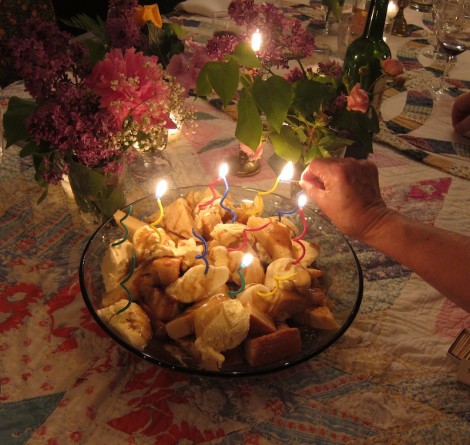 SWEET LEISURE BIRTHDAY CAKE
Preheat oven to 325 degrees. Line a 13-by 9-by 2-inch baking pan with aluminum foil, leaving two-inch overhang at each end of pan. Generously butter foil. Set pan aside.
In a medium saucepan, set over low heat, melt 1 cup unsalted butter with 12 ounces white chocolate chips, stirring frequently until mixture is smooth and well blended. Remove saucepan from heat.
With a wooden spoon, stir in 1-1/4 cups granulated sugar. Add 4 eggs and 1 tablespoon vanilla and beat until well blended. Add 2 cups all-purpose flour and 1/2 teaspoon salt; stir just until blended. Stir in 1 cup chopped walnuts. Pour mixture into prepared pan.
Bake until cake is "set" and top is light golden brown, but center still a little soft when pressed lightly, 30 to 35 minutes. Remove pan from oven and set on a wire rack to cool completely.
Cover pan and refrigerate cake at least 4 hours before removing from pan.
To cut, use foil to lift cake from pan. Carefully peel off all foil. Cut cake into squares and cut squares into triangles.
Yield: 48 triangles—-about 20 servings.
To make CARAMEL SAUCE combine 1 cup brown sugar with 1/2 cup butter over medium heat. Cook, stirring, until well blended. Add 2 to 4 tablespoons whipping cream and boil until sugar dissolves completely. Add 1/2 teaspoon vanilla. Cool to warm or room temperature. Or cool and refrigerate and reheat before serving. If sauce "sugars," add more cream and heat, stirring constantly until crystals melt and sauce is smooth.
Arrange cake triangles in irregular pattern in a shallow serving dish. Top with scoops of ice cream and drizzle caramel sauce over all.