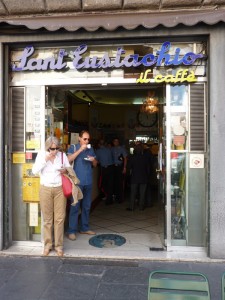 SANT'EUSTACHIO IL CAFFÈ
Many places in Rome make good coffee, but Sant'Eustachio (in the Piazza Sant'Eustachio near the Pantheon) wins local accolades for being best of the best. Here is the quintessential Italian coffee bar/ shop that does everything right including purchasing beans from a variety of free-trade growers, roasting the beans over a wood-burning fire and brewing the coffee with water sent to the city by an aqueduct built in19 B.C.
COFFEE LOVERS CANNOT LEAVE ROME WITHOUT TRYING COFFEE AT SANT'EUSTACHIO'S. 
That said, coffee drinking habits in Italy are quite distinct and distinctly different than in the States, so when in Sant'Eustachio do as the Romans do. First, order the coffee and pay at the cashier. Then head to the bar (which can be two to four people deep) and hand the receipt to the barista who will serve the coffee to you.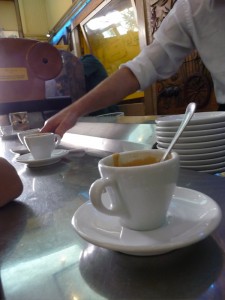 Of course, two minutes in Sant'Eustachio and you can figure out the system yourself, but what you may not know, because it is so different from other countries, is that Romans generally drink standing at the bar and gulp the intense brew rather quickly. Words of warning: in Italy, coffee consumed at a table generally cost more and Sant'Eustachio serves its coffee sweetened, so when ordering be sure to specify no sugar if you can't abide the sweet stuff.