Bet you think mermaids are fantasy beings. Hello! The captivating sea creatures are a real deal that you can catch frolicking, flittering and flirting outside the porthole windows of The Wreck Bar in Fort Lauderdale. (Sometimes they even shed their shell bikini tops and fishy fins just to prove how real they are.)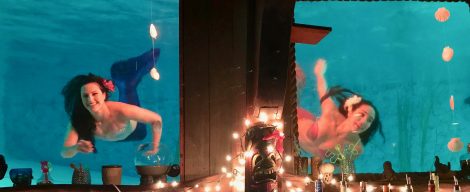 The ship-shaped Wreck Bar, anchored in the newly restored B Ocean Resort (formally the Yankee Clipper), is a buried treasure of funky mermaid fun.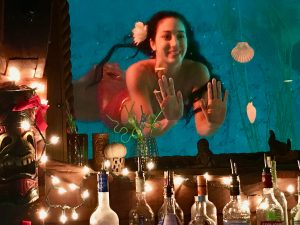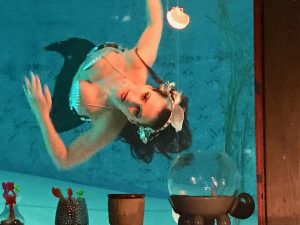 Built in 1956 and famous for reeling in old-time movie stars—Elvis, Marilyn, Joe DiMaggio, Jayne Mansfield among them—the bar stayed afloat through several changes in hotel ownership and assorted renovations. 
Today mermaids show up, with hair flowing like seaweed and tails seductively flapping, at two shows every Friday and Saturday.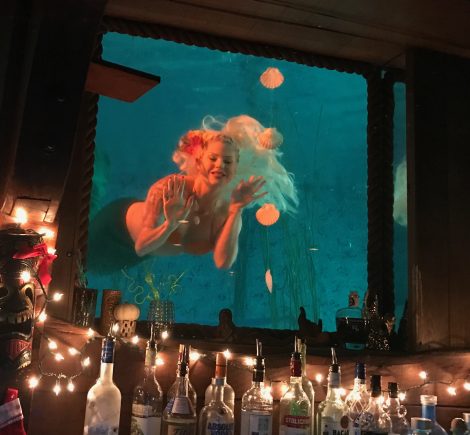 The weekend family-friendly show starts at 6:30 p.m. (with doors opening at 5:30). Entrance and seating is first-come, first-served basis so arrive early. The adults-only, reservations required (call 954-727-7090), 10 p.m. show features nice, but naughty burlesque with the sea sirens dipping into the risqué. 
But mermaids aren't the only lure to this dive bar. The bar's watermelon rum punch will have you drinking like a fish and the luscious shrimp-filled chop chop salad will shore up any gourmet's appetite. As one can get hooked on both (they are THAT good), here's how to enjoy them happily ever after:
WATERMELON RUM PUNCH
Yield: 1 serving.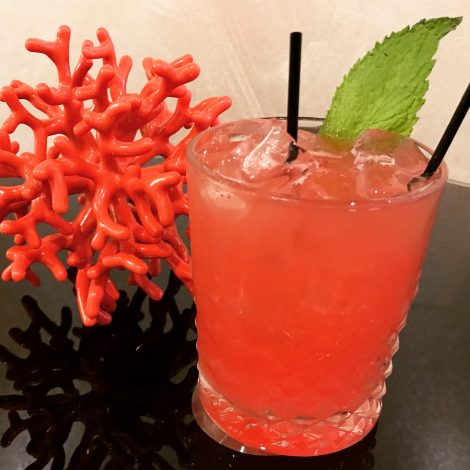 1-1/2 ounces Bacardi Superior white rum
1 ounce fresh watermelon juice (muddle the watermelon and strain)
3/4 ounce St-Germain (Elderflower liqueur)
1/2 ounce simple syrup
1/2 ounce fresh lime juice
2 dashes Fee Brothers Rhubarb Bitters
Mint leaf for garnish
Shake rum, watermelon juice, St-Germain, syrup and lime juice together in a cocktail shaker and strain into a glass filled with ice.Top with bitters and garnish with mint leaf. 
CHOP CHOP SALAD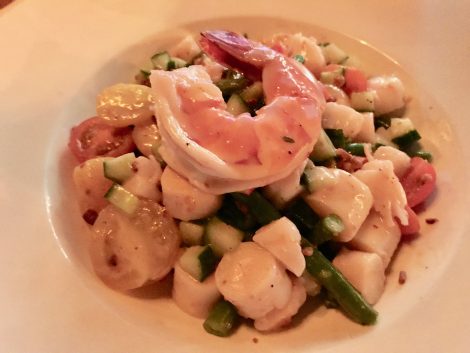 Adapted from a recipe supplied by The Wreck Bar
Yield: 4 servings.
1/2 lemon
Salt
3  black peppercorns
1 bay leaf
20 jumbo shrimp
About 2 cups green beans
2 cups hearts of palm cut into bite-size pieces
2 cups halved cocktail tomatoes
1 large cucumber, ends trimmed, seeded and diced
Bacon vinaigrette (recipe follows)
Fill a 3 quart saucepan 3/4 full of water. Squeeze lemon into water and then add lemon shell. Add 1/2 teaspoon salt, peppercorns and bay leaf. Set saucepan over high heat and bring liquid to a rapid boil. Remove saucepan from heat. When bubbles subside add shrimp. Stir. Cover pan as set aside until shrimp are curled, opaque and pink, about 5 minutes.  
Meanwhile fill a large mixing bowl with ice water. When shrimp are just cooked, drain and rinse with cold water. Put shrimp in ice bath until cold. Drain and peel shrimp. Reserving the four largest whole for garnish, cut shrimp into large bite-size pieces and set aside.
Rinse saucepan and fill with cold water. Set over high heat and bring water to a rapid boil. Add 1/2 teaspoon salt and the green beans. Boil beans until they become bright green, about 5 minutes. Meanwhile fill a large mixing bowl with ice water. Drain beans and rinse with cold water. Put beans in icy water until they are chilled. Drain well and dry with paper towels. Trim ends off beans.
Put cut shrimp, beans, hearts of palm, tomatoes and diced cucumber in a large mixing bowl. 
Drizzle to taste with bacon vinaigrette. Toss well. Distribute salad among four serving plates. Garnish top of each serving with a reserved shrimp and serve immediately.  
BACON VINAIGRETTE
Yield: About 3/4 cup.
2 thick strips bacon
1/4 cup red wine vinegar
1/2 teaspoon Dijon mustard.
1 large clove garlic, minced
1 teaspoon finely minced red onion
1/2 cup olive oil
2 teaspoons chopped fresh basil, optional
1 teaspoon chopped fresh cilantro, optional 
Salt
Pepper
Preheat oven to 350°F. Fry or broil bacon until strips are well-browned. Drain bacon on paper towels and set aside to cool. Grind cooled bacon in a meat grinder or chop into very fine pieces. Put bacon pieces in a baking dish and set in preheated 350°F oven until warm.  Put vinegar in a small bowl. Whisk in mustard, garlic and onion.  Slowly whisk in olive oil and continue whisking until dressing is emulsified. Whisk in herbs. Drain warm bacon and whisk into dressing. Season to taste with salt and pepper. 
Click HERE for more information about B Ocean and The Wreck Bar.
Click HERE for more about Fort Lauderdale.
Click HERE for other places to eat in Fort Lauderdale.