Call it a chameleon—not that it changes color from its vivid sweet-potato orange—but this soup is so versatile it perfectly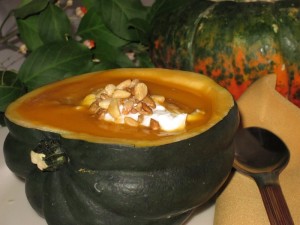 fits into a variety of dining situations. With a little tweaking, it can be vegetarian, super low calorie or even fat free. Serve it cold at picnics or barbecues or hot at family fall and winter dinners. The soup is even suitable for dressed up events—a ladies luncheon, fancy dinner party and/or  Thanksgiving dinner,  especially if served in bowls made from hollowed acorn squash.
HARVEST VEGETABLE SOUP
3 large sweet potatoes, divided
3 carrots, peeled and trimmed
2 acorn squash, peeled and seeded
1 butternut squash, peeled and seeded
About 2 quarts chicken broth (or vegetable broth or water)
1/8 teaspoon nutmeg
Hot-pepper sauce to taste
Salt to taste
1 to 2 cups cream, half and half, chicken broth or vegetable broth to thin soup
Garnish:
Sour cream or plain yogurt (full, low or no fat)
Sunflower seeds mixed with an equal amount of toasted pine nuts (Plan about 1 heaping tablespoon mix per serving.)
Pierce 2 sweet potatoes with the tines of a fork and bake in a 350°F degree until very tender, about  80 minutes. Set baked potatoes aside.
Peel remaining sweet potato. Cut potato, carrots and squash into large chunks and put in a soup pot. Add enough broth (or water) to just cover vegetables. Add nutmeg, a few dashes of hot-pepper sauce and salt. Bring mixture to a boil over high heat, immediately reduce heat, and boil very gently until vegetables are tender, about 25 minutes.
Remove skin from baked potatoes and add flesh to mixture in pot.
Set pot aside until mixture is cool enough to blend, then working with small batches, blend soup in a blender until smooth. Thin soup to desired consistency with cream or broth. Correct seasoning (at this point the soup may be cooled at room temperature and then refrigerated in a covered container).
Serve the soup chilled or reheat it and serve hot. Garnish each serving with a dollop of sour cream or yogurt and a sprinkling of sunflower seeds mixed with toasted pine nuts.
Yield: About 4 quarts.